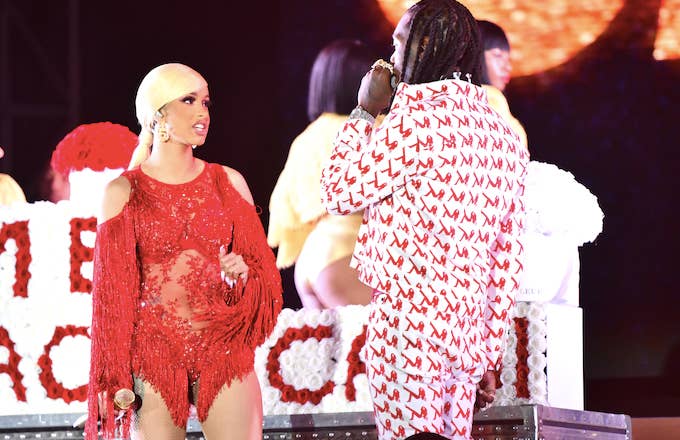 You know what they say, absence makes the heart grow fonder. A couple weeks after announcing her split from Offset, Cardi B returned to Instagram Live with a very Cardi admission.
"I miss it. A lot," the Bronx rapper said between sips of coffee, the "it" belonging to Offset. "I want it. In my throat. Inside of me. Demolishing me. Destroying me—oh shit, I need more coffee."
Check out the amusing clip below. 
Cardi announced the breakup on social media following another round of infidelity rumors. Though she didn't mention the cheating allegations against Offset, Cardi told fans the split was "nobody's fault."
"I guess we grew out of love," she said. "But, we're not together any more. It might take time to get a divorce. I'm always going to have a lot of love for him because he is my daughter's father."
Days after Cardi broke the news, Offset finally addressed the split in a direct and honest tweet:
The Migos rapper has made several more attempts to repair the relationship, the most recent of which went down over the weekend, during Rolling Loud in Los Angeles.
While Cardi was performing her set at the annual festival, Offset crashed the stage with thousand of roses that spelled out "Take Me Back Cardi." 
"Y'all expect me to be okay with y'all dragging her because y'all don't agree with some shit?" she said. "She was trying to help a man that was telling her like, yo, I love my wife. Please help me get my wife. She told me what happened. I'm not gonna let y'all drag my bitch for that. Y'all buggin' and thuggin."