For what is approximately the 834th post about Offset interrupting Cardi B's Rolling Loud set, we have something from some of those "sources" everyone's always going on about.
As you may have heard, some people are convinced that the split—much like, at least according to them, everything else in this world—is some sort of a hoax. Furthermore, others have taken up the habit of calling out publicist Patientce Foster, who was apparently seen in footage with Offset backstage at the Los Angeles-set festival.
In an Instagram Story update Sunday, Cardi told everyone who's been bringing Patientce into this to "eat a dick."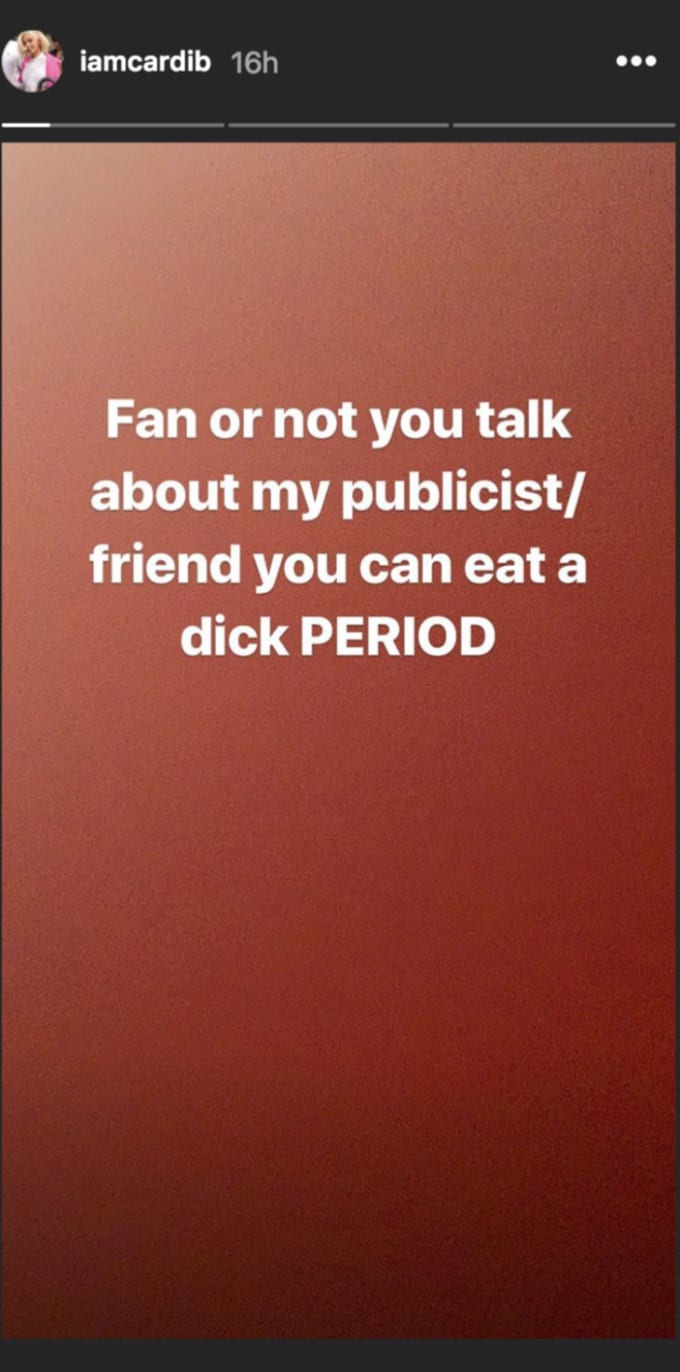 In a video update, she elaborated further on her relationship with Patientce, who she says is key in both her and Offset's lives. "Y'all expect me to be okay with y'all dragging her because y'all don't agree with some shit?" she said. "She was trying to help a man that was telling her like, yo, I love my wife. Please help me get my wife. She told me what happened. I'm not gonna let y'all drag my bitch for that. Y'all buggin' and thuggin."
As for those aforementioned sources, TMZ said early Monday they claimed "Patientce strongly believes Cardi is still in love with Offset and does not want to pull the plug on their marriage," not that it's any of our business.
In a statement over the weekend, Rolling Loud co-founder Tariq Cheriff claimed the Rolling Loud team was not involved with the planning of Offset's interruption. "We have never and will never do anything to change a headliner's set," Cheriff told Complex. "We were tipped off that something was going to happen, but had nothing to do with the organization or execution of it."
More importantly, Cardi's Invasion of Privacy is up for the Album of the Year at next year's Grammys.