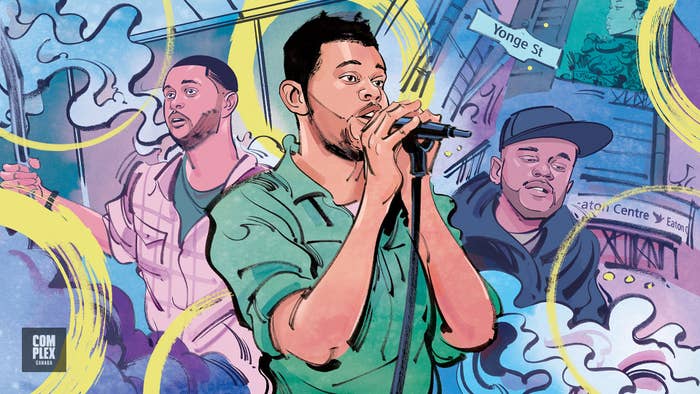 When most of us first discovered The Weeknd, in the early months of 2011, it was in an atmosphere of vagueness and secrecy. Those early songs and that debut mixtape, House of Balloons, sounded genuinely, astonishingly new, and as if to drive home just how unique the style felt, it seemed to materialize out of nothing. Forget press releases, promotional tours, and overhyped music video premieres. When The Weeknd first emerged out of the ether, he didn't even have a name. No one could even say for sure whether this was one guy or an entire group.
A decade later, Abel Tesfaye is an icon, a household name, and one of the world's biggest stars—not bad for a kid from Scarborough. But while Abel eventually opened up and shed his faceless, nameless persona, his origins are still largely shrouded in mystery, leaving us to piece together his past from stray quotes in rare interviews and old clips that pop up online. As he celebrates his 31st birthday today, let's look back over Abel's early years and lay out everything we know about The Weeknd before he was famous.
He sang "The Party & the After Party" at a party
In an uncharacteristically candid interview with The Guardian in 2016, Abel revealed that he moved out of his mom's house in Scarborough at age 17 to crash on a friend's sofa in a one-bedroom apartment. He spent most of his free time, he said, getting high—on ketamine, coke, mushrooms, molly, and cough syrup, among other drugs. "Drugs were a crutch for me," he admitted.
One of the first rumours to float around the internet about The Weeknd when House of Balloons first dropped was that the music was made by a dude who worked at American Apparel—his co-workers at the time would often insist that they knew the man behind the music. Abel later confirmed that he was an employee of the hip clothing company in a New York Times Magazine profile, in which he described working there in anonymity while his music was in the midst of blowing up. 
He showed off his vocal chops at Yonge-Dundas Square
youtube.com
It's hard to imagine catching him singing live for free in the middle of downtown Toronto today, but in the early 2010s, before he'd become a bona fide star, Abel could be found showing off for his friends at Yonge-Dundas Square, obviously poised to blow up. In this extremely brief clip that later showed up on YouTube, you can hear Abel doing an acapella version of House of Balloons lead single "High For This." 
He was discovered at the University of Toronto
youtube.com
One of Abel's earliest shows as The Weeknd was back in 2010 at a concert hosted by the Black Student Association at the University of Toronto. (There's an extremely blurry video of the performance on YouTube—he plays an early version of "What You Need" to a crowd that is decidedly not into it.) It's been heavily rumoured that OVO co-founder and long-time Drake associate Oliver El-Khatib was in attendance, leading to his introduction to Drake.
In March of 2011, Drake posted a very short blog post to the official OVO website, writing "OVOXO Gang, Faded Too Long," with a link to The Weeknd's website and the song "Wicked Games." (Shortly thereafter he fired off a tweet linking to the same.) This was at the tail end of the music blogging days, of course, and Drake's blog post had a Said the Gramophone-esque effect, instantly making The Weeknd a must-hear artist and a critical fave. Never has a single endorsement made such a splash.
In the days of his first three mixtapes, The Weeknd's mystique was near total: Nobody seemed to know for sure who this guy was, what he looked like, even his real name. He admitted to Rolling Stone in 2015 that the sense of mystery was partly about self-consciousness. "I wasn't in shape, I wasn't a pretty boy, I was awkward as fuck," he said. "I didn't like the way I looked in pictures. When I saw myself on a digital camera, I was like, eesh." As a result, his first mixtapes featured black-and-white pics of women, with no Abel promo shots anywhere to be found.
In the same profile in Rolling Stone, Abel conceded that he initially declined interview requests because he was worried he wasn't articulate enough. He was a high school dropout and didn't think he'd come off well to the press. Eventually, that reticence turned into an enigmatic allure, and he decided to run with it. "People were kind of liking me being a fucking weirdo," he said.
Early collaborator Nixxon revealed in an interview several years ago that at some point in the mid-2000s, he and Abel worked together under the less than ideal name Bulleez N Nerdz. ("We were bullies, but we looked like nerds," he explained.) He apparently also recorded music under the names The Noise and Kin Kane.
He sang "Happy Birthday" on the TTC
youtube.com
One of the strangest and most random-seeming videos of a young, pre-fame Abel Tesfaye to have surfaced online over the years is this one, of The Weeknd riding a bus and singing "Happy Birthday" to an unnamed friend recording him on his phone. Abel's almost unrecognizable in a flannel shirt and with his hair cropped military-style, but you'd never mistake that voice. 
He was catching shows at NXNE
He was freestyling over bedroom beats
youtube.com
In another early clip found on YouTube, Abel can be seen freestyling over a beat as he tries to catch a flow. Although this never became an official song for The Weeknd, it's a rare glimpse of a young-looking, beardless Abel still finding his voice as he works out his budding aesthetic. It's safe to say he's blossomed gracefully since then.