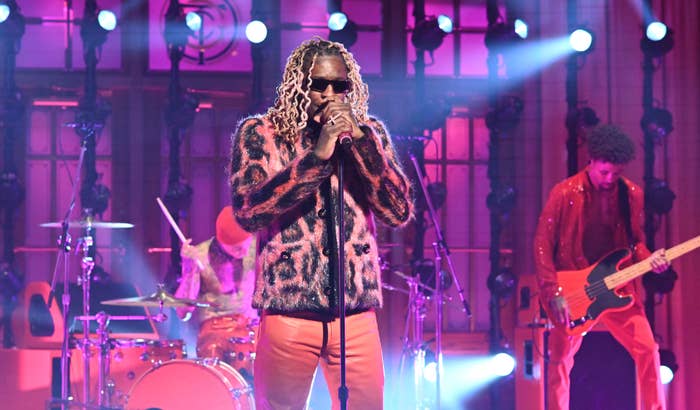 Young Thug is urging T.I. and Boosie Badazz to bury the hatchet and release their long-teased collaborative album.
The incarcerated YSL rapper took to his Instagram Stories on Thursday to reach out to Tip and Boosie, pleading with them to share their work with the world.
"@mamaheliveagain2.0 and @tip y'all go ahead and drop that album together," Thug wrote. "That's all a n***a want."
Back in February, Boosie announced his decision to scrap his project with Tip, telling VladTV he nixed it after learning T.I. had "snitched" on his late cousin, Toot, in an effort to dodge a gun charge. T.I. went on to deny the allegations and claimed he had "paperwork" to prove he wasn't a rat.
"I got some paperwork to show them," T.I. said. "And when you leave up out this motherfucker, please let a motherfucker know that the paperwork was present, and if they wasn't here, they shouldn't be saying a motherfuckin' thing about the king."
In March, T.I. told TMZ that he and the Baton Rouge rapper had deaded their beef, claiming Badazz was aware he "misspoke" when accusing the Atlanta native of snitching on his dead cousin.
"I believe that [Boosie] has come to terms with that understanding, and it'll be handled offline," Tip shared at the time. "It ain't no beef."
During an interview with Vlad in April, Boosie shed light on his relationship with T.I., admitting that he apologized for his accusations aimed at the Hustle Gang rapper.
"I failed him," Boosie explained. "I gave him an apology, 'cause after we kept going back-and-forth…the things he was doing for me, in my life, at the time, I kind of felt bad. He was doing some real shit, helping me in a lot of ways. But I still told him I stand on what I stand on. When he explained it to me, we got by it, man."