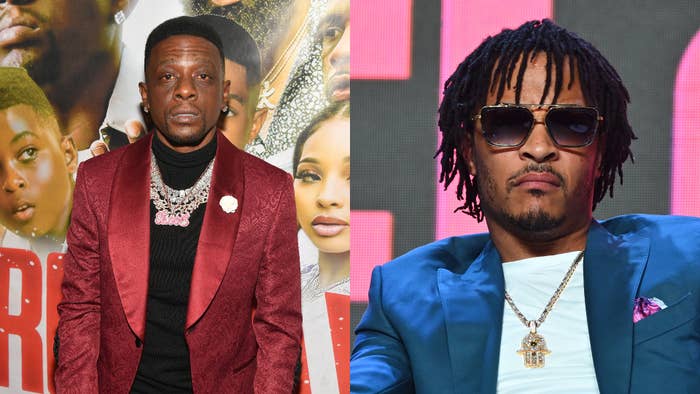 Boosie Badazz announced his completed joint album with T.I. has been shelved due to Tip's admission to snitching on his dead cousin Toot to avoid a gun charge. 
"I'm like, why the fuck he say that when we got a fucking album about to come out?" Boosie wondered at the 5:49 mark below. When asked if the joint album will be released, the Louisiana native delivered a definitive no.
"It ruined everything," he explained, adding he received numerous text messages from people who discouraged him from releasing the joint album with T.I. in light of the Atlanta rapper's confession. 
During a 2020 episode of expediTIously, T.I. recalled an incident in 2000 where a firearm was uncovered as he removed stolen clothes from the trunk of a car. He said his lawyer presented him with the opportunity to "make everything go away" if he said the weapon belonged to Toot, who died during the trial.  
"After he had passed, I had a talk with him," T.I. admitted in the footage below. "Toot said, 'I'll take all the charges you got! If you can walk away free and put it on me, goddamn right! 'Cause I'll be damned if they gonna come and motherfuckin' extradite me from here!'"
"If he did that, you're a fuckin' rat, too," a riled-up Boosie said at the 3:53 mark. "I don't spare no-motherfuckin'-body because if you do anything wrong…and you cooperate with law enforcement to get you out of trouble…that means you're a rat."
Boosie went on to question whether T.I. was being entirely truthful, suggesting the self-proclaimed "King of the South" was more than willing to snitch on his cousin. 
Check out Boosie's VladTV interview below.
T.I. responded on Instagram on Tuesday, sharing an extended clip of Boosie's Vlad comments and insisting if there was "a question or confusion bout anything I said you could've called and asked."
"Yeah so… Idk if it's you or ya 'OG Uncle' that needs to see it… but I GOT MY PAPERWORK ready to show!!! PULL UP!!!" the 42-year-old wrote in a caption. "My number the same & my address the same my n**ga. To get on da net & speak on shit you've never spoke to me about is leaving me to believe you been hiding ya heart the whole time!!!! I'd NEVER speak 'certain disrespect' on your name/reputation bout a 'IF' homie… da convict code say When in doubt...pull the paperwork out!!! & 'IF' you ain't did that… Now…Idk what type of time you on but I say again… 'IF' it was a question or confusion bout anything I said you could've called and asked… so u can report back & tell ya 'OG' ...or you could've pulled up & checked the blk & white like I'm offering now. Either way tho my n**ga… I ain't bound to no n**ga's opinion of me… cause what dey 'THINK' will NEVER overrule what I KNOW!!! So don't wonder no mo' homie… answer the 'IF'… PULL UP & report back to da rest of these n**gaz who opinions matter so much to you. Cause I could Give a Fuck bout what no n**ga think bout me!!!"
Tip continued with a quote, "'The tail shall never wag the dog' Leadership Leads… wit facts and stats… we don't follow nofantasyland shit...remember that!!! & I ain't bending my knees for nothing or fearing nothing but GOD!!! So cmon & see what you speaking bout so next time you can speak intelligently. [Boosie] I expected more from you. This shit ain't solid. obviously I thought we WAS something we WASNT."