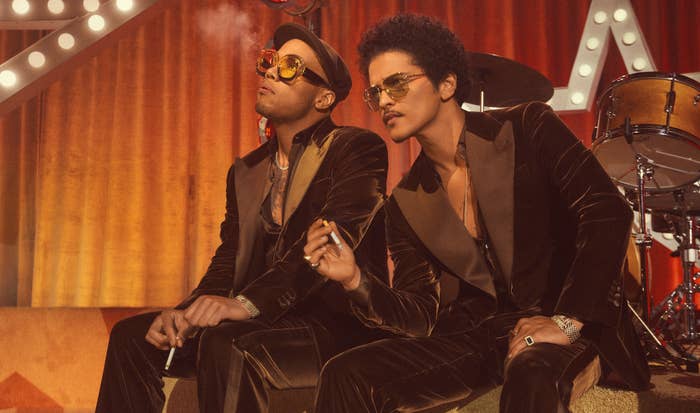 Silk Sonic are celebrating Valentine's Day with the release of a cover of Con Funk Shun's 1982 track "Love's Train."
Bruno Mars took to Instagram on Monday to announce the drop, revealing that it's one of his and Anderson .Paak's favorite tracks to cover.
"This is one of Silk Sonic's favorite songs originally recorded by the group Con Funk Shun," Mars wrote. "Every time @anderson._paak and I get behind instruments we play this. We love this song so much we wanted to sing it for y'all."
The release arrives just hours after .Paak's surprise guest appearance during Pepsi's Super Bowl LVI Halftime Show, which saw Dr. Dre, Snoop Dogg, Eminem, Kendrick Lamar, Mary J. Blige, and 50 Cent take the stage at SoFi stadium on Sunday.
Back in November, Mars and .Paak released their highly anticipated collaborative album, An Evening With Silk Sonic.
Debuting at No. 2 on the Billboard 200 chart with first-week sales of 104,000 equivalent album units, the LP was highlighted by the duo's debut single "Leave the Door Open," which climbed to No. 1 on the Billboard Hot 100 last April to give .Paak his first chart-topping hit, and Mars' eighth No. 1 single.
Stream Silk Sonic's cover of "Love's Train" now on all major platforms.