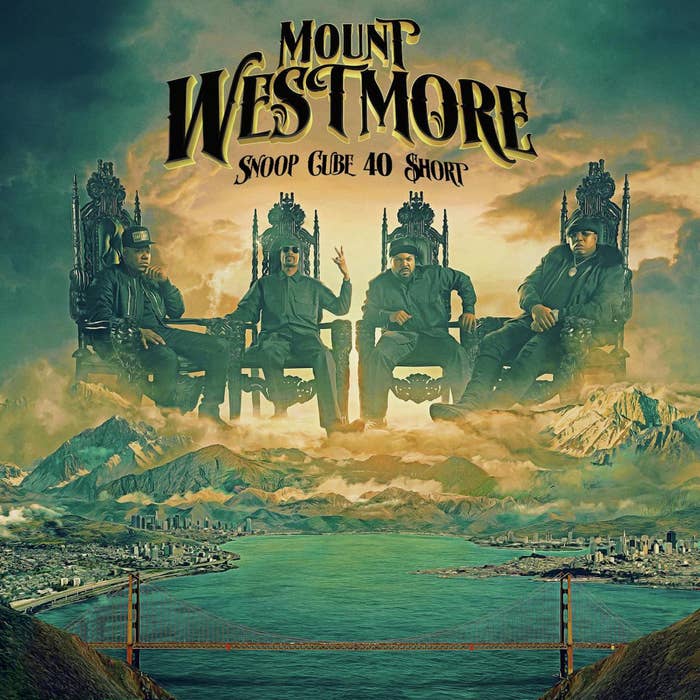 Mount Westmore, a supergroup comprised of West Coast rap legends Snoop Dogg, Ice Cube, Too Short, and E-40, has released its official debut album Snoop Cube 40 $hort.
The 16-track LP arrives several months after the group released its first offering, Bad MFs, through a series of individual-purchase NFTs. Snoop Cube 40 $hort includes the previously released singles "Big Subwoofer" and "Too Big," as well as a handful of songs which initially appeared on Bad MFs.
On the production side, the album features multiple beats from Rick Rock ("California," "Motto," "On Camera"), Ant Banks ("How Many," "Ghetto Gutter"), and DecadeZ ("Free Game," "Up & Down"), in addition to production from Big Zeke, Soopafly, Kato On the Track, Fredwreck, Dem Jointz, and ProHoeZak.
While announcing the launch of Mount Westmore last year, Snoop Dogg told HotNewHipHop, "You bring the legends of the West Coast together; something great will always happen. Cube, 40, Short, and I have been running the game for years. This is the perfect time because each of us brings authentic and new ideas to the table. All four together? That's magic." 
To experience the "magic" Snoop's talking about, stream Mount Westmore's Snoop Cube 40 $hort album now on all major platforms.