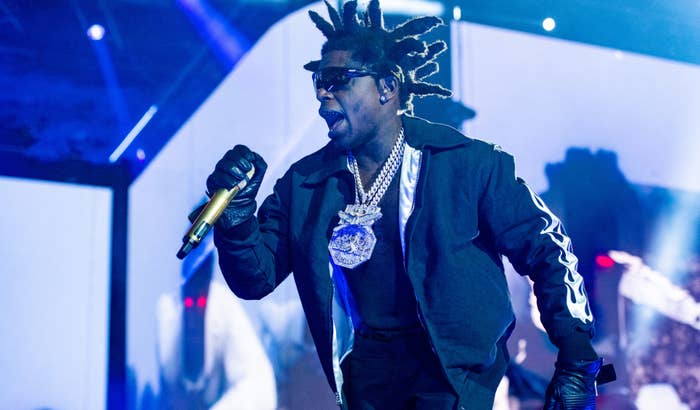 Kodak Black has weighed in on the great celebritybathing debate.
During a recent appearance on Atlanta's 105.3 The Beat, the Florida rapper shared his thoughts on showering daily, claiming that men don't need to "hop in the sprayer every day."
"We ain't really got to hop in the sprayer for real like that," Kodak told hosts Jo Jo Alonso and Kodaq. On the flip side, the "Super Gremlin" rapper implied that women have to implement a more rigid bathing routine. "But y'all [women] gotta hop in that bitch every day. Soon after we [have sex] all kinds of shit and before," he said.
While Kodak doesn't seem too worried about showering every day, Terry Crews falls on the other end of the spectrum.
Last summer, the actor toldAccess Hollywood that he takes three showers a day.
"I took three [showers] today. Three. Today. See, me and Dwayne [Johnson] are right," Crews said, referring to The Rock, who previously revealed he also bathed three times daily. "I took one in the morning, after the workout, and then I took one before I got here. And then I took one in between acts."
Crews added, "I love to shower. I love to, because I spend so much time sweating. First of all, if you ain't been sweating, you don't need to shower. But I spend all day sweating, all the time, running and working out, and it ain't nice. My wife is like, 'Babe, babe, babe.' I'm Mr. Old Spice, you know what I mean? So I've got to get clean."
On the music side of things, Kodak has been putting in work. On Friday, the South Florida artist dropped his first project since his 2021 mixtape Haitian Boy Kodak with Back for Everything. The 19-song release includes the top 5 single "Super Gremlin," as well as a lone feature from Lil Durk on "Take You Back."
Fresh off the release of his latest album, Kodak took to social media on Sunday to tease a potential collaboration with Ed Sheeran, who he gifted an 1800 Block, Golden Acres chain that honors the Pompano Beach neighborhood he grew up in.
"#BackForEverything Out Now," he captioned a picture of Sheeran wearing the chain. "Me & Ed Sheeran Got Alotta Shit Coming."