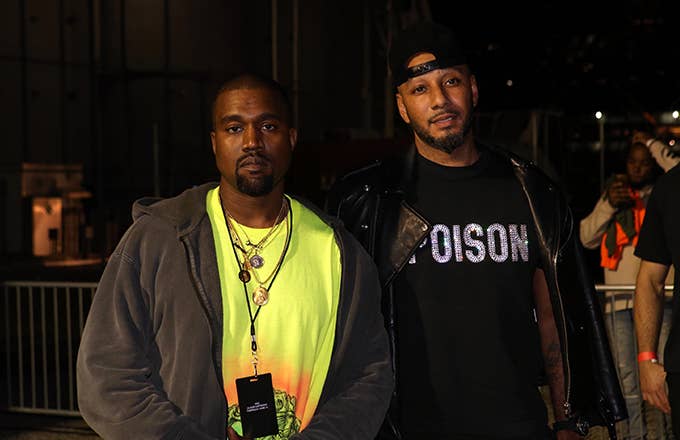 Kanye West appeared on the premiere episode of Saturday Night Live's new season last night, and even though he didn't drop his ninth studio album Yandhi as promised, he still provided everyone with a lot to chew on. He performed "I Love It" with Lil Pump and premiered a new song with Teyana Taylor titled "We Got Love." Even though the night saw him and Pump dressing up as bottles of water, the most awkward part of the night came right as the show was finishing.
Ye closed out the show with a pro-Donald Trump speech that addressed those Get Out sunken place memes—among other things. A lot of Yeezy fans and even some collaborators were disappointed by the sartorial choice. Swizz Beatz was one example.
"I just seen that SNL, Kanye," he says at the start of a video he posted to Instagram. "And I hear you talking about being bullied for the hat. It feels kinda funny because we were just talking about the hat less than 48 hours ago.... I was just addressing how uncomfortable the culture feels with you representing somebody who's blatantly hurting our people."
Swizz also let Kanye know that there's still love between them despite his continued support for Trump. "Ain't nobody bullying you, we love you.... But you gotta stop that shit man, that shit ain't right, and you know how I feel."
It's unclear if the beat Swizz shows off at the end—basically him yelling "Fuck the MAGA hat" over and over—was made for the video or for a full song yet to come out. Kanye hasn't responded to the message as of Sunday morning.