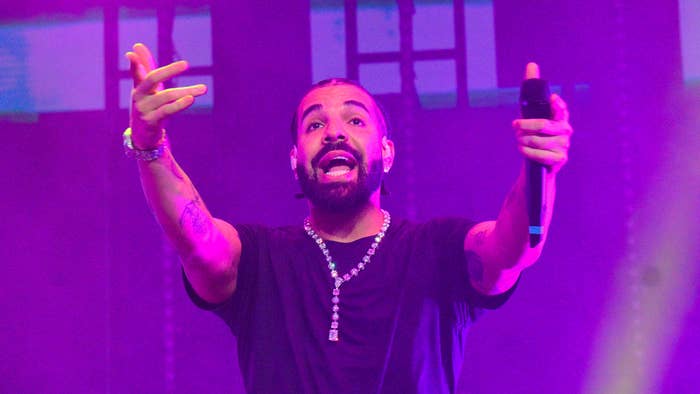 During the first show of Drake's It's All a Blur tour with 21 Savage, someone in the audience seemingly tossed a phone at the Canadian superstar.
In a video posted by TikTok user @jordyntaylor28, Drake is seen performing when a phone appeared to brush past him. While he didn't let the moment interrupt the show, he did watch as the phone fell off the other side of the stage in apparent confusion. "What was that?" a fan can be heard asking in the clip. "A phone," replied another concertgoer.
The moment comes not long after Bebe Rexha was hit with a phone during a concert, resulting in the arrest of a man on charges of assault. The singer-songwriter was struck in the face by the phone and had to go to hospital to get three stitches. On her Instagram page, she shared photos of her injuries but told her fans that she was "good."
Lil Nas X was also a victim of a fan tossing something on stage, although in that instance it wasn't a phone. A video showed the rapper performing as a fan threw an object that resembled a vagina at him. "Who threw they pussy onstage?" he asked.
Adele recently picked up on the trend of fans throwing things at artists and addressed it during one of her residency shows in Las Vegas. "Have you noticed how people are like forgetting fucking show etiquette at the moment, people just throwing shit on stage have you seen them? I fucking dare you to throw something at me, and I'll fucking kill you," said Adele, who fired a t-shirt gun into the audience. "Stop throwing things at the artist when you can shoot it to people. [Laughs] I've been seeing these people, these people lost it."
The video of a phone being tossed at Drake isn't the only thing that's got fans talking about the It's All a Blur Tour, however. During the inaugural concert in Chicago, he appeared onstage alongside a hologram that resembled a younger version of him. Some fans questioned whether it was, in fact, a hologram or just a lookalike. The stage design also included floating objects that looked like sperm, because, of course.