Moneybagg Yo Belts Out Taylor Swift's "Lover" and Confirms Album Delay to Avoid Faceoff
"I ain't gonna lie, y'all know how I feel about Taylor, man, so I think I'ma push 'Hard to Love' back," the Memphis rapper said.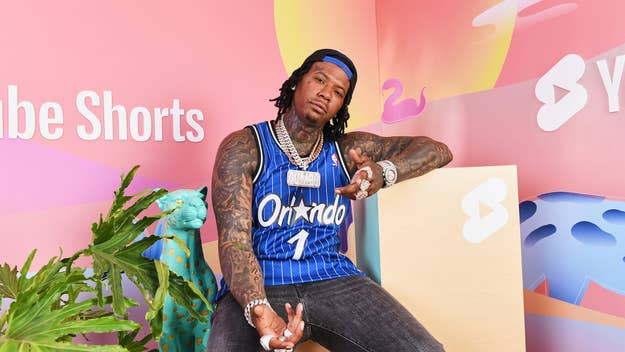 Irvin Rivera via Getty Images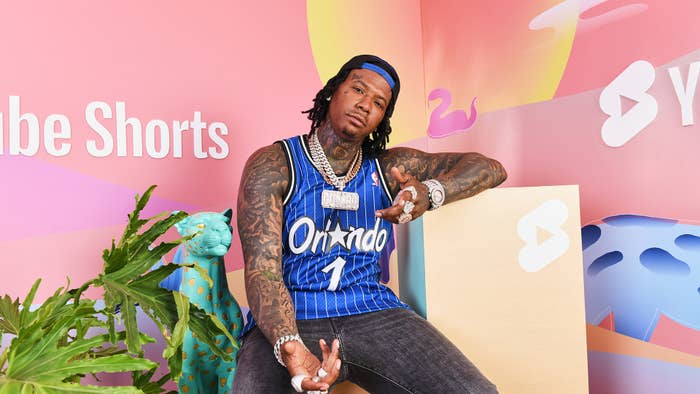 Moneybagg Yo has shared a video of him belting out Taylor Swift's "Lover" and confirming he delayed his new project Hard to Love to avoid facing off against the new deluxe edition of Midnights.
The Memphis rapper was scheduled to deliver his latest project on May 26, but decided a last-minute delay was in order to let Midnights (The Til Dawn Edition) shine.
"I just got the news my li'l baby Taylor dropping tonight," said Moneybagg in the clip, in which he sits in a Ferrari while blasting the title track from Swift's 2019 album Lover. "I ain't gonna lie, y'all know how I feel about Taylor, man, so I think I'ma push Hard to Love back. Just a few days, y'all be patient with me, man. Let Taylor have this shit."
He ends the video by turning the song back up, singing along, lighting up, and driving off. Moneybagg confirmed the new date for Hard to Love is Friday, June 2.
Swift dropped the new edition of Midnights on Friday, which included an extended version of the song "Snow on the Beach" with extra Lana Del Rey, and a remix of "Karma" featuring Ice Spice. The latter has courted controversy due to an appearance Swift's rumored boyfriend Matty Healy of The 1975 made on an episode of The Adam Friedland Show, in which offensive remarks were made about the "In Ha Mood" rapper." Swift and Healy have not confirmed if they are, indeed, dating.
Moneybagg announced the initial release date of Hard to Love earlier this month in an emotional message that updated fans on his mindset following his 2021 No. 1 album A Gangsta's Pain.
"I gained and lost more than I ever thought I would and had no other safe outlet for all the emotions and dark thoughts that came with that other than making music," he shared.