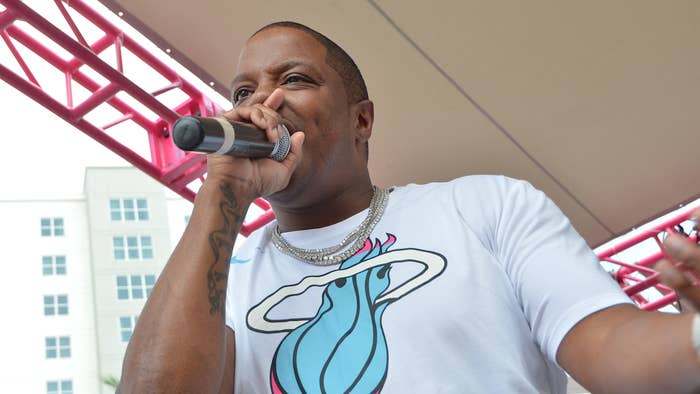 Following Diddy's claims that Mase owes him $3 million, the latter has shared a scathing response in which he mentioned the Bad Boy founder's mom.
In a post shared on Instagram, Mase denied Diddy's request for "receipts" on Wednesday and suggested that all his business dealings were put under Puff's mother's name, Janice Combs.
"How dare this n***a talking about he want receipts?" Mase said in the clip. "Let's start with your mother, n***a. Your mother got the receipts, n***a. Everything is in your mother's name. That's the one who's got the receipts, n***a."
After mentioning Janice, Mase went on to reference former Bad Boy signees the Notorious B.I.G., Craig Mack, and Black Rob. He suggested Diddy also exploited those artists, all of whom have since passed away.
"You need more proof, n***a? Big ain't here so Big can't give you no receipts, he dead. Craig Mack can't give you receipts, he dead," he said. "What are you talking about? Who else? Black Rob can't give you receipts, he dead. And everybody else you made sign paperwork so they can't talk about what I'm talking about. I'm the only one with guts! I'm not signing, n***a, 'cause I don't need the money."
On Thursday, Mase shared another video addressing the situation.
"Today, I wanted to talk to you," he said in the clip below. "Yesterday you probably felt a certain way about the way I communicated, but I'm very unapologetic about the way I communicated 'cause I know what I said was right. Maybe you didn't like the way I said it, but I know what I said was right. And I'm gonna tell you why. If the devil can use him aggressively, then I want you to know God could use me aggressively."
Mase asserted that Diddy and his crew have made an effort to "defame" him throughout the years. "He said something, and I refuted it," he continued. "I dealt with him as aggressively as he has chosen to deal with me. … I went through every step on how to deal with him, I dealt with him biblically… I went to him as a brother when things were not right."
He added that he's ready for "all the smoke" Diddy has for him, and that "Puff can't beat me at anything."
In his recent interview on the Breakfast Club, Diddy denied that he stole from Mase and suggested that the rapper owed him $3 million for an album he failed to deliver. "[It] has really tried to stain my legacy," Diddy said. "I don't like to get in just talking people's business and things like that… [but] I can't have y'all following me, because I am here to be a leader and to give some direction, if you think that I'm a scumbag that will ever steal anything—My name is Diddy, Sean Combs, I never took nothing from nobody a day in my life. All I've ever given is opportunity and more money than a person was making."
He went on to say that he only did one album with Mase, which led him to question how much money he could actually owe him. "He became a fake pastor and went and conned people," said Diddy. "And y'all gon' let him throw dirt on the god's name. Anybody can come and step up. Bring your receipts."