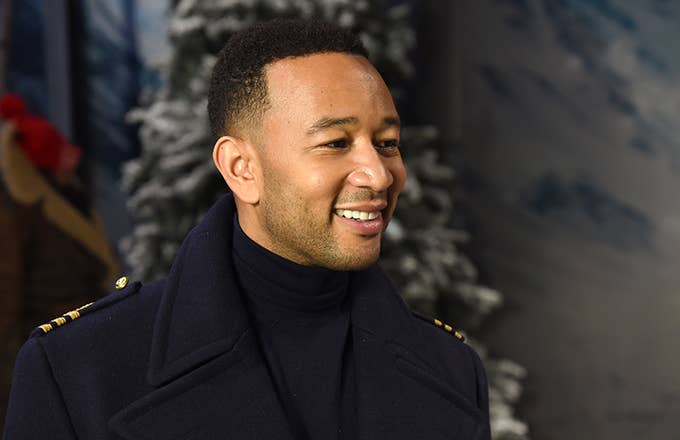 John Legend recently made an appearance on Lifetime's Surviving R. Kelly docuseries, promptly explaining it "didn't feel risky at all" to participate, despite many people calling him "courageous" for speaking out. "I believe these women and don't give a fuck about protecting a serial child rapist," he tweeted of R. Kelly.
Late Monday night, a Twitter user sent a picture of Legend and his wife Chrissy Teigen with notorious Hollywood monster Harvey Weinstein, asking, "please explain?? I dont remember you publicly denouncing this man!!!"
Legend wasn't having any of it. "I took a photo with and worked with Harvey on several occasions before his abuse was known to me and the rest of the world," he tweeted. "Since being exposed, his company and career have rightfully been destroyed and he's been indicted. Sounds like something that should happen to R. Kelly." 
Legend is not letting anyone point fingers and shout "hypocrisy" for a picture taken long ago. He later added in a follow-up tweet, "If y'all wanna cape for R and discount all these women's stories, just say it. Don't bring up some old pics of me and somebody else." Weinstein has been accused of sexual assault and harassment by dozens of women.
Tariq Nasheed retweeted John Legend's comment, explaining, "We are just trying to make sure everyone keeps that same energy across the board." As previously mentioned by Legend, Weinstein has been indicted for the accusations leveled against him, while R. Kelly has yet to face repercussions for his actions. Nasheed, meanwhile, seems to be committed to bringing down those involved with the documentary rather than R. Kelly himself.
"I'm glad you agree with me that R deserves the Weinstein treatment," John legend responded to Nasheed. "Believe the victims, expose the rampant predatory behavior, career destruction and indictment with convictions hopefully in the future. No one asked me to be in a Harvey doc. I'm friends with the #SurvivingRKelly director and several protestors in the #MuteRKelly movement so I had a personal connection and agreed to appear. I don't just go around interviewing for every exposé. This is dumb."