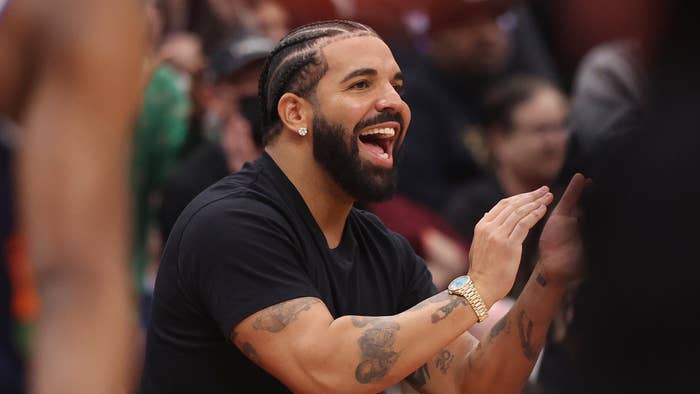 Drake made a comment during one of his recent shows in Houston that some fans think might be shade directed at Megan Thee Stallion.
On Monday, September 18, Drake addressed the audience between songs to give a shoutout to his friend and photographer, who also happens to be named Megan. "I gotta give a shoutout to somebody in here that's been with me since the beginning of my career. Her name is Megan," he said. "She's been there with me since day one, like, real shit… Real H-Town legend. Shoutout to Meg." After making the comment, he appeared to clarify he wasn't referring to Houston's own Megan Thee Stallion. "Not that Meg, this Meg," he said while shaking his hand.
Some fans suggested that Drake might have thrown shade at Megan with the comment, especially because of their history in relation to the Her Loss track "Circo Loco." In the song, Drake raps, "This bitch lie 'bout getting shots but she still a stallion." While many pointed out that Drizzy was ostensibly speaking about injections, the line also might have doubled as a reference to the 2020 shooting incident in which Tory Lanez shot Megan in both of her feet.
Megan appeated to address the lyrics in a series of tweets shortly after the album dropped last year. "Stop using my shooting for clout bitch ass N****s!" Megan tweeted. "Since when tf is it cool to joke abt women getting shot ! You n****s especially RAP N****S ARE LAME! Ready to boycott bout shoes and clothes but dog pile on a black woman when she say one of y'all homeboys abused her."
In a follow-up tweet, she suggested people should look at the facts related to the case. A medical report from April last year showed that Megan still had bullet fragments in her feet from the incident. Lanez allegedly also offered her $1 million in hush money. "Remember all y'all hoe ass favorite rappers that stood behind a N**** that SHOT A FEMALE," she wrote. "This did NOT happen until I came out and said I got shot... [Artists] gotta stop attaching weak ass conspiracy theories in bars to my name."
To make matters even more complicated, Megan Thee Stallion is listed as a co-writer on the Her Loss track "Rich Flex," on which 21 Savage interpolated her 2020 track "Savage."
Tory Lanez, meanwhile, has been sentenced to ten years in prison in connection with the shooting. He was recently transferred to state prison.
Drake, for what it's worth, appears to be a huge fan of Houston. During one of his shows in the city, he suggested that he's going to buy a house in the city because he's such a fan. "I'm excited I get to share this on night two," Drake said. "I had to make it official first, but I been looking, for a long time, trying to figure out, you know, the right place for me to live where I belong outside of Toronto. ... I finally, finally, after all these years, found me a place in Houston, Texas. So y'all will be seeing me around."