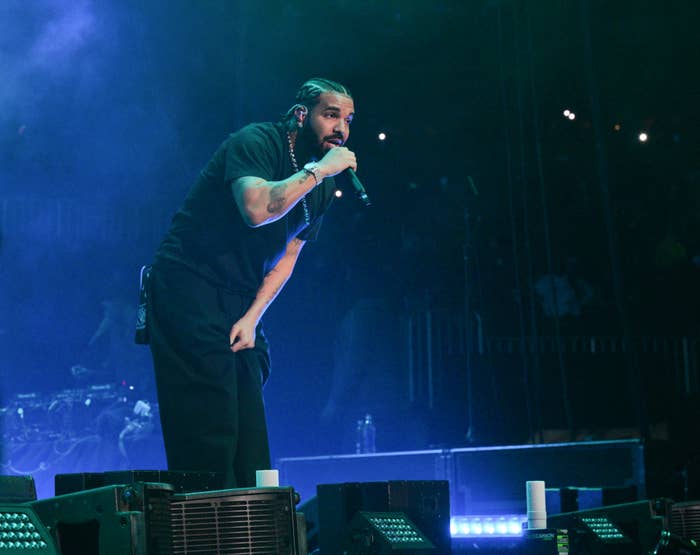 Drake is getting well acquainted with Houston locals ahead of his move to the city.
Dr. Calvin Jung, a Houston-based plastic surgeon and massive Drake fan, got to meet the rapper while he was in town for his It's All a Blur Tour. Drizzy came bearing gifts for his visit to meet the renowned BBL specialist.
"Custom OVO Jung Money scrubs," says the doctor in a video posted to his Tiktok account. "I had to get him right with the Jung Money scrubs," Drake adds as he sorts through a suitcase full of attire in different sizes. "It's only right. Appreciate you showing love all these years. Making these beautiful ladies' come true."
The surgeon's love for Drake goes deeper than you might think. In a post uploaded to his Instagram last week, Dr. Jung revealed that his wife surprised him with a spray painted mural of him and Drake in the style of the iconic Nothing Was the Same album cover, the very album that carried him through his residency at NYU.
"There was a song Started From the Bottom that obviously was my favorite song at the time and still is now. That song was more than a just another song for me, it was relatable on so many levels . Each time I reached the pinnacle like finishing residency, I was back at the bottom of the barrel as a cosmetic surgery fellow," he wrote in the caption.
He continued, "When I finished fellowship, again it felt like I was at the pinnacle, only to go into the real world of owning a business and starting from the bottom again. Everytime that song comes on it takes be back to memories and the trials and tribulations of what has made me, ME!."
Dr. Jung also shared that he took his entire office to Drake's second HTX concert that Monday, Sept. 18. That night of the tour was particularly eventful. Drake reunited with Qui Yasuka, whose face graced the cover of Her Loss before announcing he's moving to H-Town. "And I finally, finally, after all these years, found me a place in Houston, Texas. So y'all will be seeing me around," he told the crowd.