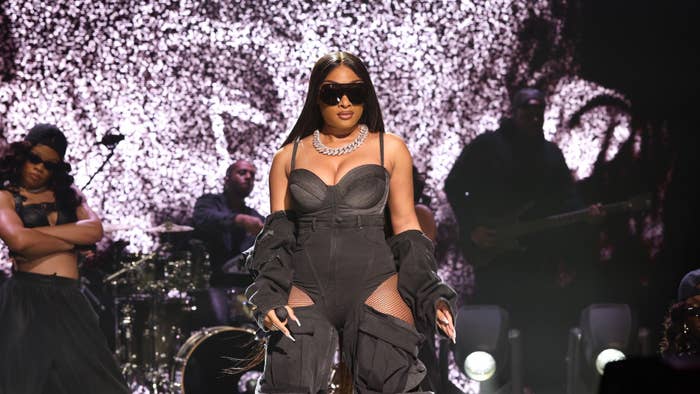 There's another wrinkle to the Megan Thee Stallion-Her Loss drama.
As pointed out by XXL magazine, the Houston rapper—legal name Megan Pete—is credited on the newly released joint album from Drake and 21 Savage. Eagle-eyed fans noticed Megan was listed as one of the cowriters on the project's opening cut "Rich Flex," but is not credited as a featured artist. 
It seems the credit stems from 21's first solo verse in which he uses an interpolation of Megan's hit 2020 track "Savage."
"I'm a savage," 21 raps. "Smack her booty in Magic/I'll slap a pussy n***a with a ratchet."
"Savage" co-writers J. White Did It and Bobby Sessions are also credited on "Rich Flex," alongside Drake, 21, Vinylz, Tay Keith, the songwriting duo FNZ, and more.
After a weeklong delay, Her Loss hit streaming services at midnight Friday, delivering 16 tracks that were peppered with digs and subliminals. Drake was accused of taking shots at everyone from Kanye West and D.R.A.M. to Ice Spice and Serena Williams' husband, Alexis Ohanian. But his most talked-about diss was apparently directed at Megan.
On "Circo Loco," Drake seemingly accuses the "Savage" rapper of lying about her 2020 shooting incident involving Tory Lanez.
"This bitch lie 'bout gettin' shots, but she still a stallion," he rapped.
While some believe Drake was alluding to a woman who lied about her butt injections, others were convinced he was downplaying Lanez' alleged assault on Megan.
Megan addressed the speculation via Twitter on Friday: