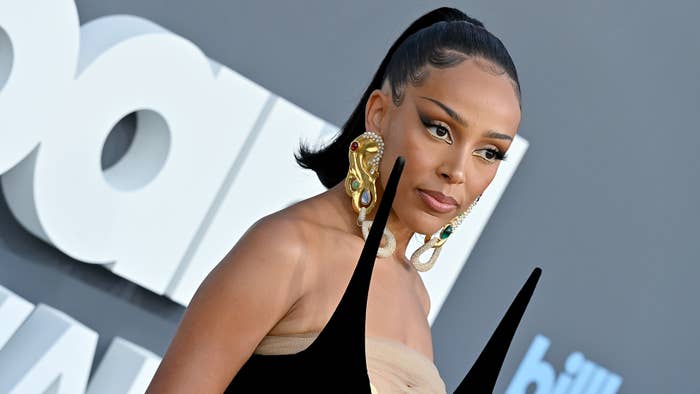 Doja Cat has responded to Stranger Things star Noah Schnapp and called him "a weasel" after he shared a TikTok of their DM exchange about Season 4 breakout Joseph Quinn.
In the since-deleted video, Schnapp showed how Doja asked him to link her with Quinn, who portrays Stranger Things newcomer Eddie Munson.
"Noah can u tell Joseph to hmu. Wait no. Does he have a gf?" the 26-year-old musician asked Schnapp, who is 17. He responded, "LMAOOO slide into his dms."
During an Instagram Live stream on Thursday, Doja blasted Schnapp for sharing the "private" exchange without her consent. She said she initially tried to make a TikTok to call out Schnapp but for whatever reason it didn't pan out.
"I'm just gonna say something right now, about the whole fucking Noah Schnapp thing," she said. "To be fair…let's try to be chill about it. To be fair this is, like, a kid. Noah is…I don't know old he is but he's not even over, like…there's no way he's over 21. And he might be, I could be wrong. But when you're that young you make mistakes, you do dumb shit."
While she initially sounded like she didn't want to make a big deal of the situation, she had to share her dissatisfaction with how it all went down.
"The fact that Noah did that, like, went and posted a private conversation between me and him is so unbelievably, like, socially unaware and wack," said Doja. "That's like borderline snake shit. That's like weasel shit. I'm not saying that encapsulates his entire personality. I wouldn't imagine he is. Maybe he is, like, a whole snake. But I didn't see him that way. I made an assumption that he was gonna be chill about it and he went and shared information that I didn't feel comfortable with him sharing."
While some were critical of Schnapp for posting a screenshot of a private conversation without asking Doja Cat first, others pointed out that it's perhaps not appropriate for a 26-year-old to DM a 17-year-old asking to be introduced to a crush. 
Prior to Schnapp posting the TikTok, Doja had publicly expressed her appreciation for Quinn. Shortly after the fourth season of Stranger Things debuted on Netflix, she shared a tweet that simply read, "Joseph Quinn fine as shit." She also called it "fucking criminal" how attractive she finds the British actor.
Neither Schnapp or Quinn have responded to Doja's comments, but the original video is no longer up on TikTok.