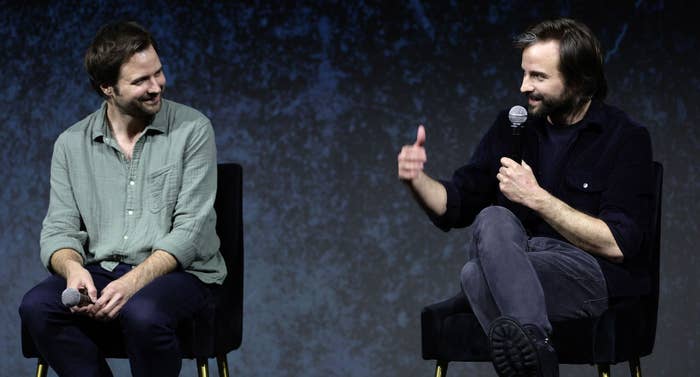 UPDATED 9/13, 11:50 p.m. ET: Variety got a Marvel Cinematic Universe-adjacent bit of news from Stranger Things director/executive producer Shawn Levy at the Emmys, who rolled out the phrase "STCU" in regards to the Netflix series' inevitable franchise-ification.
"Yes, we are building out the STCU, and now that I'm spending time with Kevin Feige, I'm learning a lot about how to manage a universe," Levy said of Marvel Entertainment's chief creative officer, who has shepherded the MCU to $27.4 billion-with-a-B at the box office and reshaped Hollywood's approach to IP.
"So I'm taking those skills and applying them to the STCU," Levy said of his conversations with Feige.
The filmmaker, whose résumé includes the Night at the Museum movies and an Oscar nomination for producing Arrival, is on board to direct the next Deadpool, making him and Feige collaborators. When asked about a hypothetical crossover between Marvel's R-rated antihero and the celebrated '80s horror series, Levy joked, "Funnily enough, Ryan [Reynolds] and I were trying to figure out how in the world could we do a Deadpool/Stranger Things crossover. We haven't cracked it yet, but it's on the table."
This was evidently taken seriously enough to warrant a clarification tweet from Levy. "Wade Wilson can't stand the sight of blood, unless it's his own or his enemies. Nose- bleeds are a hard Pass. No DP/ST crossover coming, folks. Sorry my dumb joke led to misleading headlines🙃⚔️," he wrote.
See original story below.
Fresh off the release of the Volume 2 episodes of Stranger Things 4, creators Matt and Ross Duffer have shared more details about a potential spinoff of the hit Netflix series. 
During an appearance on Josh Horowitz's Happy Sad Confused podcast, the Duffer Brothers revealed that the spinoff series will be "1,000% different" from Stranger Things.
"I've read these rumors that there's gonna be an Eleven spinoff, that there's gonna be a Steve and Dustin spinoff or that it's another number," the creators teased. "That's not interesting to me because we've done all that. We've spent I don't know how many hours exploring all of that. So it's very different."
The Duffer Brothers added, "The most important connective tissue I would say is the storytelling sensibility of it. There is story that connects to the Stranger Things world, but it really is more about how we're telling that story."
Matt Duffer went on to reveal that the duo is looking to "pass the baton" to a new creative team.
"The idea, ultimately, is to pass the baton to someone else, someone who's hopefully really talented and passionate," he explained. "Even the idea of Ross and I, say, doing a pilot and leaving it, it just feels silly to me. You really need to be there from the beginning to end. I think we need to find a partner to help us with that."
It isn't the first time Matt and Ross have discussed a possible spinoff. Back in June, the Duffer brothers spoke with Deadline about the idea, admitting that any future series would be totally different from Stranger Things.
"The reason we haven't done anything is just because you don't want to be doing it for the wrong reasons, and it was just like, 'Is this something I would want to make regardless of it being related to Stranger Things or not?'," Matt shared. "Even if we took the Stranger Things title off of it, I'm so, so excited about it. But it is not… It's going to be different than what anyone is expecting, including Netflix."