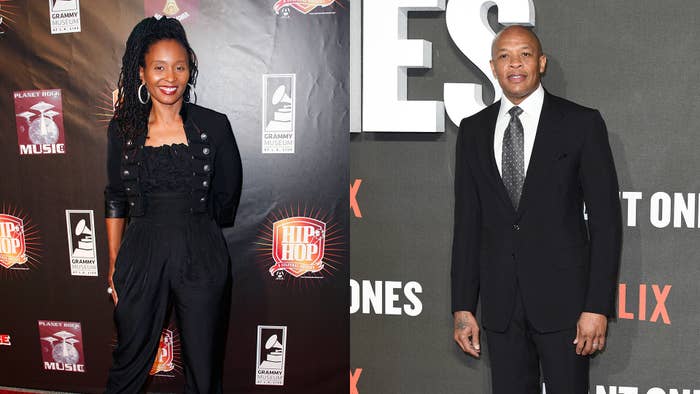 Journalist Dee Barnes has criticized the Recording Academy for honoring Dr. Dre at this year's Grammy Awards, after alleging that he assaulted her in 1991.
In an extensive interview with Rolling Stone, Barnes addressed the Recording Academy's decision to give Dre the Global Impact Award. As Barnes revealed not long after the alleged incident happened, and has reiterated numerous times throughout the years, Dre assaulted her at a record release party in Hollywood in January 1991 after she hosted an episode of Pump It Up! that focused on the tension between Dre's group N.W.A. and Ice Cube, who left the group in 1989.
"Everybody wants to separate the art from the artist, and sometimes that's just not possible. Most people without a knowledge of [Dr. Dre's] history are going to say, 'Oh, he must deserve that. He must be such a great person for them to put an award in his name.' But they named this award after an abuser," she told the magazine. "It wasn't just a one or two-time thing; these are choices. The first time, it's maybe a mistake. The second time, okay. The third time, it's a choice. I'm not saying he is the same person now, though. I don't know. I'm not around him anymore. I haven't talked to him. But to name an award after someone with that type of history in the music industry, you might as well call it the 'Ike Turner Award.'"
Barnes described the Grammys' hip-hop tribute as "beautiful," but lamented how she couldn't be in the same space as Dre. "He said it himself in the documentary The Defiant Ones: I'm a 'blemish' on who he is as a man. Well, what do you do with a blemish? There's a whole industry created—skincare lines and vitamins and rituals—to get rid of blemishes," she continued. "And, in a sense, there's a whole network to keep me hidden."
Despite her place in hip-hop culture as a prominent journalist at the forefront of hip-hop's boom in the early '90s, Barnes has been unable to remain an active participant in its culture. "I shouldn't have to suffer by not being able to exist in a space and in a culture that not only did I grow up in but that I contributed to in a major way," she said. "Is this about his feelings? Is this about his legacy? Or is it about ego and toxic masculinity? What is it about? My whole history has been erased—as an artist, as a music journalist, and as a television host."
It's not just the Grammys that haven't supported or heard her, though, as Barnes stressed that the hip-hop community has failed to support her. "When I think of what atonement looks like for Dre and me, I think of a missed opportunity where we could have sat down together on camera and hashed it out. I think that would've begun a journey of healing; he's coming face to face with me, and I'm coming face to face with him," she said. "I've put out the olive branch. Black women and grace, you know how we are. It wasn't accepted."
Barnes concluded by stating that she's been able to get herself out of homelessness after being unhoused for three years, but it hasn't been easy. "I'm finally getting my feet wet again, back in the game as a journalist," she said. "I'm a little rusty, but it's getting better. The more I do it, the better I'll feel—confident again."
In her description of the encounter with Dre in 1991, Barnes said that he dragged her by her hair and smashed her face into a wall. He allegedly kicked her while she was on the ground, and stomped on her fingers. In a statement shared with the New York Times in 2015, Dre apologized but did not directly name Barnes. 
Read the full Rolling Stone piece here.