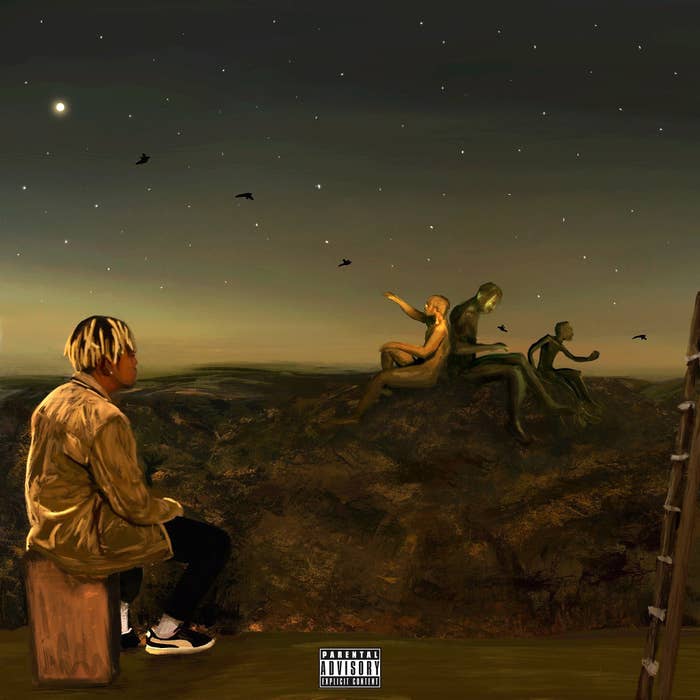 After sharing a run of promising singles last year, Cordae has returned with his star-studded new album, From a Birds Eye View.
Featuring appearances from Lil Wayne, H.E.R., Lil Durk, Gunna, Nas, and Stevie Wonder, Cordae's second studio album sees the former YBN member joined by some great company. The previously released tracks "Super" and "Sinister," both of which received official music videos, are featured on the new project.
On top of dropping his new album, Cordae also shared the official video for "Today" featuring Gunna.
He also participated in a Tiny Desk (Home) Concert.
In the lead-up to the release of the record, Cordae announced that he'll be kicking off a nationwide tour next month. Starting with a show in Dallas on February 3, the tour will run until late March with a final show in Sacramento.
Earlier this week, Cordae stopped by The Tonight Show with Jimmy Fallon to perform two of the album's tracks and opened up about the meaning behind the album's title.
"It means to see things from outside of yourself," Cordae said of From a Birds Eye View. "As human beings, we tend to all have, like, main character syndrome. It's to see things from a more zoomed-out lens. That's, like, me and you can get in an argument on TV—hopefully not, right?—but we can get in an argument here and I can leave here like, 'Oh man, you know, Jimmy, he's kinda, like, not a nice guy.' But to see things from a bird's eye view is like, 'Oh, I can understand how I was wrong in this way.' So to see things from a wider lens and more broader perspective."
Speaking with Zane Lowe on Apple Music 1's New Music Daily, Cordae talked about his efforts in making the album cohesive.
"It's only 12 songs, man and two of those are interludes," he said. "And I just always want to make a cohesive body of work. That's my main thing. I just want to make a cohesive body of work that I can stand upon. And 20 years from now, 10 years from now and be proud of and be happy about. Like each of these bodies are works are my babies man, for real."

Listen to From a Birds Eye View below.