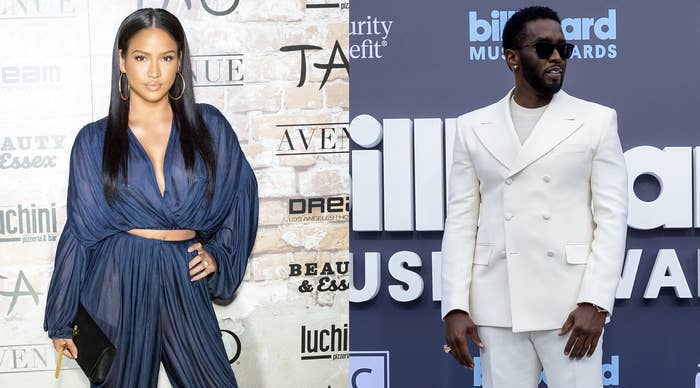 Sean "Diddy" Combs has been accused of rape and over a decade of abuse in a lawsuit filed by his ex-girlfriend Casandra "Cassie" Ventura.
As reported by The New York Times, Cassie filed a lawsuit in Federal District Court in Manhattan on Thursday, Nov. 16, accusing the hip-hop mogul of physically abusing her throughout their relationship, which ended in 2018. She alleged that Combs began exhibiting controlling and abusive behavior shortly after she met him in 2005 when she was 19. In some instances of abuse, she said he forced her to take drugs, beat her, and made her have sex with male prostitutes so he could record videos of the encounters.
"After years in silence and darkness," she said in a statement, "I am finally ready to tell my story, and to speak up on behalf of myself and for the benefit of other women who face violence and abuse in their relationships." She is seeking unspecified damages in the lawsuit.
Her lawyer, Douglas Wigdor, said the two parties spoke before the lawsuit was filed. "Mr. Combs offered Ms. Ventura eight figures to silence her and prevent the filing of this lawsuit," he said. "She rejected his efforts."
In a statement provided to Complex, Diddy's attorney Ben Brafman denied the allegations against his client.
"Mr. Combs vehemently denies these offensive and outrageous allegations," Brafman said. "For the past six months, Mr. Combs, has been subjected to Ms. Ventura's persistent demand of $30 million, under the threat of writing a damaging book about their relationship, which was unequivocally rejected as blatant blackmail. Despite withdrawing her initial threat, Ms. Ventura has now resorted to filing a lawsuit riddled with baseless and outrageous lies, aiming to tarnish Mr. Combs' reputation and seeking a pay day."
Shortly after she signed to Combs' Bad Boy Records, which released her debut album in 2006, he allegedly began to exert control over her life and career. She said that the "copious amounts of drugs" he urged her take included ecstasy and ketamine. Cassie said that he was frequently violent during their relationship and beat her "multiple times each year."
In one incident in 2009, he allegedly pushed her into a car and kicked her in the face until she started bleeding. Following the incident, she was kept in a hotel room against her wishes for a week and told she wasn't allowed to go home to visit her parents when she asked.
"Ms. Ventura felt that saying 'no' to Mr. Combs would cost her something — her family, her friends, her career, or even her life," reads the suit. When she briefly dated Kid Cudi in 2012, Combs threatened to blow up his car. "Around that time, Kid Cudi's car exploded in his driveway," the lawsuit alleges.
Combs has also been accused of forcing her to participate in his voyeurism fantasies, by making her have sex with male prostitutes so he could record videos, take pictures, and masturbate. He called these events "freak offs," she said, and he would sometimes get violent during them. In one incident, he punched her in the face, leaving her with a black eye.
TMZ reported (then retracted) that Combs is the subject of a "locked" investigation being conducted by the New York Police Department. Even though access to the probe is restricted, the tabloid pointed to "strong evidence" that the case involves sexual assault.
On Friday the department told TMZ, "Yesterday, a member of the NYPD's public information office erroneously told a reporter about the apparent existence of an active case file containing the name 'Sean Combs.' There is no such investigation, at present. Further, the release of such information is not consistent with the internal policies of the office of the Deputy Commissioner, Public Information. The NYPD always treats allegations of sexual assault and rape extremely seriously, and urges anyone who has been a victim to file a police report so that support and services can be offered to survivors and a comprehensive investigation can be conducted."
In its initial report on Thursday, TMZ recalled a 2016 article in which police arrived at Cassie's home after she and Combs got into an argument in a car over her expressing a desire to split up. An upset Combs grabbed her phone and exited the vehicle. She ended up leaving with the driver. Cassie informed her mother of the incident and she contacted the police. Cassie told authorities that her phone was returned, but a domestic incident report was still written.