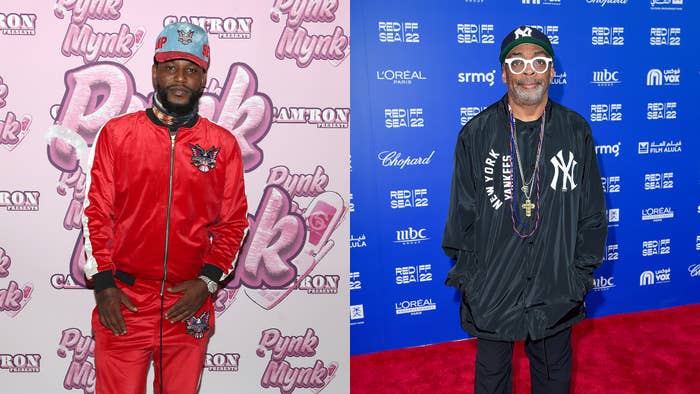 In a message posted to his Instagram, Cam'ron has requested director-writer Spike Lee not attend any New York Knicks games in the immediate future.
In the video the Dipset rapper shared, he's jokingly held at gunpoint as he reads a prepared statement. "Dear Spike Lee, please do not come back to Madison Square Garden as you are bad luck to the New York Knicks," said Cam. "We haven't won shit...since you been a ticket holder, and all you do is kiss other player's ass, pause, from other teams when they come. We thought it was disrespectful when you was…taking pictures of Steph Curry."
Throughout the clip he's continually interrupted as the man holding him hostage pressures him to continue reading the statement. "Please don't come back," he continued. "And your movies suck; pause. Except for Do the Right Thing, and Malcolm X."
In the caption, Cam jokingly apologized to the filmmaker. "Spike my bad they had me at gun point," he wrote. "They said the Knicks are doing good right now. Leave while they're ahead. @sencity730 spear headed (pause) this and @lil_bub helped. They had a petition for you not to come back to the garden with 912,568 signatures. They said watch from home. Or else. I'm scared. SB: I like ya movies Spike."
Spike Lee has been considered bad luck by some Knicks fans for years. In fact, a Los Angeles Times article from 2011 suggested Lee and his "strange hat" contributed to the team's numerous losses at the time. With the Knicks currently doing respectably in the Eastern Conference, it appears as though Cam'ron (or at least his captor) don't want to take any risks with his beloved Knicks this season.