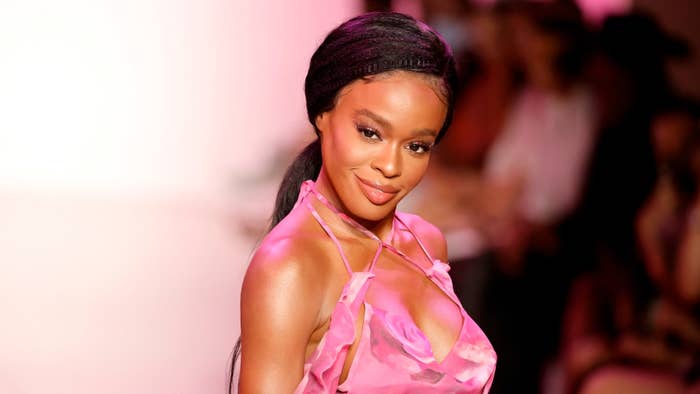 Amid the controversy over Matty Healy's appearance on The Adam Friedland Show earlier this year, Azealia Banks has posted a takedown of The 1975's frontman, who laughed at offensive jokes about Ice Spice and is rumored to be dating Taylor Swift.
"Does Matt Healy know that no one actually thinks The 1975 make good music and that he's a lame poser with a trash cliche band name that actually means nothing," wrote Banks on her Instagram Stories. "He's clearly so pressed that a Black girl who knows nothing about him or his music is making more moves and money than him. Does he know that Black women are more coveted [in] todays industry because there's BIG BUSINESS in female rap. He is so obviously weak in the knees, thin-jawed and drug addicted that it's easy to catch his crusty ass lackin."
While Ice Spice previously revealed that she is a fan of The 1975's music, Banks' post is clearly a defense of the Bronx rapper, who was mocked by Adam Friedland and Nick Mullen during Healy's appearance on their podcast.
"The outrageous small white opinionated male musician thing works for Ariel Pink and Ariel Pink only," Banks wrote, referring to the lo-fi pop musician who was spotted alongside fellow indie darling John Maus at the January 6 Capitol riots, per The Fader. "The 1975 better go somewhere with their post The Academy Is bullshit. ... You're not a star, nor are you good at whatever this crappy ass mid-2000;'s indie Pitchfork darling fantasy you're trying to sell. Ice Spice has MILES more originality than you will ever. The 1975 is on nobody's radar babe, maybe fat emo teenagers but no we are not checkin for you boo."
In further posts, Banks described herself as a "music connoisseur" who "loves indie rock," but thinks The 1975 is "corny" and gives off a "manufactured" quality. "Taylor, this guy is gonna give you scabies," she wrote alongside audio in which she offered Healy advice to eat a "strong green salad" and "wash [his] dick." She suggested that he has "nasty wet rat hair," and that he won't ever be the "indie daddy" she thinks he presents himself as.
"He's not on the level of powerful puss u worked HELLA hard to build," Banks continued. "Ugh, so many much cooler people in music to work with. You should really tap James Mercer from the Shins. James mercer is honestly one of the best lyricists ever. Yessss Taylor Swift with 'Black Wave' 'Australia' by the Shins vibes is the TEA sis. Ugh this dude is a full incel. You cannot be letting him climb the rich coochie mountain sis." In one final post on the matter, she added, "Matt Healy is one shared needle away from tetanus."
Earlier this week, Healy address his controversial podcast appearance in an interview with The New Yorker. He said that he might have baited his fans "a little bit" with the guest spot on the podcast, which was criticized as racist and misogynistic. "But it doesn't actually matter," he said. "Nobody is sitting there at night slumped at their computer, and their boyfriend comes over and goes, 'What's wrong, darling?' and they go, 'It's just this thing with Matty Healy.' That doesn't happen."
Overall he thinks that people are "mental" for getting up in arms over the podcast, which was released all the way back in February but resurfaced following rumors he's dating Taylor Swift. Neither him or Swift have commented on their rumored relationship. Ice Spice, who recently hopped on a remix with Swift, also has not commented on the controversy.