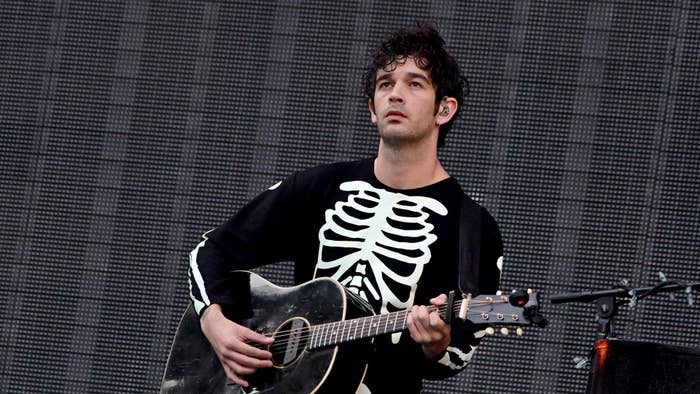 Matty Healy has addressed his controversial appearance on an episode of The Adam Friedland Show, in which podcast hosts Adam Friedland and Nick Mullen made offensive remarks about Bronx rapper Ice Spice.
In an interview with The New Yorker, The 1975 frontman suggestedd that he might have baited his fans "a little bit" with the appearance. "But it doesn't actually matter," he said. "Nobody is sitting there at night slumped at their computer, and their boyfriend comes over and goes, 'What's wrong, darling?' and they go, 'It's just this thing with Matty Healy.' That doesn't happen."
He said that if people are really this bothered by his behavior or association with some more problematic figures, there might be something wrong. "If it does," he said, "you're either deluded or you are, sorry, a liar. You're either lying that you are hurt, or you're a bit mental for being hurt. It's just people going, 'Oh, there's a bad thing over there, let me get as close to it as possible so you can see how good I am.' And I kind of want them to do that, because they're demonstrating something so base level."
During the episode, Healy said that he messaged Ice Spice on Instagram after he learned she was a fan of his band. Host Mullen then referred to the rapper as "Inuit Spice Girl" and impersonated racist caricatures of Chinese of Hawaiian accents. Healy laughed at the jokes and also made a joke of his own about enjoying the porn channel Ghetto Gaggers. He was criticized by fans and was later criticized by Taylor Swift's fans amid speculation that he's dating the popstar. The episode has since been removed from Spotify but is still available on YouTube.
Healy issued an apology of sorts to Ice Spice not long after the controversy emerged. "I just feel a bit bad, and I'm kind of a bit sorry if I've offended you," Healy said during a recent show in Auckland, New Zealand. "Ice Spice, I'm sorry. It's not because I'm annoyed that me joking got misconstrued. It's because I don't want Ice Spice to think I'm a dick. I love you, Ice Spice. I'm so sorry."