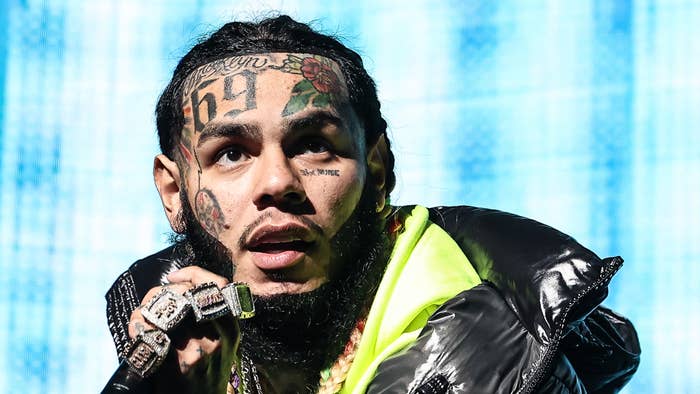 In a video originally shared on his Instagram Stories, controversial rapper 6ix9ine suggested hip-hop culture hates on Spanish rappers.
"There's something I want to get off my chest," he started the clip, in which he reiterated that he owes his record label a Spanish language album. "I seen a lot of people saying 6ix9ine went from English to Spanish. … You know how many Spanish n****s is born and raised in Brooklyn, Manhattan, The Bronx, Queens, Staten Island—the whole New York City? What y'all trying to say? Spanish n****s can't eat? So when you Spanish, you can only make reggaeton? You can only make Spanish music? It's our culture too, n***a. Fuck is you talking about?"
Throughout 2023, 6ix9ine has released a series of singles in which he raps in Spanish instead of English. He's yet to announce his Spanish language album, but none of his 2023 singles have managed to reach the Billboard Hot 100.
"Just think about it: name one Spanish rapper other than me and shawty that could enter the top 10 on Billboard. Name them, I can't even name Spanish rappers," he continued. "Y'all don't let n****s eat. Y'all just mad 'cause I could enter a whole different demographic in the Spanish market. I dominated the English [market], now I'ma dominate the Spanish."
In a comment on DJ Akademiks' repost of the video, he added, "If u a Spanish/Latin/Hispanic kid anywhere in America, just based off these comments just know you can't make it in rap." He suggested that anyone who wants to break through won't be given a chance to break into the industry unless they "bully" their way to the top. 
His post comes not long after the Brooklyn native downplayed his recent assault at a Florida gym. In March, the rapper was left hospitalized when he was attacked by multiple men. He insisted the attack wasn't staged, and said it was "tough to watch" the security camera footage.