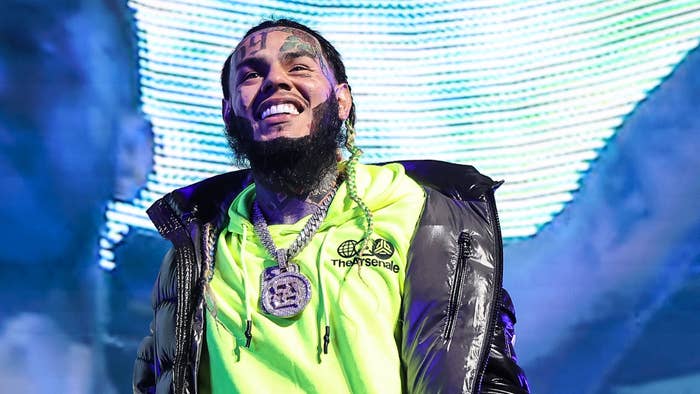 6ix9ine is downplaying his recent assault at a Florida gym by introducing his LA Fitness Challenge.
The Brooklyn native took to Instagram on Monday to share a video where he demonstrates the challenge. "This is 6ix9ine and this the LA Fitness Challenge," he says at the beginning. We then see Tekashi being held by his arms and legs by two big guys, who swing him from side-to-side. A woman wearing a bikini is standing nearby, ready to jump over him.
"Wow .. security taken full advantage of this undocumented Dominican girl.. smh bro seen an opportunity and took it," he caption the video. The first girl barely makes it over 69. As the clip continues, we see the two men holding a woman, who 6ix9ine tries to jump over, but instead he falls on top of her. The rapper tries to jump over another woman and is successful. Another woman then tries to jump over him and makes it.
The end of the IG clip shows 6ix9ine's inspiration behind the challenge, which he got from his new visual for the song "Wapae." It shows the same move: two men holding a boy by the legs and feet and almost creating a human jump rope as a fourth man jumps over him.
6ix9ine was attacked at a Florida LA Fitness last month, which left him in the hospital. The three men accused of being involved in the assault were later arrested. At the end of March, 6ix9ine gave his first interview since the incident, telling NBC Miami, "I think it was cowardly. I think it was opportunistic, but again I'm not mad because I know in the streets there are no rules. I'm at a loss for words because they saw an opportunity and they took it."