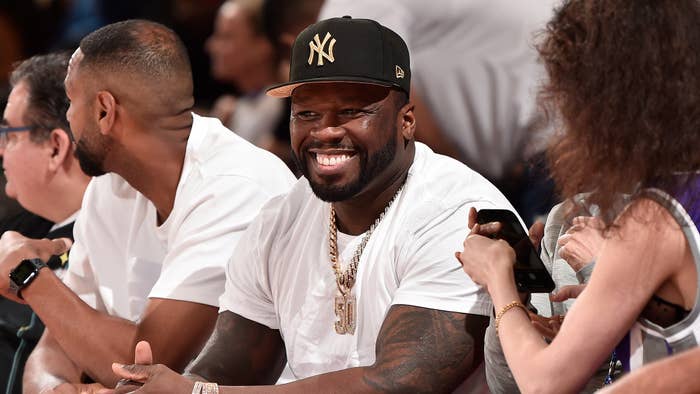 50 Cent has shared his reaction to Young Guru explaining how Jay-Z once warned rappers in his camp about the impending arrival of Fif.
50 shared the clip of Guru on Math Hoffa's My Expert Opinion podcast, writing in his Instagram caption, "I love you n***as too 🤷🏽‍♂️ I just need somebody to compete with."
"It makes me find a way, Jay know I will always find a way," he added.
His response comes not long after Guru broke down the "warning" on the podcast. 
"There's a point where Jay walks in the studio, and it just so happened that everybody was in the studio," Guru said, as seen in the video up top. "I think we were working on The Blueprint 2…and Jay walked in the studio, he said it before but I'm telling you how impactful it was. He walked in the studio and he was like, 'Yo, this dude 50, y'all gonna have to deal with him in the next couple months. He said it to the whole crew, 'You have to deal with him.'"
Hov's veteran engineer described the moment as a "warning" that "another power is coming."
Guru shared plenty of praise for Fif's music at the time, and noted that Jay-Z was among the first to really acknowledge just how big he was going to be.
Hov himself told the story before in a 2013 interview with the Breakfast Club. "I remember one time walking in the studio…I was like, 'I'm telling you man, y'all got a chance right now to flood it, put out a lot of music, because 50 Cent is coming,'" he said. "Four months later, 'In Da Club' hit and it was over."