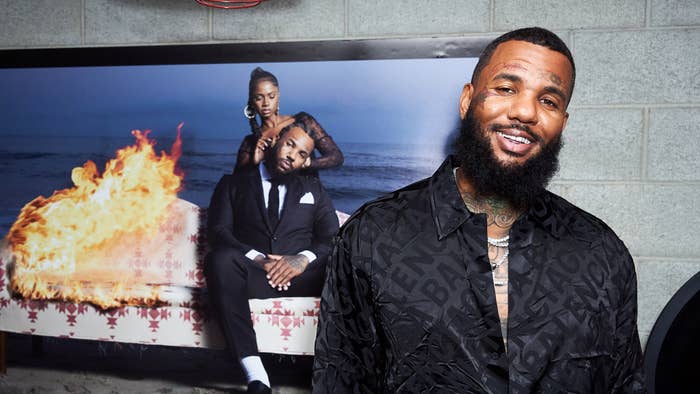 In an interview on the Rap Radar podcast, The Game addressed his recent 10-minute Eminem diss track "The Black Slim Shady."
Speaking with Elliott Wilson and Brian "B.Dot" Miller, the 42-year-old clarified that he wanted to come for Em, 49, in a fun and competitive manner because few rappers feel up to the challenge. "Just because nobody really does, number one," he replied when asked about his motives near the 43-minute point in the interview. "Number two, I pissed off a lot of people with that song, you know Em got a lot of stans. But as far as it being personal, it's not personal."
As the song makes clear with its many references to Em's discography, from his acclaimed material to his more divisive later output, Game stressed he came up on Em's music too. "I remember the first time that 'My Name Is' came out. I was, like, 'whoa'-ed by it. I felt the same feeling when I heard that, that I felt when I heard 'Juicy' from B.I.G. the first time. … I always fucked with Em," he said.
The Game continued, "I think me and 50's fallout made him choose a side and he wasn't doing the shit that I did. He was like, 'I'm going with 50. Fuck you n***as.' But I just felt like I had some emotions, a little bit, about Super Bowl shit and all of that. And that's Dre's boy, and Dre don't rap. So it's like, if I wanna have a conversation with Dre or I'm mad at Dre, let me poke shots at Eminem. And 50 can't out-rap me, he's doing his TV thing and more power to him, the shows are great. But as far as rap shit, I got that locked. So the only person I could rap with, or try to poke the bear and see if he really want to go there, is Em."
Elsewhere in the podcast, he gave some praise to Jay-Z for helping him clear various samples for his recent album Drillmatic – Heart vs. Mind. Game noted that he wasn't sure if the samples would get cleared because of their "tricky past," but came to the realization that Hov is aware he's matured a lot since shots were fired.
"I think at this point he knows that I have grown and I have matured," Game said. "And also, of course, he has grown. … And his wisdom, you know, just by far is…it's Hov, man, you know what I'm saying?"
Listen to the full episode of Rap Radar below with Spotify, or via Apple here.