21 Savage Is the New ASMR GOAT With His Whispers on Metro Boomin's Album
Metro Boomin returned last night with his new project 'Not All Heroes Wear Capes.'
Getty
Image via Getty/Tim Mosenfelder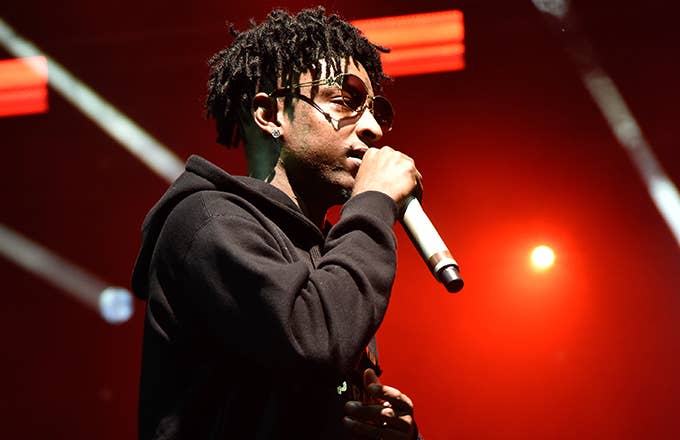 Metro Boomin returned last night with his new project Not All Heroes Wear Capes, bringing along some high-profile guests including Gucci Mane, Travis Scott, Swae Lee, and 21 Savage among others. One whispery feature from 21 Savage in particular has got listeners talking, comparing his appearance on "Don't Come Out the House" to that of ASMR.
For those unaware, ASMR stands for autonomous sensory meridian response, and is generally produced for the sole purpose of relaxing people. (Cardi B's a huge fan and has recorded several of her own.) Of course, 21 Savage's lyrics are anything but relaxing, but the way he whispers on the track sounds like it's taken straight from a more intense ASMR video.
21 even makes a reference to his whispering on the first verse, switching up to his more regular cadence while rapping, "Y'all must thought that I was gon' whisper the whole time." 
This isn't the first time 21 has been compared to ASMR, either, but it's the closest he's deliberately come to the real thing, sounding like he's rapping in a library. Check out what everyone had to say about his verse on Twitter below.