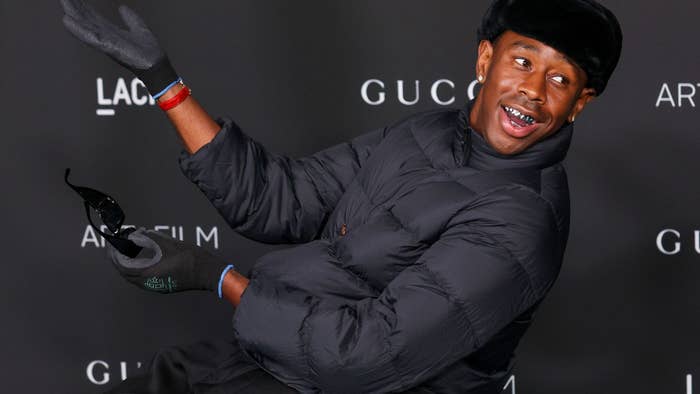 Fan theories have been floating around since it's 2021 release, but Tyler, the Creator has officially explained the meaning behind his Grammy winning LP Call Me If You Get Lost. 
After scooping up the trophy for Best Rap Album this weekend, Tyler continued his tour to Portland, Oregon, where he discussed what exactly the title means. As Tyler explained, after 2019's Igor, he "noticed how much rap music changed my life and my friends' lives," so he decided to brag about the things that are important to him.
"And when I say Call Me If You Get Lost, I don't mean when you don't know what to do. I mean when you call me, I want you to be telling me the shit that you on, the shit that you doing, you out in the world getting lost doing your shit. I don't want n***as calling me like, 'Oh, I'm sad, I don't know' — no, fuck that. Call me and let me know that you on your shit 'cause I'm on my shit, and maybe we can get on that flight and meet up and see what the fuck we on. That's what I meant by that."
During his speech at the CMIYGL Tour, Tyler also spoke about what DJ Drama and Gangsta Grillz tapes meant to him growing up, how they inspired his earlier work with Odd Future, and how Q-Tip's 1999 solo album Amplified helped inspire his 2021 effort. 
"[Q-Tip] was the weird backpack n***a that put this album out where he was like, 'Hey y'all, don't get it twisted. I'm fucking whoever, I'm driving whatever, I'm doing whatever,'" Tyler said. "And without that album, Call Me If You Get Lost wouldn't exist, so thank you Q-Tip for setting the blueprint."
Tyler also made sure to salute Gravediggaz, and how he sampled track "2 Cups of Blood" for "Lumberjack," before he asked his fans in the audience to make sure they do their research on the stuff that he grew up on, and the history of the genre.
"Because of the Internet now, a lot of kids don't do their history. And the genre they're a fan of — man, they don't see how important a Gucci Mane is that all these kids are derivative of now," he said. "So all y'all being here being a fan of this thing, please just do your history and learn and respect this thing that some people really hold dear. I can't lie, seeing a bunch of baby-ass white girls dancing to RZA beats in 2022 is fucking progression to me, bro. It's beautiful." 
For Tyler, the Creator fans who have been waiting for vinyl of the album, it's now available here along with Call Me If You Get Lost posters.