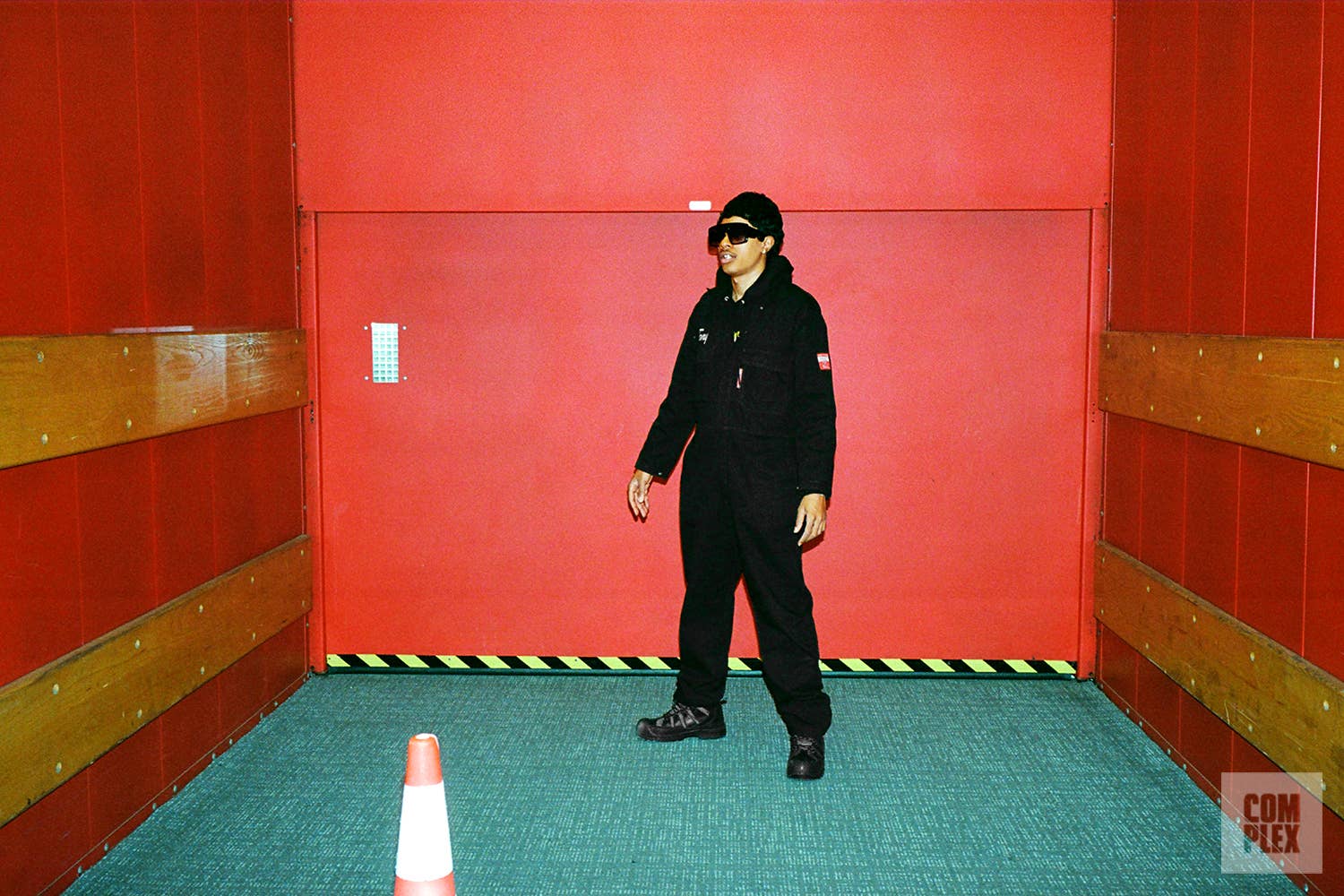 Teezo Touchdown and his entourage—a group of men dressed up as construction workers—are looking back at his career. Literally.
Music video props and personal keepsakes have been chaotically packed into boxes at Gotham Mini Storage in Manhattan, a couple of blocks away from Madison Square Garden. When we arrive at the storage locker on a Sunday afternoon in mid-March, Teezo is only an hour away from playing his first of two back-to-back shows at the nearby arena in support of headliner Tyler, the Creator.
From the outside, the locker looks like it could be anyone's. There are no obvious giveaways that it belongs to Teezo, and I luckily don't step on any of the nails that he usually wears in his hair. Inside, the walls are lined with 50 rotating fans from the "I'm Just a Fan" music video, football pads from his first live performances, flame-embroidered boots, and an unopened box of what he thinks might be edibles from Madonna. The contents of the locker double as an archive of his career so far, including hundreds of Teezo's signature yellow sticky notes, inked with positive messages like, "You're the biggest star ever."
The Beaumont, Texas artist promises me that he and his boys (creative director Austyn Sux and photographer/actor Jacob Ford) are only at the storage facility to grab a couple things, but it begins to feel like our mission holds deeper meaning. After a few years of sharing wildly unpredictable, genre-defying songs, and leaving the internet scratching their heads about the guy who wears nails on his own head, Teezo finds himself on an arena tour with one of the most popular artists on the planet, and he's ready to show me his highlight reel. But I soon realize we aren't looking for any particular prop or memory. In a sense, we're looking for Teezo Touchdown.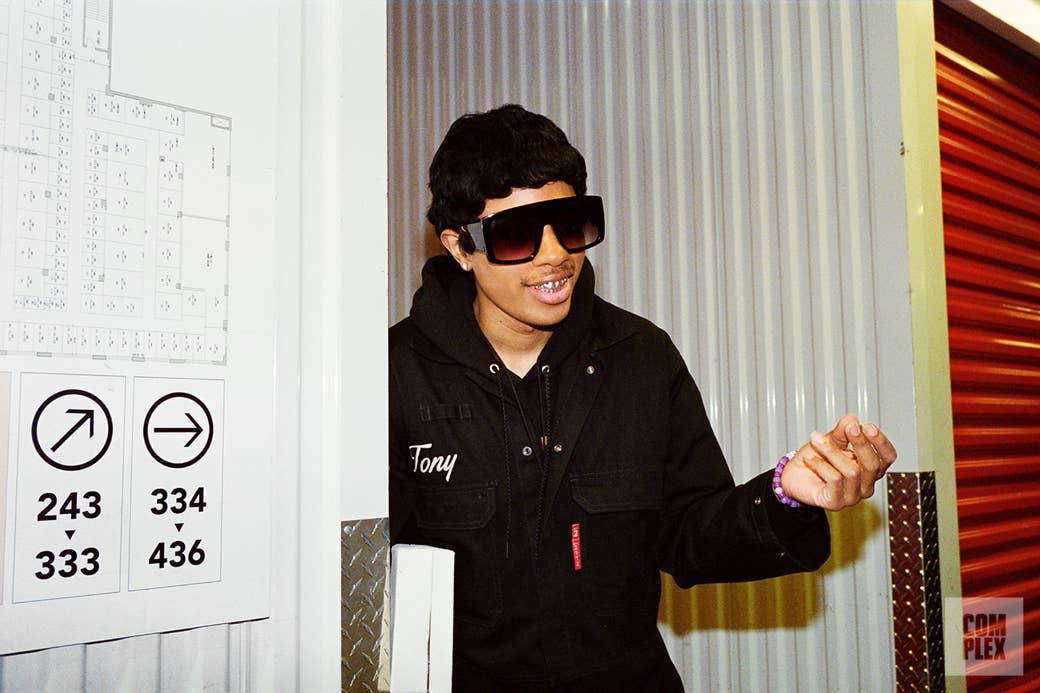 As I watch, he digs through the locker and pulls out costumes, including some pieces he put together for a character he calls Bloody Hell, who only appeared during his London show in 2021. I ask him about all the characters he's introduced to fans over the years, and he recalls a conversation he had with Austyn a few months back. This is when I learn that Teezo Touchdown—even with his Tyler, the Creator co-sign and gifts from stars like Madonna—is still figuring it all out. 
"[Austyn] was like, 'It seems like you have more fun being everyone else but Teezo,'" he shares. "I was like, 'Damn, that's really true.' Because I don't know what I want Teezo to be yet. Right now, not to be cliché, but Teezo is literally myself. This is the same person that my dad gets. And it's like, when you look in the mirror, and you see yourself, I don't see the big hoopla. But these other characters, they're bigger than life to me."
This first time I spoke to Teezo Touchdown was a year and a half ago, when I helped introduce him to readers for his first major interview with Pigeons & Planes. Instead of answering my questions in a traditional fashion, he took the time to write new songs and create skits in response to each one. At the time, very little was known about the alternative naysayer, besides his "uniform" of jeans and a beater, his reputation for making critically acclaimed music videos, the aforementioned nails, and a string of eccentric singles ("Sucka," "Strong Friend") defined by an ear for wacky beats and an eye for even wackier metaphors. During that first interaction in 2020, I learned that he's the most theatrical guy in the game, and now I'm ready to learn more. Apparently, so is Teezo.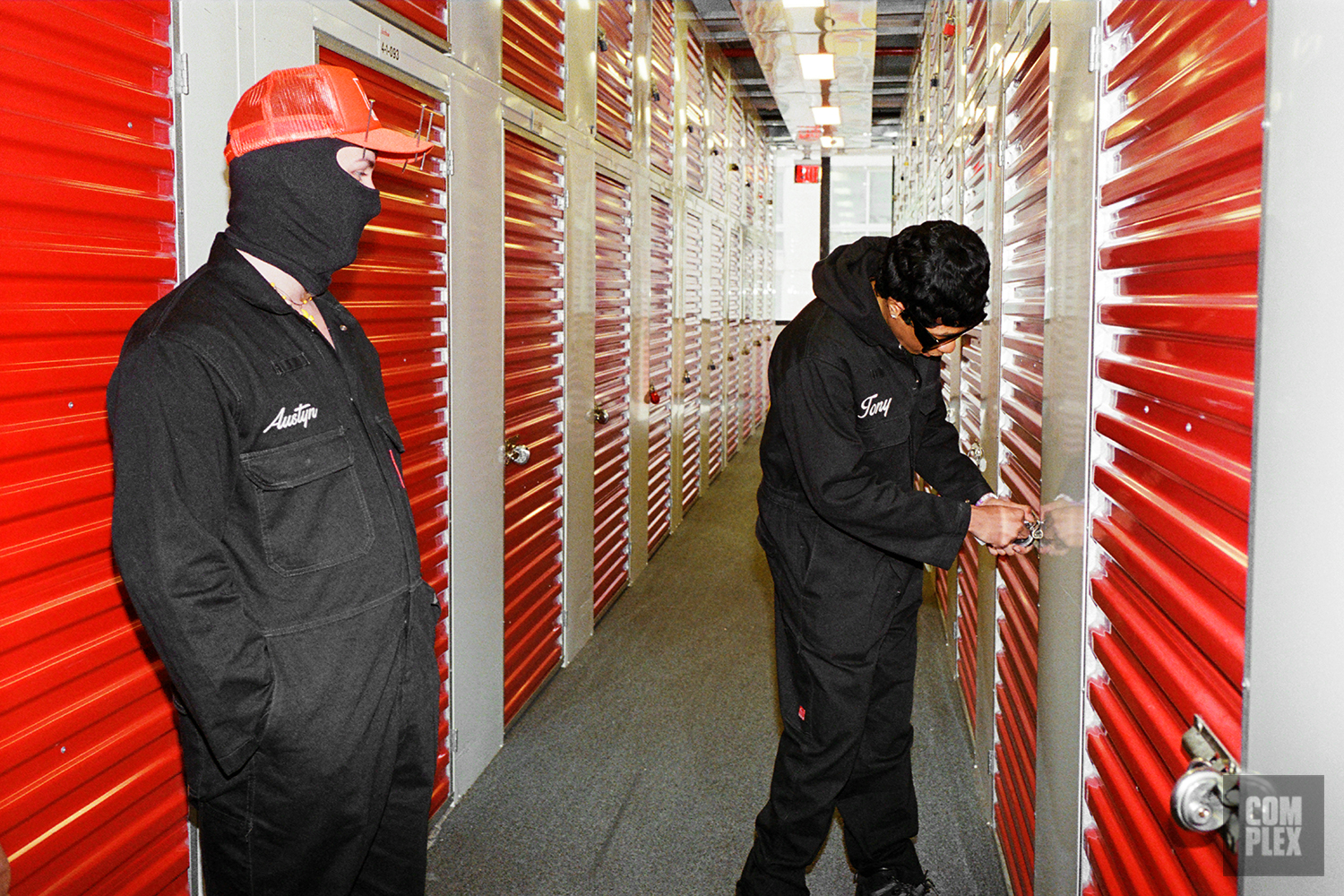 Somehow, Teezo has managed to keep his full name and his age (which is estimated to be around 29 or 30) to himself. When he pulls out his ID at the storage facility, I try to get a glimpse to see if it's actually "Anthony Thomas," which he's hinted at before, but I'm unable to. The mystery continues.
Earlier in the day, I was greeted by Austyn and Jacob, who walked me up to Teezo's hotel room at the Spring Hill Suites. At each of Teezo's shows, Austyn appears onstage, but he's less of a hype man and more of a "co-host" on tour, participating in a performance that they call "Heavy Metal Only." Jacob, too, hops onstage every now and then, but most of his work with Teezo can be seen in music videos like "Technically," where he plays characters like mailmen and waiters. 
"I don't know if I'm romanticizing it now, but me smiling and cleaning up sh*t felt like a movie. I felt like something was coming."
Once we made our way to room 2022, Teezo's presence was immediately noticeable. Yellow sticky notes sat in stacks on his bed, and a couple of them were stuck to the wall to remind him where he was that day. For months, Teezo has been leaving sticky notes around the country in locations he's visited, and occasionally in the hands of fans, before posting pictures of them to Twitter and Instagram. They usually include puns and uplifting messages of sorts, or just acknowledgements of where he is at the time of writing them. 
"If I don't have these, I can't communicate," he said, referring to the sticky notes. 
As Teezo got ready in the bathroom, calling for someone to pass him shaving cream, he rattled off the kind of snappy one-liners that fans are used to hearing him say in his skits. Looking around the room, though, it became clear that Teezo isn't just a viral-sensation robot. Crumpled sticky notes littered his bed, scrawled with work-in-progress ideas and rough drafts. Sure, he has the ability to go viral, but he's not just stumbling into it—there's a lot of care and intent that goes into each of his creations.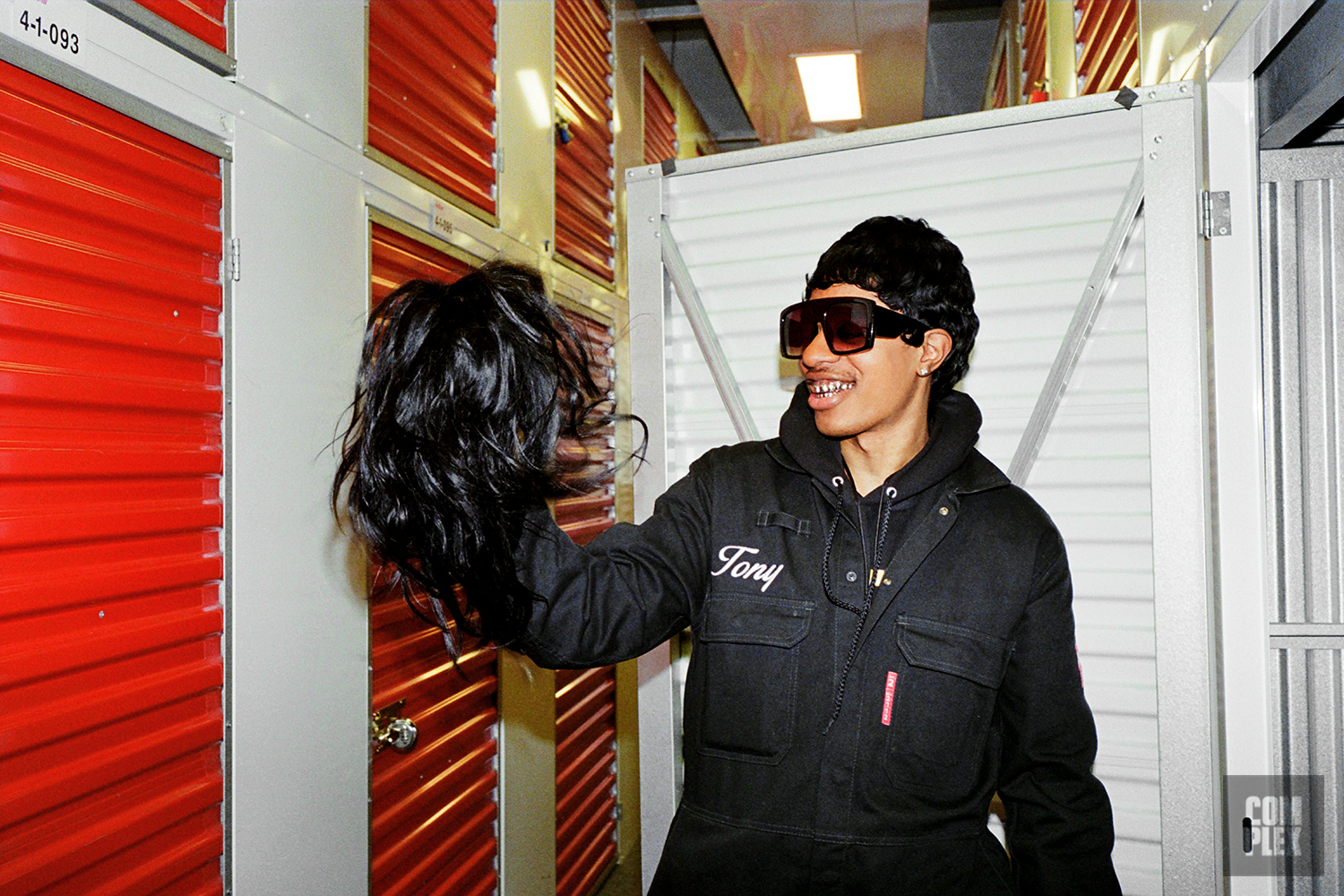 As we stepped out of the hotel, he told me all about how New York is a lucky city for him. Whenever he's here, something new happens to propel his career forward, like linking with Madonna at her Madame X premiere, or taking his relationship with Telfar to the next level during Fashion Week.  
When we walked over to Teezo's storage space at Gotham, I'll admit I felt out of place, traveling by foot with three guys dressed as construction workers, but the Southern hospitality of Teezo Touchdown is enchanting. He shared some ridiculous stories, like how his license was suspended while he drove 120 miles with his friends to catch a show in Houston, or how his "only night in jail" came as a result of a driving warrant, and how the arrest interrupted a music video shoot.
"I seen Frank Ocean one day," he interjected, remembering another story from a recent afternoon in Manhattan. "Well, he seen me that day. Apparently he rode by on a bike and blew me a kiss. It was a shoot for Interview Magazine. They were like 'Frank just rode by and blew you a kiss.' I was like, 'You're lying.'"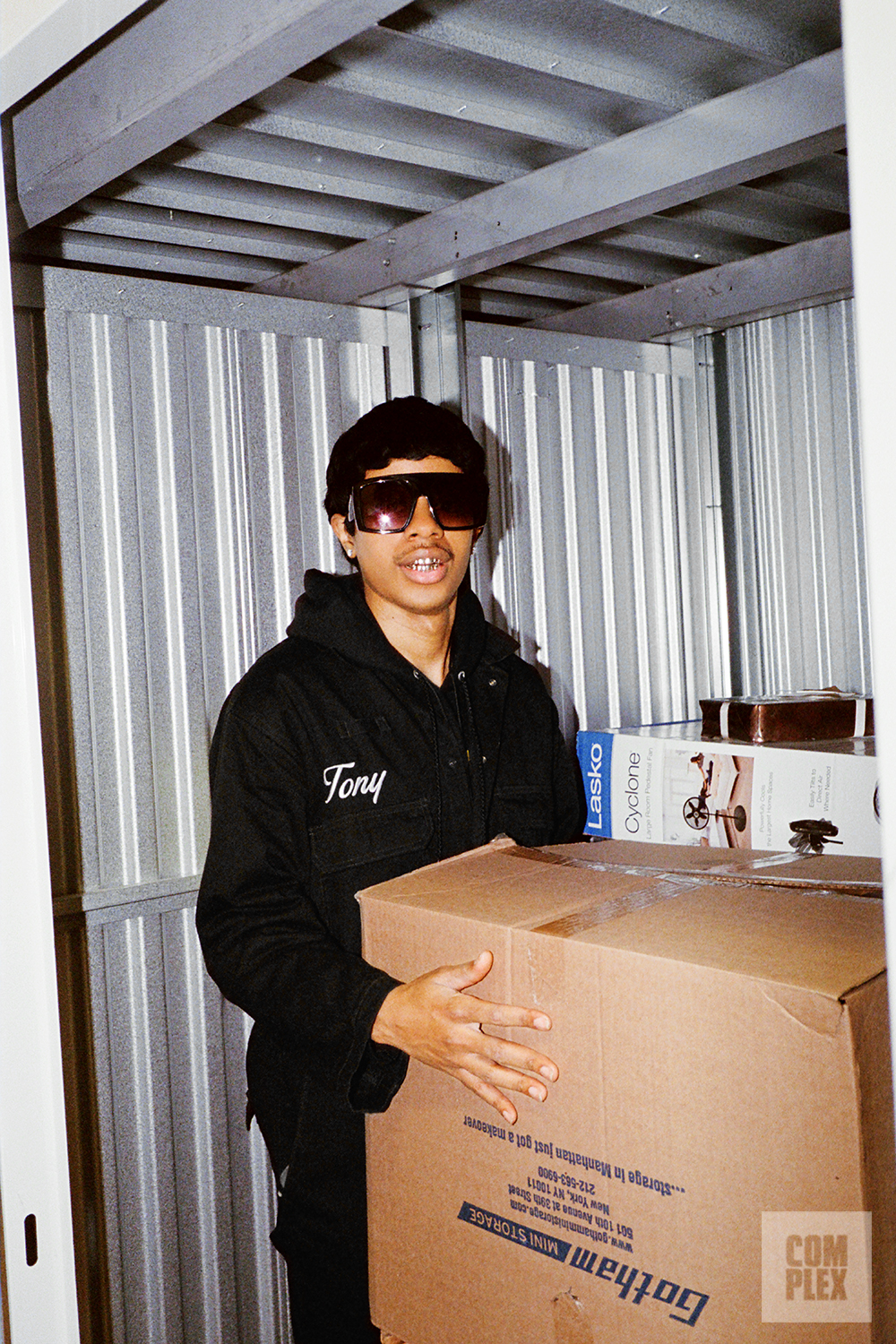 This is Teezo's life now, and much of it is sitting in this storage space. Before he gives me the grand tour, he realizes he has the wrong keys on him, so he calls for someone he's nicknamed "Padlock Papi," a very tall man who broke his combination lock months back to do the job again. In the meantime, we start chatting about fashion. 
Since 2020, he's been a brand ambassador of sorts for Telfar, and even earned some ties to Balenciaga. The clothes are a far cry from his original uniform of jeans and a beater, and while some of his most vocal critics have labeled him a "fashion rapper," he makes it clear—as we're 18 dates deep into one of the biggest tours of the year—that fashion isn't his priority, before reminiscing about his days of wearing the same thing every morning. 
"I'm still an MC at heart, man."
"Fashion still isn't even on the forefront of my mind, man," he explains. "I'm still surprised at all the looks I get. It's expensive trying to come up with this new, spontaneous thing that you want to make a statement with. It's so easy to look like someone else. No matter how cool you look, you're gonna get compared to Carti, man."
Once the lock is open, Teezo starts pulling out boxes of old memorabilia, including pins from his "Rid the Mid" campaign (one of which he gave me as a souvenir), camera equipment from his early music videos, and performance setlists. He's sitting on the floor, showing me everything from his past, like a grandfather going through a photobook with his grandkids. 
When he finds his first vintage hardhat, he tells me, "I'm coming from Beaumont, which is a refinery town. You've got the party promoters who have money, and the drug dealers would have money. But the people you know have money, this is their design: these work fits. That's where this came from. I'm pretty much dressing like the common working person. They are the high class of Beaumont."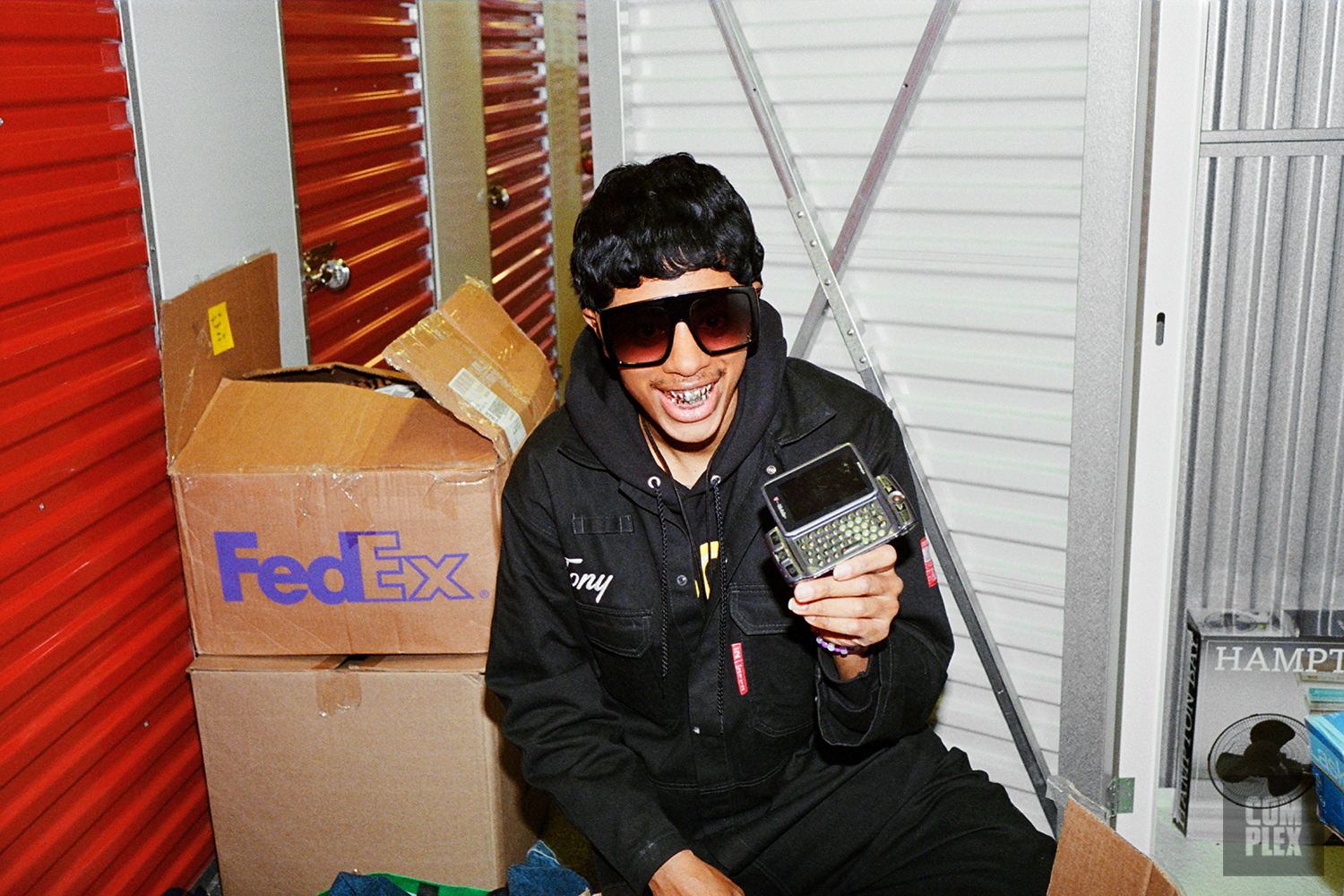 Repping Texas is everything for Teezo. His inner circle largely consists of friends from back home. And on the streets of New York, when people ask him if he's from Texas, he can't help but grin. 
"You could be a Z-list celebrity, but when you pass through Beaumont, we treat you like, 'Ah, a celebrity,'" he tells me. "Now I'm the celebrity that passes through. Whenever I mention Beaumont, I start talking more country. Or I talk about the niche things from my city, just to really wave a flag, like yo, someone from here is doing it."
Teezo's pre-success memories are still fresh, and he jokes that he has "post-traumatic job disorder." Before finding success in music, his workplaces included a movie theater, a Tex-Mex restaurant, and Joe's Crab Shack. His most recent gig, for a family friend in a custodial role in 2018, happened at the same time that his hip-hop group Cvke Supply was starting to take off locally. 
"I was cleaning shit out of toilets, mopping floors," he remembers. "People would come in with the merch for my group, and I would turn my head so they wouldn't see me. I knew. I was like, 'Yo, this is temporary.' I was telling the dude at training, while he's showing me how to stock the icebox. I just remember that second day, man. They showed me how to clean the bathroom, and I'm like, 'Whatever.' Then this guy, man, he's about 7 feet tall, left something mean in the toilet. I was just like, 'Yo, this is it, man.'"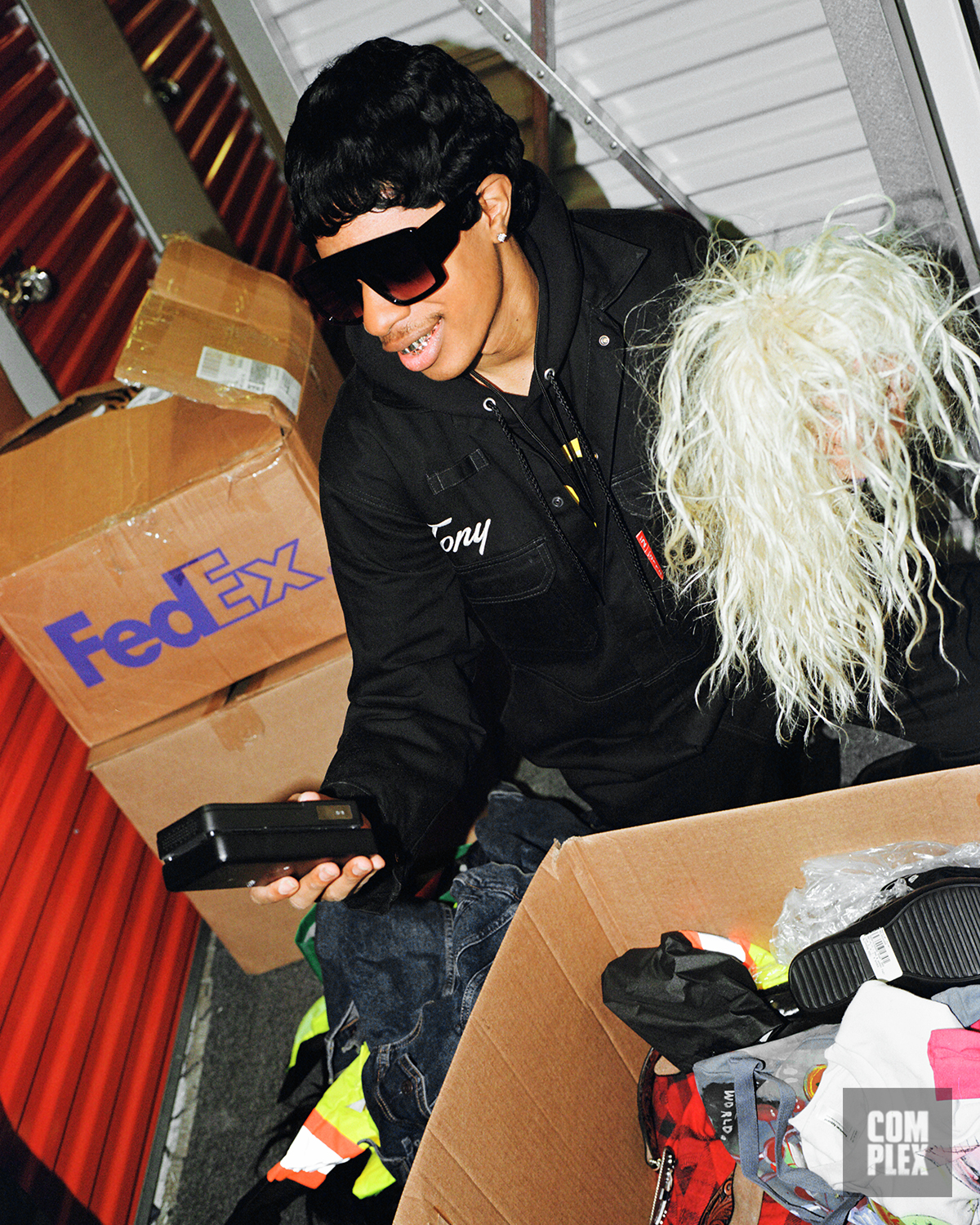 Things changed for Teezo in December 2018, when he invested in a camera and a gimbal stabilizer with the money he saved up from cleaning up, apparently, a large man's shit. With that camera, he recorded his live music video for "100 Drums," released in early 2019, which caught the attention of his manager Amal Noor. The next two years have been spent watering Teezo's ever-growing online fanbase with social media skits and daring rap cuts like "SUCKA!," rock slappers like "Social Cues," and even a feature on Tyler's latest album Call Me If You Get Lost, with "RUNITUP."
"I don't know if I'm romanticizing it now, but me smiling and cleaning up shit felt like a movie," he says. "I felt like something was coming. And it's weird now, I thought it would be a movie montage. But it's normal day to day. I'm just going to MSG today. It doesn't feel like this grandiose [thing]. It's not like a movie score. We're waiting on an elevator. Soundcheck is in a few, and we go to MSG. Even now, I take it back, because we just romanticized that storage unit. It feels real, but it feels normal."
Nothing feels too normal about life with Teezo Touchdown, though, at least when you're only following along for a few hours. Sure, he has to do some mundane tasks every now and then, like calling up managers to get comp tickets set up, and breaking open storage lockers, but he's on tour with one of the biggest artists in rap right now. Hell, he's even doing an interview with publications like Complex (he excitedly points out that Travis Scott's first major interview was with Complex).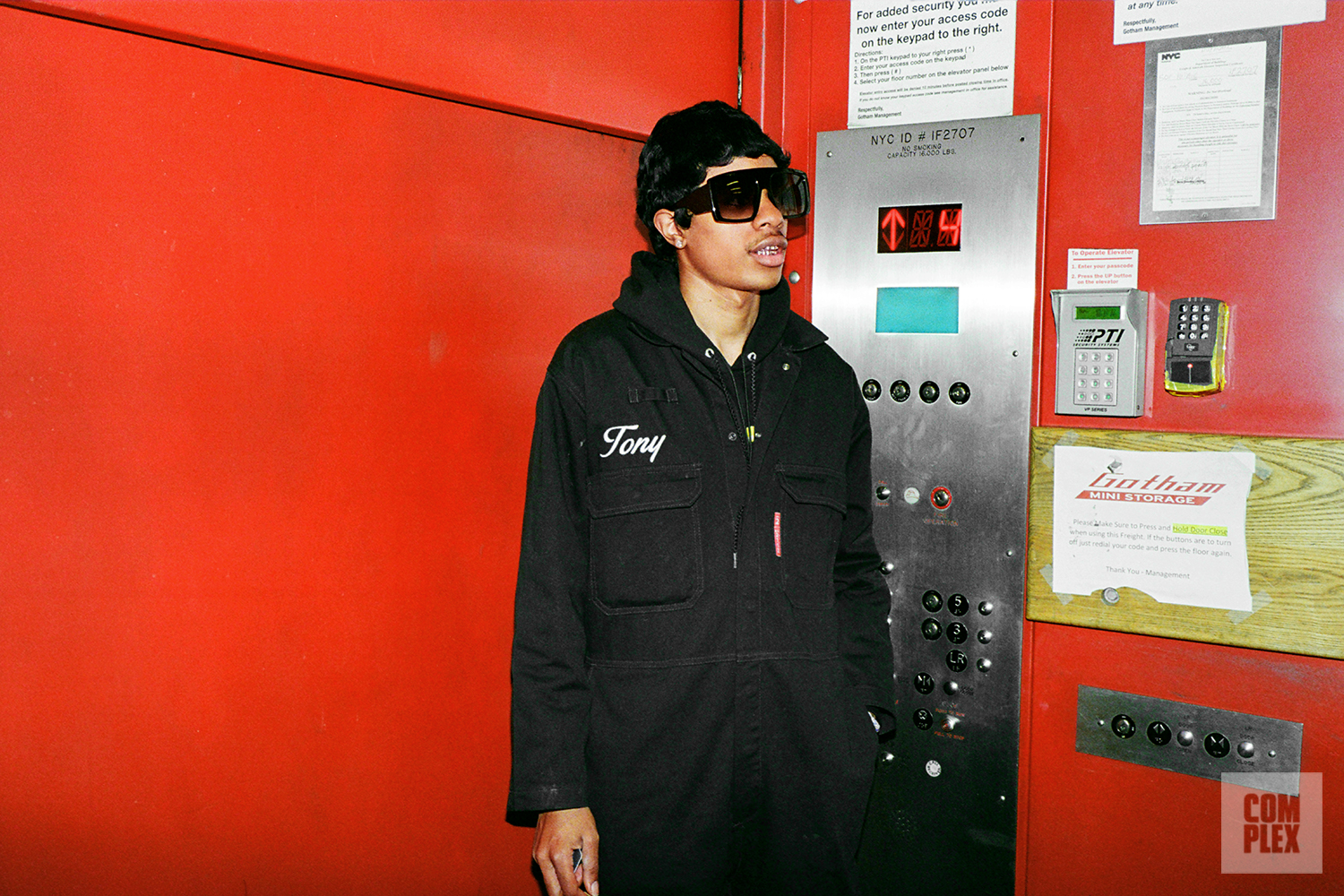 When we leave the storage unit, after having to replace the lock again, he starts reminiscing about how Tyler first discovered his music. As Teezo recalls, someone sent the "SUCKA!" music video to Tyler in a group chat. "He was like, 'Nah, he's up to something. He's not just joking. Look at his hands. I can tell by his hands he knows what he's doing,'" Teezo says, relaying Tyler's immediate reaction.
When Tyler decided to bring Teezo on tour, alongside Kali Uchis and Vince Staples, he promised the up-and-coming artist that the most important aspect of the whole experience would be the fans who pay close attention—the ones who end up Googling the name "Teezo Touchdown" after his set to find out what he's all about.
I ask Teezo about the biggest lesson he's learned from Tyler so far, and he says, "Intent. Intent is one of the big things. You'll be influenced by the music. But he told me, 'By show four, you will get it.' That first show was so bad. I stayed away from the internet that night. [My hair] was just jiggling. And I was like, 'How was the show?' He was like, 'Great.' 'How was the sound?' He was like, 'Horrible, but you'll get it.' And that I did. One thing I'm watching, that didn't tell me, is he's a master of ceremonies. He's so quick-witted. Every show, it's a personal experience."
Teezo has certainly taken notes from Sir Baudelaire. His sets on tour, which start right at 7 p.m., feature an exact replica of the iconic garage from his music videos. He and Austyn don't just put on performances, they create interactive experiences reminiscent of live TV sets. They celebrate the first moshpits of the night to "Be Careful," and even arrange chants of "Teezo Touchdown"—a sly trick to get everyone in attendance to remember his name—before awarding one fan with the "hardest hard hat," which they toss into the audience. 
Just as he's slowly landing on what his intent is behind Teezo Touchdown, he's still trying to put a finger on what he hopes to accomplish with his live shows. Even with several dates left on tour, he tells me he already wants to make the experience better, which he'll be able to implement after he rides this one out. 
"I'm just doing a show," Teezo says as we walk to Madison Square Garden together. "One thing I get a lot about our show is, 'You interact with the crowd so well,' but I just don't like how low-hanging it is. I'm gonna do the rest of the tour, but I'm very conscious of 'OK, how can we slowly progress to [where] they know what's up?'"
As Teezo is on his journey to figure out who he is, what type of performer he wants to be, and who he represents—outside of the entirety of Beaumont—he's open to criticism, and even more open to improvement. Even as we walk to MSG, Teezo practices his vocal runs by my side, singing the words "all day" several times over to make sure his pitch is solid for "I'm Just a Fan." 
"I'm still an MC at heart, man. I still act like a rapper before shows, warming up," he tells me. "You can hear Kali Uchis in whatever room she's in, doing warmups. I think I'm gonna get a vocal coach. It's like going to the gym without a trainer."
Here's Teezo, just a couple of years into his career and still finding his footing, on one of the biggest stages in the country, singing songs that (for the most part) had yet to be shared outside of the confines of the internet. An experience like this is something you just can't prepare or train for, and he's embracing that.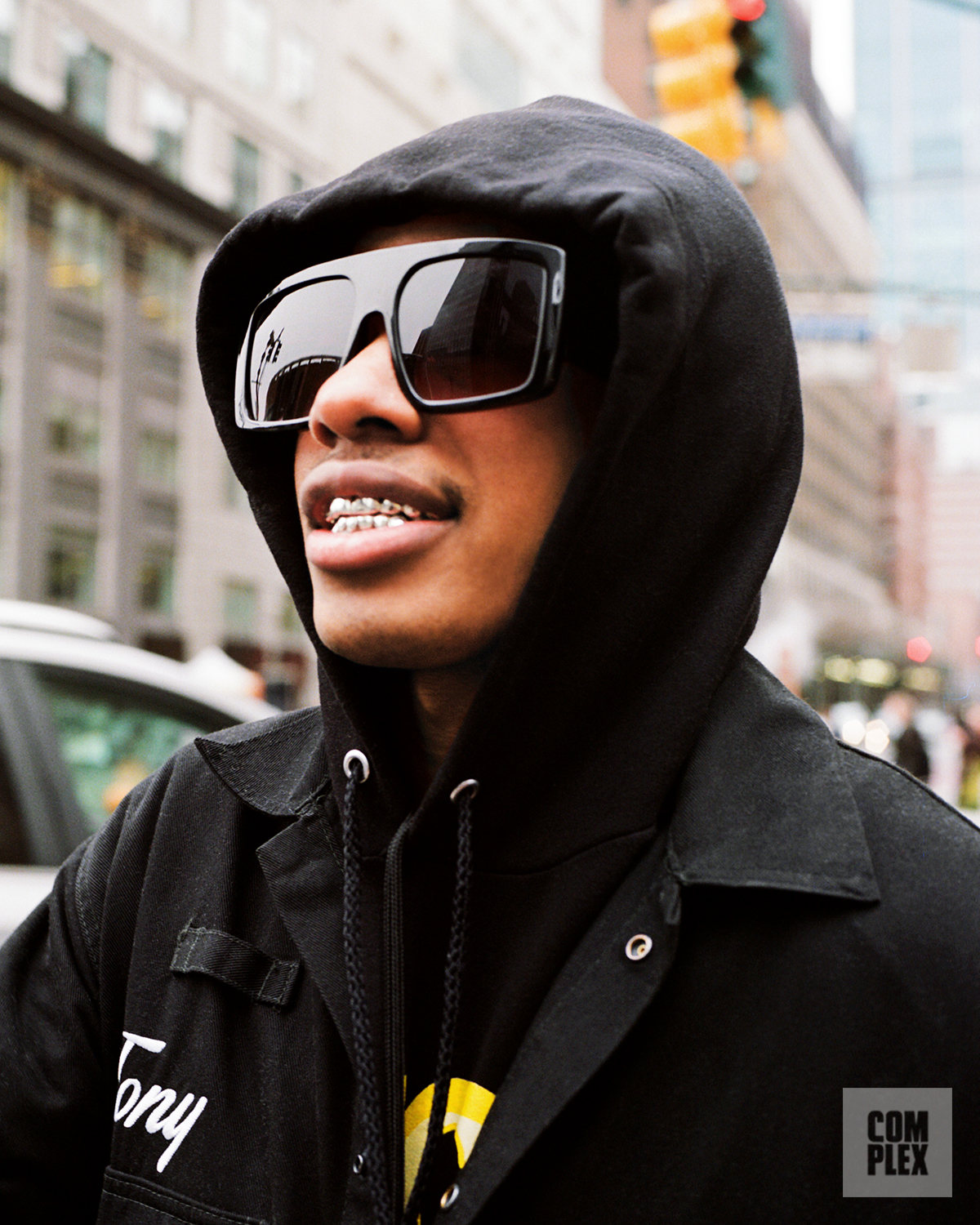 Before parting ways, as we stare at MSG and the thousands of fans waiting to get in, I ask Teezo how it feels to be walking into the employee entrance of such a legendary venue, just a handful of years after cleaning shit out of a bathroom. He can't help but burst out laughing. 
"One thing I told Tyler is something that someone else told me. They said, 'You're skipping a lot of steps.' I was like, 'Skipping steps is good.' No one's journey is the same. I was on myself hard about that, but this is my career. This is my career trajectory," he said. "This is how my first tour went."