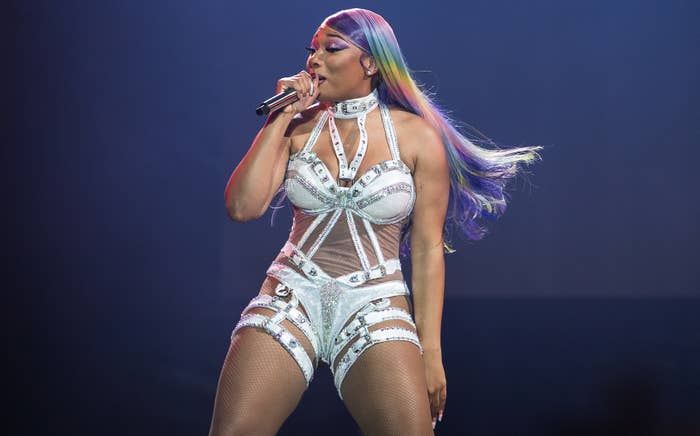 Megan Thee Stallion and 1501 Certified Entertainment's legal back-and-forth doesn't seem to be ending any time soon, as the label has now countersued Meg. It claims her 2021 effort Something for Thee Hotties wasn't an album and shouldn't be counted toward their contractual agreement. 
The countersuit was filed on Monday, first reported by TMZ and confirmed via court documents reviewed by Complex, a month after Megan hit the company with a suit of her own, claiming the project was indeed an album. Carl Crawford's 1501 asserts that Something for Thee Hotties is a compilation of older material "made up of 21 recordings and includes spoken interlude recordings on which MTS does not appear as well as several previously-released recordings."
The label claims the project contains 29 minutes of what it classifies as new material from Megan Thee Stallion, and that it "was described in the music press as a compilation record of archival materials and some new recordings." If a judge declares Something does not count toward her deal, she would owe the label two more albums. 
Megan's attorney Brad Hancock answered Complex's request for comment with the following: "This is yet another absurd attempt by 1501 to disregard Megan's album and squeeze more money and more free work out of her for as long as possible. We will ask the court to protect Megan from this type of abuse."
In the new suit, signed off on by Steven Zager, Lohr Beck, and Lauren Newman of King & Spalding LLP, the label alleges that it "only learned of the release hours before it came out," and that her latest "lawsuit is groundless because, as she knows, Something for The Hotties does not meet the requirements of an 'album' under the three contracts that she has signed with 1501." 
Meg's previous suit, filed on Feb. 18, argues Something "clearly meets the definition of 'Album' under the recording agreement because it is not less than forty-five (45) minutes in length."
"There are no other parameters or requirements under the contract for what can be deemed an 'Album' other than total run time of the album," the suit reads. "As such, Something for Thee Hotties satisfies her 'Minimum Recording Commitment' for the second option period of the agreement. To protect herself, her music, and her artistic choices, Pete has been forced to bring this action to seek a declaratory judgment to that effect."
Megan also addressed the countersuit, sharing on Twitter, "First the man over my label said I don't make him any money … now he counter suing trying to keep me on his label because he wants to make more money lol if I ain't making you no money why not just drop me?"
She added that she's speaking out because she's "tired of being painted the BAD GUY 2/47" and claimed Carl "put his jewelry and chains" on an expense report of money the label spent on her. "Lord free me from this joke ass label." You can read her tweets below.
A short while later, Megan returned to Twitter to call Crawford a "powder head" who was "hiding behind" music executive J. Prince.
"Carl I don't wanna be signed to yo pill popping ass! You talking abt I ain't paid for a show and you sound slow," she wrote. "Im the artist I don't pay you directly maybe fight with THE MAN YOU SIGNED TO AND YOU MIGHT SEE SOME MONEY YOU FUCKING POWDER HEAD! You hiding behind JPRINCE."
She continued to come after Crawford in another tweet, writing, "Carl you got a wholeeee contact with 300 and talking shit to me like I got yo fucking money! You are ATTACKING ME ..why? Bc you want to be FAMOUS NOT RICH. Ask KEVIN LILES WHERE YO MONEY AT STUPID."
In another tweet, Megan touched on her Roc Nation deal: "People love bringing up roc nation like hell yeah my team is great am I supposed to have a bad one?… and what abt it bitch."
Megan closed out her series of tweets by saying that she won't be "speaking to nobody else on here ..see y'all in court."
The dispute between Meg and 1501 has been going on for a few years now, as she has previously asked a judge to throw out her contract with the label and claimed in March 2020 that 1501 was preventing her from sharing new material. Crawford himself has also addressed the latest developments on social media, including via a number of Stories updates.
"The truth will be out soon enough," one update read. In another, an alleged "defamation claim" was said to be on the way.
"This all Coming from a Bonifide Alcoholic who fucked the whole industry including her best friend n****," Crawford wrote in a third update. See more below.