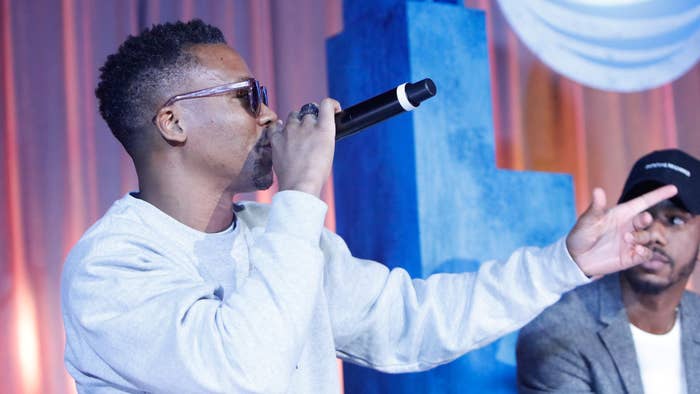 Lupe Fiasco is trading backpack rap for, well, just backpacks. 
The Food & Liquor MC has been announced as part of MIT's MLK Visiting Professor Program for the 2022-23 academic year, after previously spending time as a 2020-21 Visiting Artist at the MIT Center for Art, Science & Technology. 
"I been holding this for a while," Lupe tweeted on Friday. "I'll put together something more sophisticated later that really captures the nuance and gravity but for now I'll just say it straight and raw: I'm going to teach Rap at
@MIT."
This is a major achievement for Lupe—who is set to release his next studio album Drill Music in Zion on June 24—as he's been appointed alongside associate professor of theater Eunice Ferreira, and documentary filmmaker Louis Massiah. 
"Syllabus isn't built yet but I'm thinking its fruit to be had in looking at neuromorphic computation through the lens of Rap as a lossless data compression model with a dash of energy efficiency via refining Landauer's principle applied to cytoarchitectonics," Lupe wrote in a since-deleted tweet to a fan who slighted him. "And some rapping…"
Lupe previously ran the "Code Cypher" programming competition at the school a few semesters back, teaching rapping cyphers in a "computational way" alongside Professor of Digital Media Nick Montfort. In the past, he's said MIT is where "nerds are born," and where "nerds go to be with the other nerds" to "let them into the field of nerds." 
As for his upcoming LP, Fiasco has already released lead single "Autoboto" featuring Nayirah and claimed it to be his own Illmatic, and the project's engineer Craig Bauer has called it the best rap album of the past decade. "The new @lupefiasco record is Rap Album of the year," Bauer wrote in his Instagram Story. "Nah. Decade. If you don't feel something after listening to this…. You may want to check your pulse."