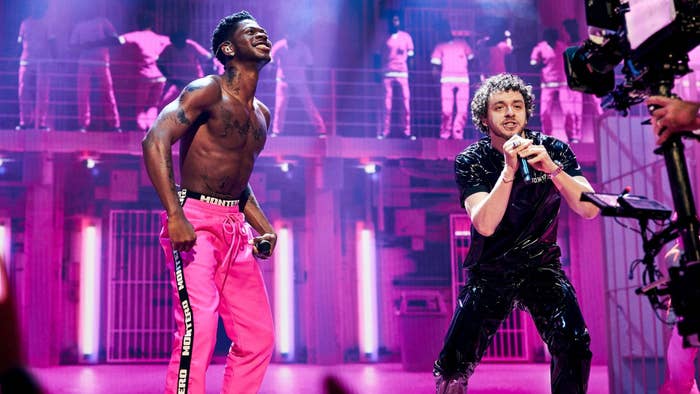 He told us long ago, and now he's back at the top. 
Lil Nas X's "Industry Baby" with Jack Harlow is now the No. 1 song in the U.S., following a weeks-long journey to the throne. The Montero single, which has navigated the success of Drake's Certified Lover Boy, Justin Bieber's "Stay" and everything in between, now stands as Nas X's third No. 1 hit and Harlow's first. Interestingly, it is also Kanye West's fifth No. 1 as a co-writer and co-producer.
"IT TOOK A FEW MONTHS BUT WE HERE! THANK U EVERYBODY," the artist wrote on Twitter, as he shared some behind-the-scenes studio footage. "INDUSTRY BABY IS THE NUMBER 1 SONG IN THE WORLD! LESSSSSGOOOOOO!"
The song brought in 64 million radio airplay audience impressions, 23.2 million U.S. streams, and 34,300 downloads all this past week, according to MRC Data. Lil Nas X has previously hit No. 1 with "Old Town Road" in 2019 for a record of 19 weeks, and with "Montero (Call Me By Your Name)" earlier this year. 
"My first number one," Harlow wrote on Twitter. "I'd be lying if I said I didn't see this coming while I was writing my verse. This song is something I'm gonna be proud to be a part of for the rest of my life."
Following the achievement, Jack Harlow announced he'll be performing five straight hometown shows in December. "It's been too long. Let's turn the city up for a week straight," he said. Pre-sale tickets will be available Wednesday (Oct. 20) at 10 a.m. ET here, with tickets for general public available later this week on Friday (Oct. 22) at the same link.