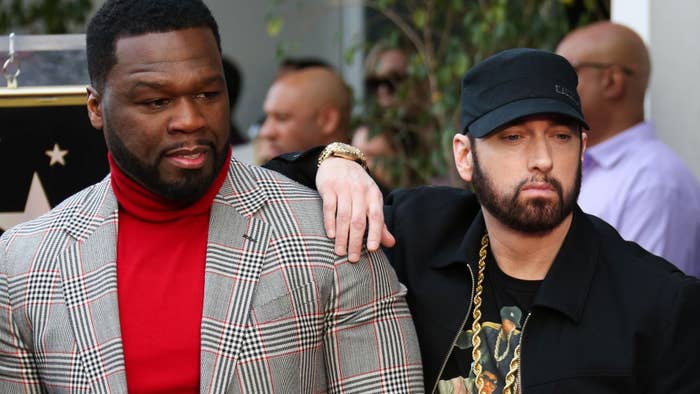 50 Cent is refuting claims made involving Eminem and Jay-Z, who he says is trying to look like a "gay painter."
N.O.R.E. said on the last week's Drink Champs episode with Snoop Dogg that Jay-Z told him Em would only play the Dr. Dre-led Super Bowl halftime show if Fif, who responds on Instagram to nearly every claim and headline about him, was also down to appear. 
"[Jay] said to me—and I'm sorry for everybody who don't understand—and he said, 'the white guy called for 50 Cent.' I said, 'Who is the white guy? Jimmy Iovine?'" N.O.R.E. recalled, per HipHopDX. "And he said, 'No, Eminem called directly for 50 and he said I can't do it if I can't bring 50 with me.'"
Well, 50 did show up—hanging upside down at that, as he played his classic "In Da Club." But the way N.O.R.E. recalls it going down is not exactly how it went, according to Fif, who took to IG over the weekend to address headlines, refute N.O.R.E.'s claims, and compare Jay-Z's hairstyle to that of Jean-Michel Basquiat. (Hov, of course, is a vocal fan of the late artist.)
"Why would he have to say that should be the question?" 50 wrote, responding to a headline that read "Eminem Told Jay-Z He Wouldn't Perform at the Super Bowl if He Couldn't Bring 50 Cent." 
"NORE Your big homie is running around trying to look like a gay painter. 🎨👨‍🎨LOL," 50 added.
50 Cent's following post was his way of emphasizing that last sentence, as he shared a side-by-side of Hov and Basquiat, writing "why did he say the white boy, why he didn't say the biggest rap artist in the world? 😆 Happy Easter! man enjoy the holidays."