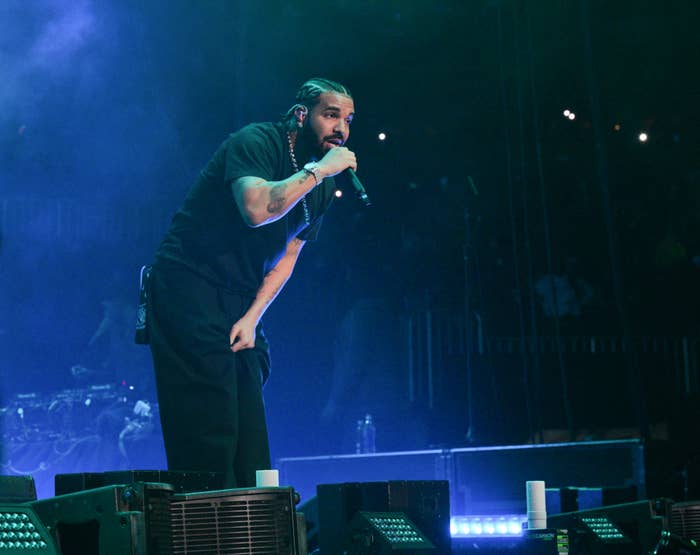 Drake just made another lucky fan's night in Miami.
While on stage at the Kaseya Center on Friday (Sept. 29), the "Slime You Out" rapper noticed a sign from a brokenhearted, and possibly empty pocketed fan. "Usually I do something nice for a lady … like give away a bag or some shit like that, but my bro right here he said 'I spent all my savings, buying tickets for me and my ex. But honestly, nevermind, it's really her loss,'" Drizzy said as he read the sign.
"So she ain't come with you tonight?" he asked as the fan gestured "no."
"What the fuck is wrong with her? And you in here just icy with the gold chain and the sunglasses on?" he asked. Suddenly the crowd started to chant, "fuck that bitch."
"Hold on, that's a little aggressive. But you know what? She's gonna feel real fucked up 'cause I'ma give you fifty bands so you can flex on her," Drake added before the audience erupted in cheers.
He continued, "That's how we doing it tonight, big dog. It's your night tonight. And I won't say it like y'all said it but fuck that young lady."
Tom Brady, Lil Baby, and Rylo Rodriguez were also in the audience to witness Drizzy Claus in action.
Earlier this week, the Toronto rapper promised a trip to Turks and Caicos to a couple that claimed to have canceled their honeymoon just to be at this Atlanta concert. Later that night, Drake made it rain at a strip club by pulling bands out of a large plastic container.
The Miami concert marked the final U.S. show for Drake's It's All a Blur Tour. It was previously announced that his eighth studio album, For All the Dogs, would be pushed back two more weeks and is now set to drop on Oct. 6.