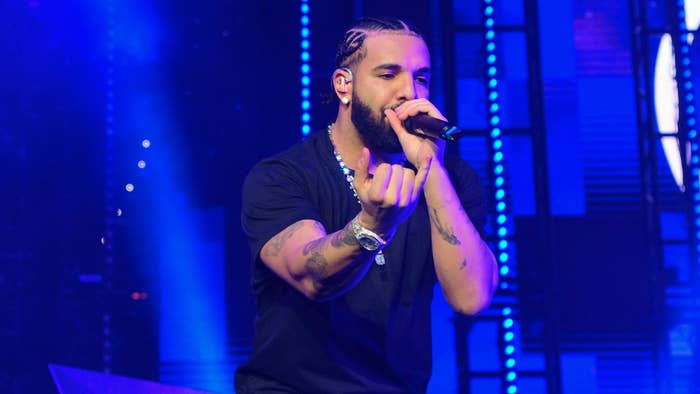 During a performance in Atlanta on Tuesday, Sept. 26, Drake gifted a vacation to a couple who skipped out on their honeymoon so they could see him live.
Between songs, Drizzy addressed the audience and pointed to the couple's sign. "See like, a sign like that... You better be serious about that because that's nothing to play about," he said with a grin on his face. "You better swear on everything. That's your man right there? She brought a sign that said, 'We canceled our honeymoon for this.' Lemme look in your man's eyes and see if he telling the truth or not."
He paused for a moment and deduced that the couple looked "genuine," so he decided to surprise them with a gift. "Alright, since we in Atlanta tonight and I'm feeling all the love from everybody. You know one of my favorite places in the world, you know what it is? It's a place called Turks and Caicos. I'ma send y'all to Turks and Caicos... Yeah, you better kiss your man, though. Yeah, that's what I wanna see! Oh, they making out and shit, yeah they serious. Make some noise for them, they serious! I thought they might've been lying on some bullshit."
Drake has certainly been feeling the love during his It's All a Blur Tour shows in Atlanta. He's also shared the love, too, crowning the city as "the most important place in rap music" during the first of the two shows.
"Where would any of us be without Atlanta," Drake said. "All the love that you show, all the musicians that you've birthed, all the contributions that you give. This is hands down the most important place in rap music. You should be very proud of yourselves. All the artists that I've done the greatest work with, all the artists that I love, all the artists that inspire me, the majority of them come from right here in Atlanta."
At previous shows, Drake has gifted fans with a Chanel bag, $50,000 in furniture money, and a first class trip back to Japan.
The celebratory shows come just as his SZA collaboration "Slime You Out" debuted at No. 1 on the Billboard Hot 100. As reported by Billboard, the track is his 12th No. 1 on the chart overall, which makes him tied for fifth-most in the chart's history. SZA is also currently occupying the No. 3 spot with "Snooze," which recently got a remix courtesy of Justin Bieber.
Not everyone is a fan of the song, though. In an appearance on his and Andrew Schultz's Brilliant Idiots podcast, Charlamagne Tha God criticized the song.
"What scares me—and it's not a scare because Drake's gonna be fine—Drake put out a song last Friday and… nobody cared. The Drake and SZA record," Charlamagne said.
In response, Drake called Charlamagne an "off-brand Morris Chestnut."