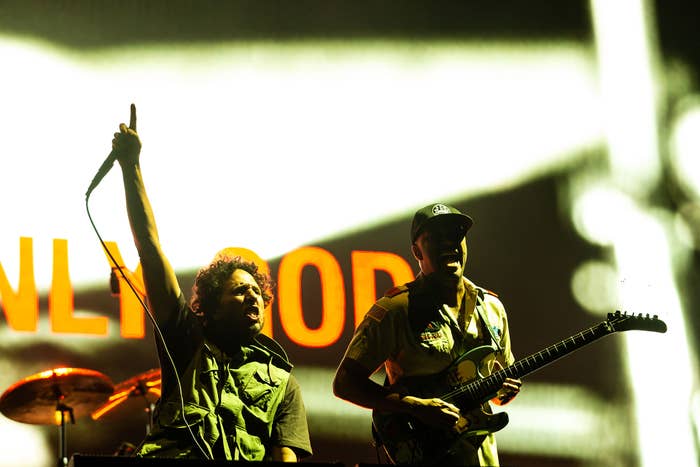 Not even a seventh wave of COVID could stop hundreds of thousands of people from descending upon la belle province's capital for this year's Festival d'été de Québec (FEQ). Billed as Canada's largest outdoor musical event, it took over Quebec City for 12 days of wildly diverse programming. The final weekend of the fest, which we attended, had a little something for everyone: a rained-out-yet-raucous Freddie Gibbs set, a powerful, yodel-heavy performance by Alanis Morisette, and an hour of power from Sum 41. 
But the highlight of FEQ for many was Rage Against the Machine's seismic headlining set last Saturday, marking the band's second Canadian show in over a decade. Despite frontman Zack de la Rocha being forced to perform seated from a monitor due to a recent injury, the rap-metal OGs laid waste to the stage, scorching through classics like "Bombtrack" and "Guerilla Radio." And while the band is famous for licking shots at the U.S. government's policies, they took a moment to call out Canada, too, for its past and present injustices iagainst Indigenous people. 
During a ferocious rendition of "Freedom," the band highlighted various statistics about the violence suffered by Indigenous communities across the country. 
"An Indigenous person in Canada is over 10 times more likely to be shot and killed by a police officer than a white person is," read a giant screen behind the band as they tore through the song. Just last month, a report found that Indigenous and Black people are significantly overrepresented in incidents involving violence while interacting with Toronto police.
"In Canada, Indigenous women and girls are 16 times more likely to be murdered or to disappear than white women," the screen behind Rage said at another point. 
For years, advocates have been criticizing the Canadian government for its inaction over the violence against Indigenous women in the country. A 2019 report stemming from a national inquiry concluded that the thousands of Indigenous women and girls who were murdered or went missing in recent decades are victims of a "Canadian genocide."
Just to drive Rage's points home further, the screen also flashed the statements "Settler-colonialism is murder" and "Land Back."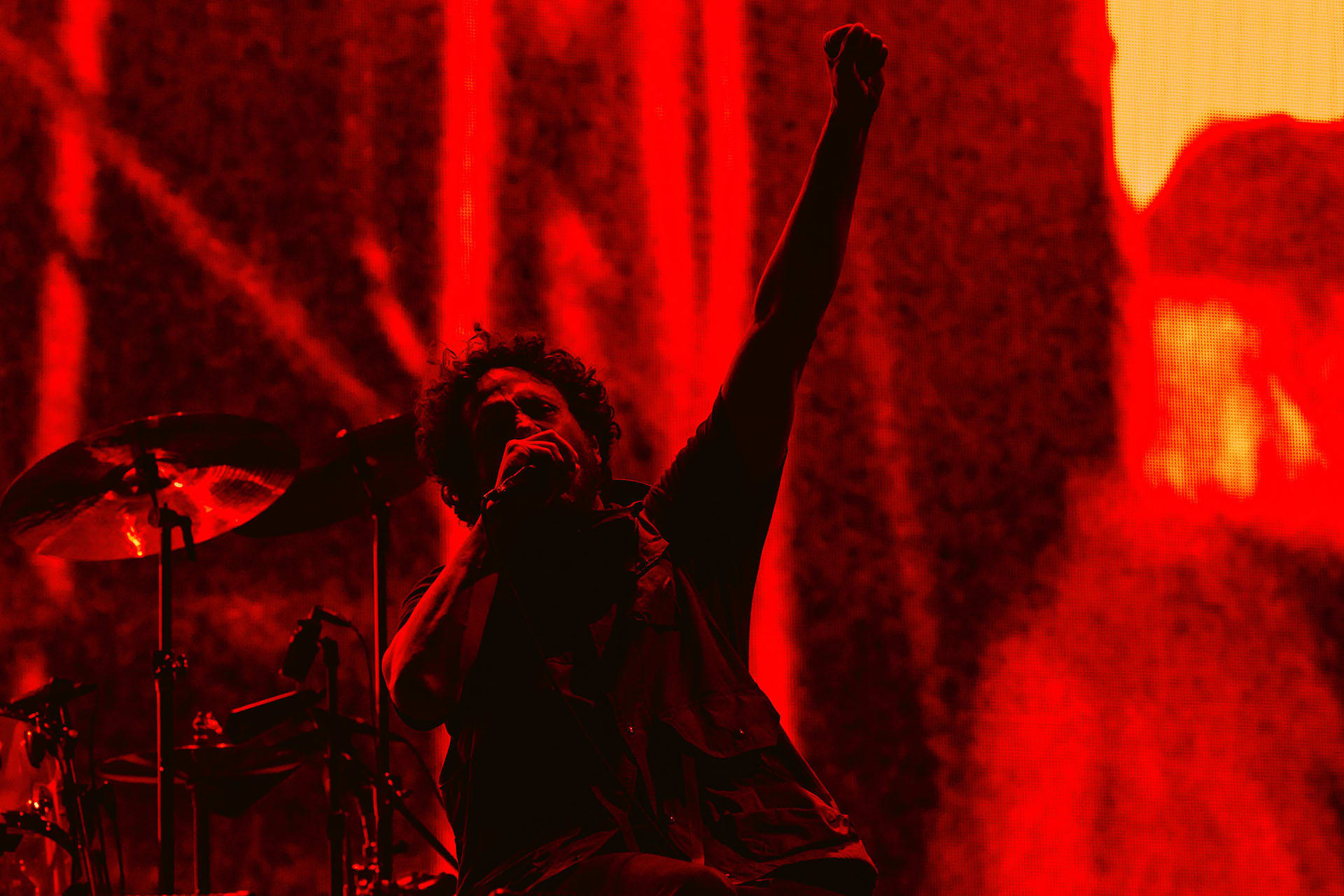 At another point in the show, during the breakdown to "Township Rebellion," de la Rocha spent some time sounding off on bigoted forces attempting to "turn back the clock" on civil rights, mentioning the U.S. Supreme Court's recent decision to overturn Roe v. Wade.
"The class of the wealthiest people on earth are getting behind some of the most vicious and hateful people on earth," said the frontman. "And those people are attempting to rob so many of us of our rights, and mostly our sisters who are fighting to retain the rights to have control over their bodies. If we don't stop them now, they're going to try to roll over and turn back the clock to a time when segregation was legal. When discrimination was legal. When there were no rights for workers, no rights for children, no rights for the hungry. And the only way we can beat them is through solidarity with everybody around the world—us and y'all together."