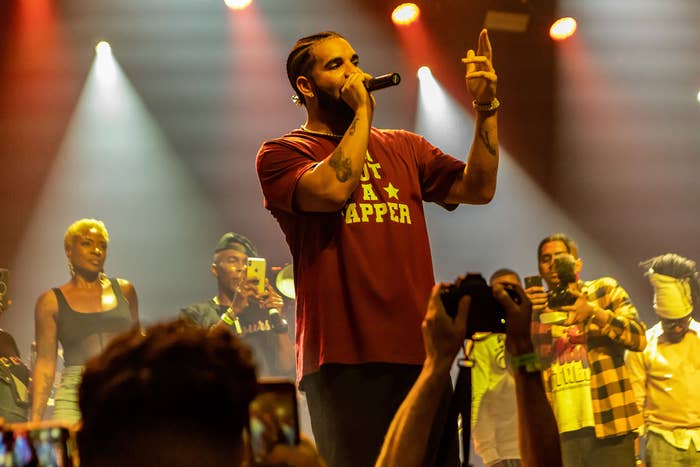 "This is the most important night of my life," Drake told the sold-out Toronto crowd at the kick-off concert for his October World Weekend festival on Thursday night. He's the biggest artist in the world, so you'd imagine he's had many Important Nights™, but it didn't sound like he was hyperbolizing. The show, dubbed "All Canadian North Stars," was a four-hour-plus love-in featuring some of the most iconic names in the Great White North's hip-hop and R&B history—fittingly taking place at History, the rapper's venue. It's music that The Boy himself clearly was a devout student of as a kid, along with a generation of old heads who grew up on these artists in the '90s and early '00s.
"The streets we walk, the restaurants we eat at, the clubs that we go to, the way that we speak, the aspirations and dreams that we have were shaped by each and every one of these individuals for me," Drizzy said, before handing it over to Rascalz, Checkmate, Kardinal Offishall, and the gang to close out the night with "Northern Touch."
While the concert was meant to be an aperitif before October World's headlining shows at the Budweiser Stage—Chris Brown and Lil Baby on Friday, and a Young Money reunion with Lil Wayne and Nicki Minaj on Monday—for the noticeably older crowd at History, this was the main event. Curated by The Boy and local DJs Starting From Scratch and Charlie B, and boasting performances by MuchMusic and Flow 93.5 mainstays like Maestro Fresh Wes, Choclair, k-os, and Jully Black—along with some very special guests—the evening was an instant Canadian Heritage Minute. A night when the artists who paved the way for today's Drakes and Weeknds finally got the flowers they deserved. Here are the best moments we witnessed at the once-in-a-lifetime showcase.
Drake pays tribute to Sidhu Moose Wala
Drake opened the evening by walking onto the stage wearing a longsleeve T-shirt honouring Sidhu Moose Wala, the Brampton-based Punjabi rapper who killed in gunfire this past May. The shirt featured a portrait of Wala with his birth and death year, "1993-2022," displayed below. Wala, renowned for flawlessly fusing modern hip-hop and classic Punjabi music, had an inordinately massive following both in Canada and abroad. 
"This is probably one of, if not the most important event that we've ever done for OVO Weekend, October World Weekend," Drake said on the mic. Naturally, the crowd erupted. 
Drake pays tribute to the architects of Toronto's hip-hop scene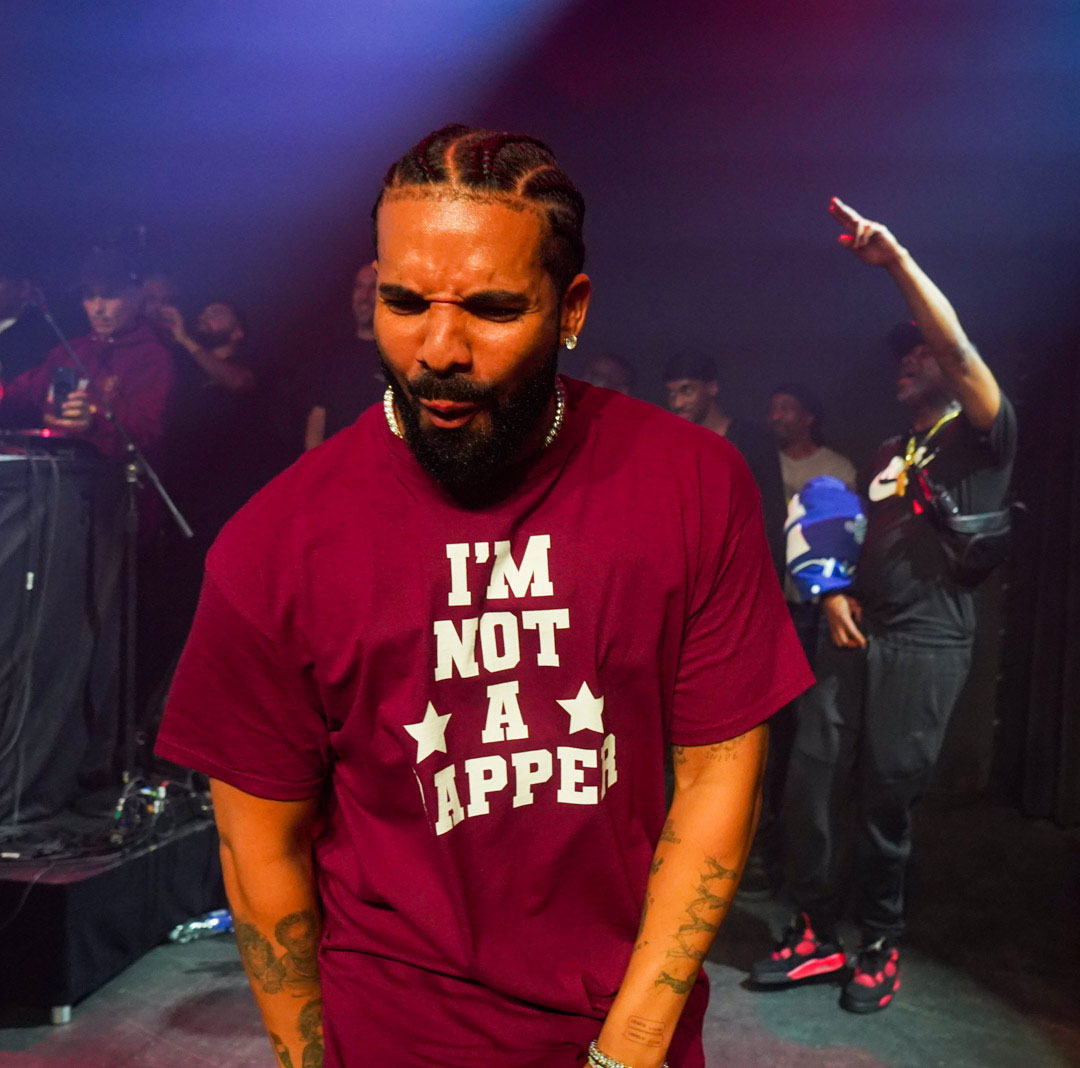 Shawn Desman shows us how we rock it in the T-Dot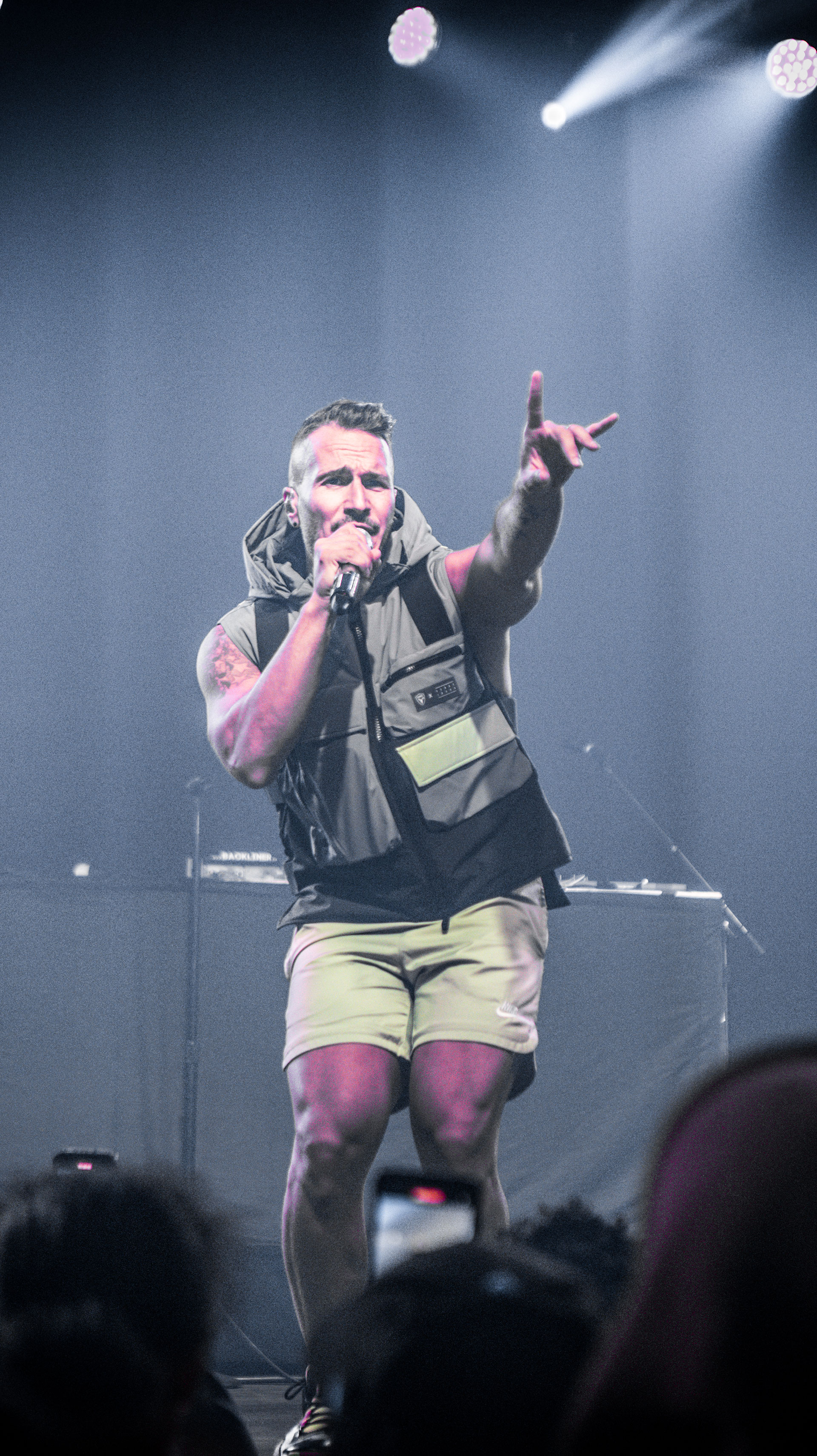 One of the loudest—and most surprising—pops of the evening came when '00s R&B singer Shawn Desman came out. Rocking a grey vest and neon green shorts by Canadian brand Nobis, he bounced around the stage running through his biggest hits, from "Get Ready" to "Shook," to a sea of shrieks from the audience's female contingent. Big NYE 2005 at Nathan Phillips Square vibes.
An undeniably cute moment occurred when Desman invited his young daughter on stage to dance with him during one of his songs. Later, he joined Rascalz for a spirited remix of their 2002 hit "Movie Star."
After making headlines a few years ago for only selling 17 tickets for his Wasaga Beach concert, this was the comeback he needed. The Desmaissance is upon us.
Drake joins k-os to perform "Headlines"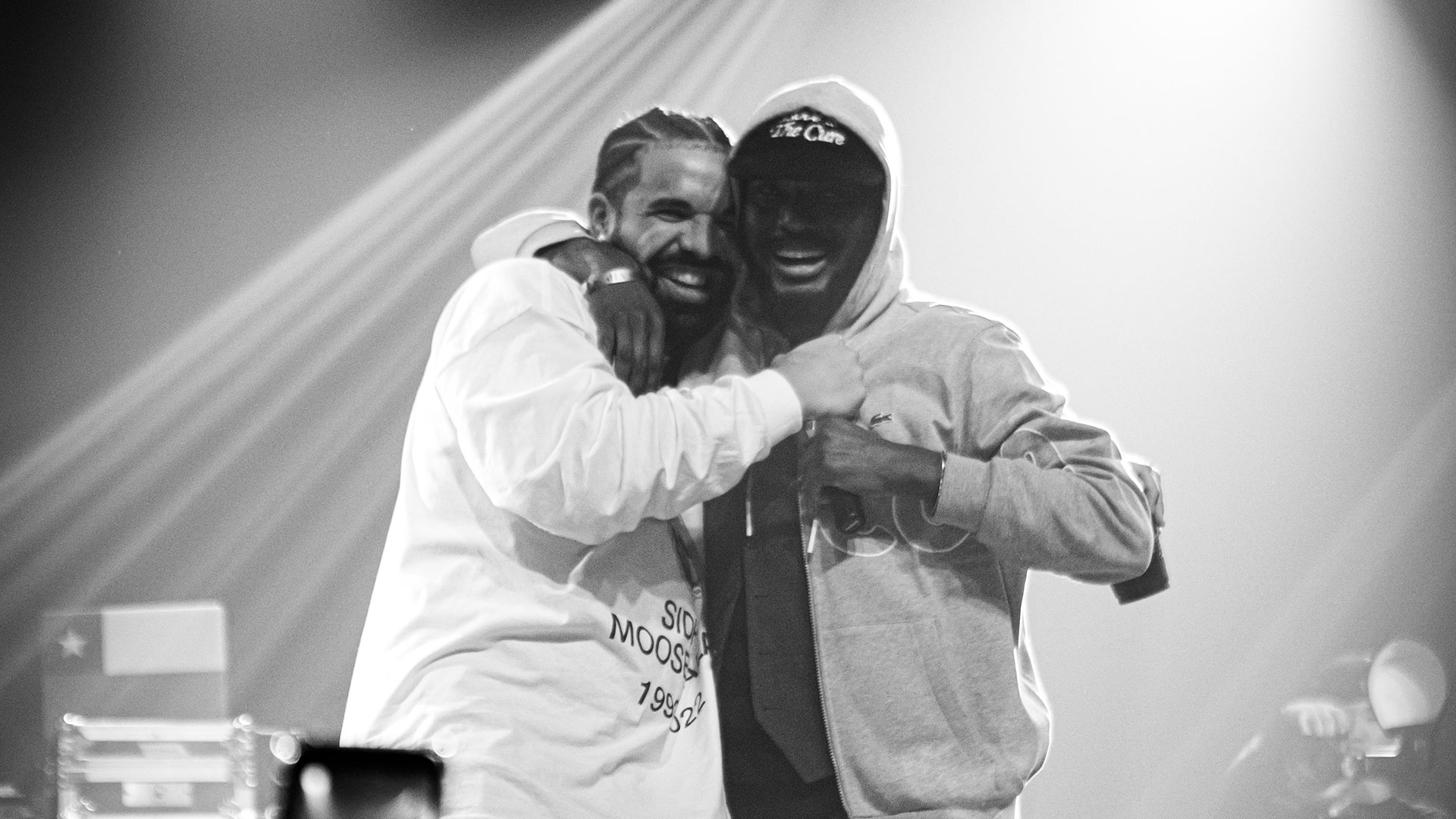 "You know I got some hits like Drizzy—you know I got hits, right?" k-os asked the crowd during his set. And in case people forgot, the Toronto rapper and singer delivered them all in their eclectic glory, from "Heaven Only Knows" off his 2002 debut Exit to "Man I Used to Be" from 2004's Joyful Rebellion. Drizzy himself could be seen gleefully bopping along to all the jams at the side of the stage.
At one point, k-os invited Drake to perform one of his earliest hits, "Headlines," off 2011's Take Care. (The crowd helped him out a lot with that one.) Afterwards, the OVO boss took a moment to pay his respects to k-os. "This is one of my biggest influences in my life. I'mma tell you, Exit changed my fucking life. All this man's music changed my life, and after tonight, I see exactly why."
Jully Black dominates the stage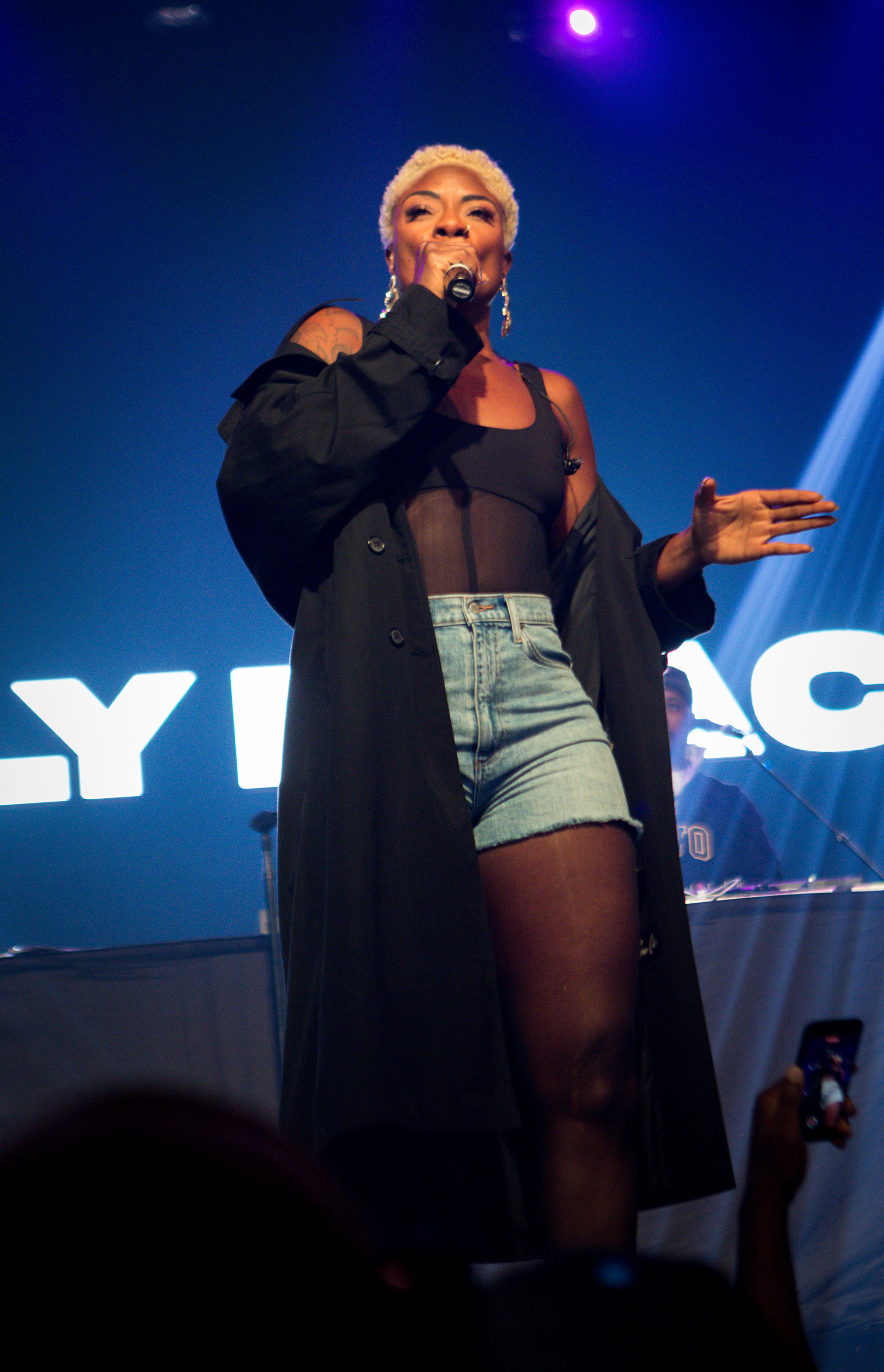 Canada's queen of R&B, Jully Black, hit the stage after an epic montage of her career highlights was shown on a giant screen. She gave one of the most powerful performances of the evening, authoritatively belting hits like "Rallyin" and "Seven Day Fool," which she joked was the song "the white people know me for." The singer even busted out "Heaven," the 2002 Nas track she featured on.
Black took a moment to address the rising violence in Toronto, asking the crowd to shine their cell phone lights before leading them through an acapella singalong of "This Little Light of Mine." "I wanna light up this room," she said. "It takes a single light to rid a room of darkness."
She'd later return to the stage to join Kardinal Offishall for an electrifying performance of their 2000 Baby Blue Soundcrew classic, "Money Jane"—the song that arguably invented the Toronto sound.
Drake introduces Keshia Chanté: 'My first girlfriend I ever had in my life'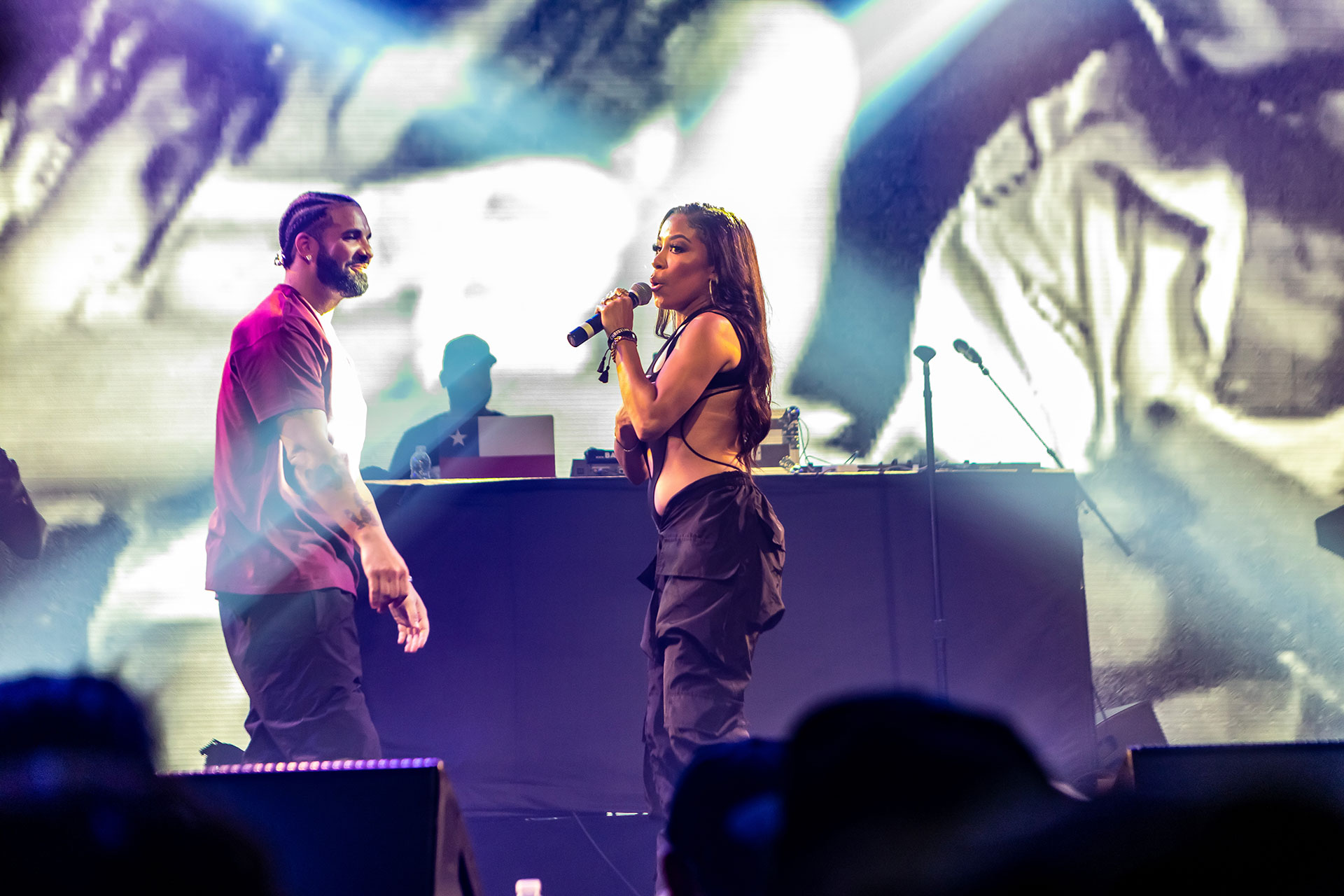 Ever the sweeterman, Drake made sure to give an effusive welcome to Keshia Chanté, who he dated in his teen years—and who many believe is the Keke in question in 2016's "In My Feelings."
"This next person coming to the stage, I used to get in my mom's car, I used to drive all the way to the west for this donna right here," he said. "So I have to personally introduce her. This is my first girlfriend I ever had in my life. A real legend, someone I love with all of my heart." Cue side-eyes emoji.
Chanté delivered hits from her early-aughts reign, including "Let the Music Take You" and "Bad Boy." 
Later in the evening, Drake brought out Canadian rap pioneer Michie Mee as a special guest. "I thought I was your first girlfriend," Mee said to Drake after performing her 1991 hit "Jamaican Funk—Canadian Style."
"I didn't wanna tell them," Drake responded, laughing.
Saukrates powers through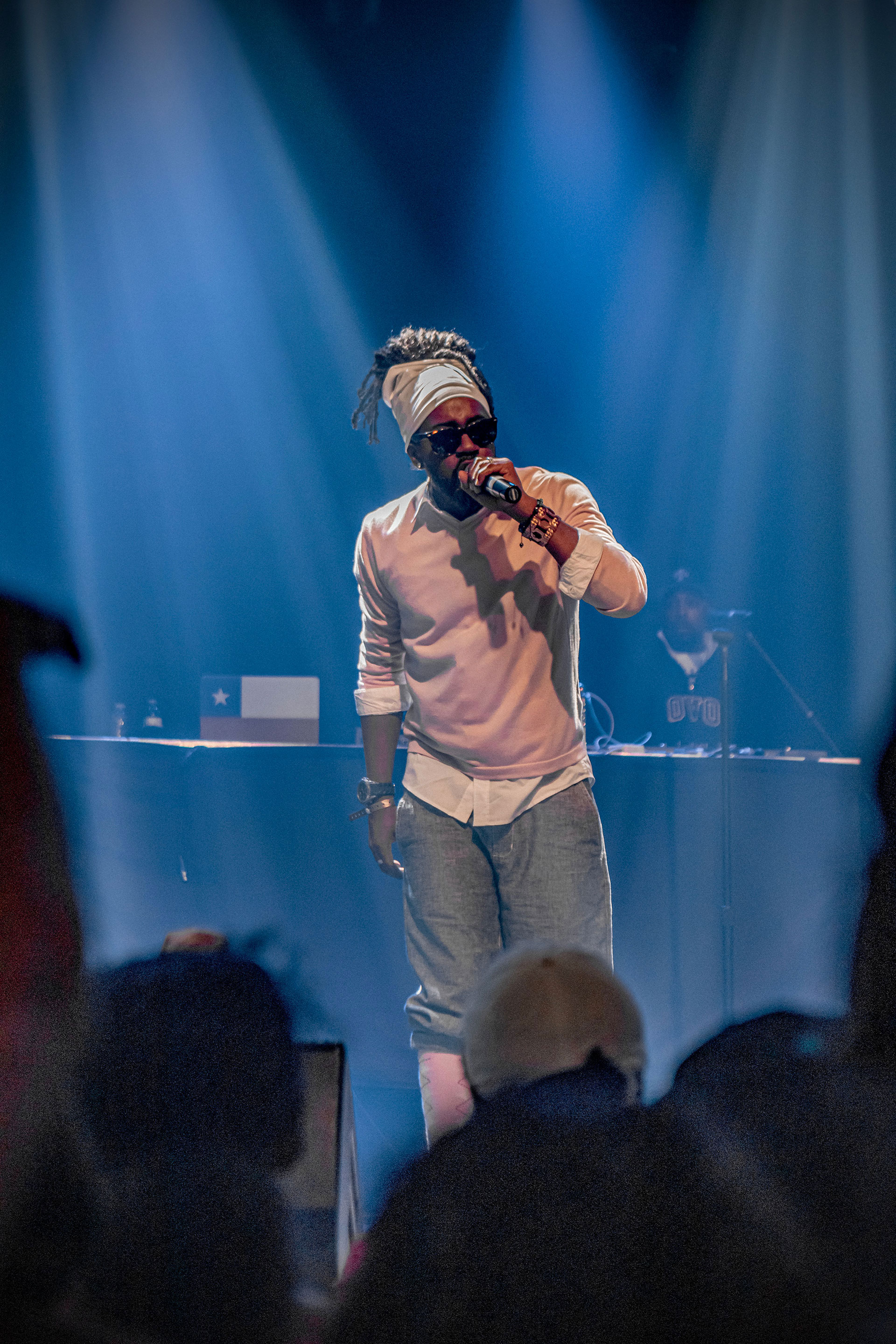 One of the most poignant moments of the evening came from Saukrates, who brought his wife on stage and announced he was performing just hours after attending his father-in-law's funeral. Wearing a pink crewneck sweater over a white dress shirt, he came straight to the show after the ceremony. "I didn't even plan on wearing this tonight," he said. "I wore this at the funeral."
Soxx made sure to give it his all, exhibiting his deft lyricism on 1999's "Money or Love" and calling k-os back out to perform their 2009 OC theme song-sampling collab "I Wish I Knew Natalie Portman." Never missing a beat and spitting with an emotional rawness, he was one of the night's stand-out performers, proving he's still among the most criminally underrated rappers in the game.
Drake tees up Kardinal Offishall's "Ol' Time Killin"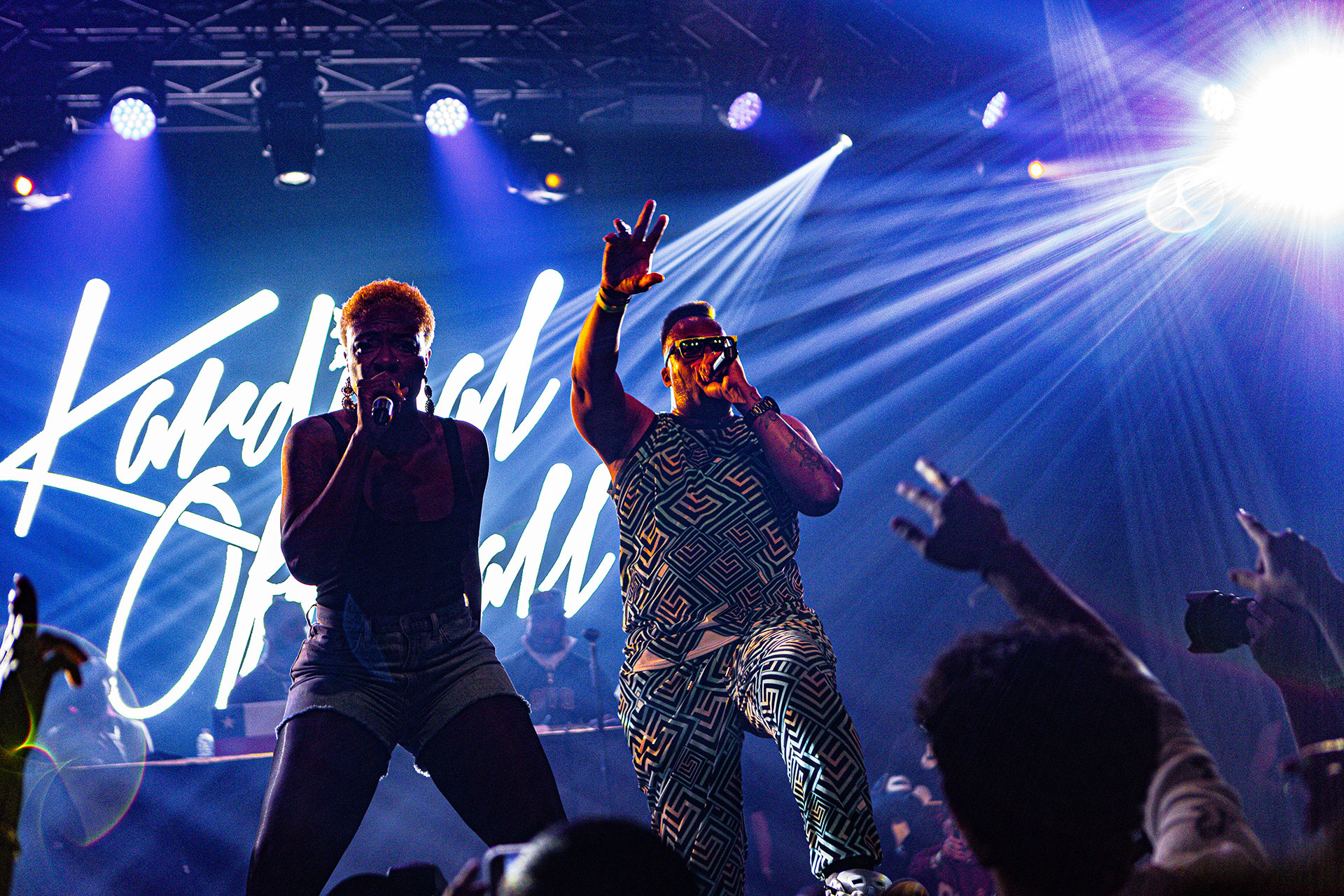 "I made a promise to myself that nobody else—no DJ, no soundman, no artist, nobody else—would get to drop this song tonight. Only I get to drop this song tonight," Drake told the crowd while sitting behind DJ Agile's laptop during Kardinal Offishall's set. "Yo light man! Bring the lights low please."
"Bring the lights low and the phone light up," said Kardi, hyping up the impending track. "Show this in the UK, show this in North Carolina, show this in France, show this in Duffeldorf, show this in Pakistan, show this in Jamaica, show this in Trinidad..."
"Duffeldorf?" Drake interrupted, chuckling.
"Show this in CANADAAAA!!!" Kardi continued.
An absolutely seismic performance of 2001's "Ol' Time Killin'" followed, with Drake wylin out and belting the chorus alongside Kardi, Jully Black, and Solitair. 
Kardi took time during his set to praise Drake's ambition, putting to bed any rumours that there was lingering beef from their rivalry in the aughts, when they were both vying to break out in the States. "Everybody has the opportunity to be number one, but when you have work ethic, when you have drive, when you have passion, when you have a team, and when you make good fucking music, that's how you become the best in the world," he said. 
"Toronto, we are stronger when all of us are working together."
"This is the reason why the city is the way it is—all these individuals tonight," Drizzy said after Kardi performed "Dangerous."
"And I'm very grateful and I'm very thankful, because if I was somewhere else, I might be doing something completely different. But because of these individuals that performed tonight, I am where I am."
Drake sings "I'm Like a Bird" with Nelly Furtado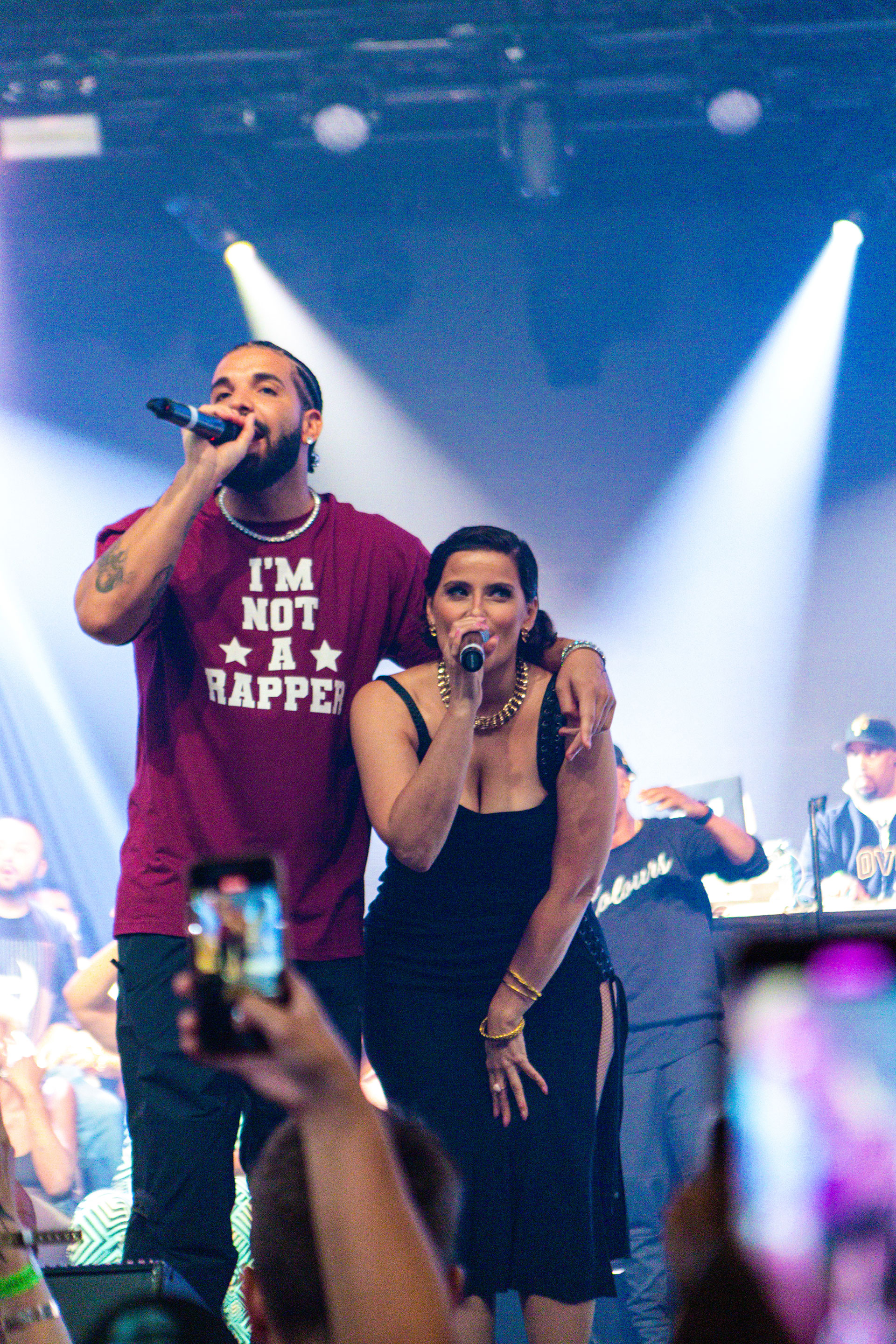 "This one is the last one in the clip," Drake said as the evening neared its end. He made the final shot count. "Thank goodness I'm a nice, humble, well-spoken [guy], because that's the only way that you can get this next person out of the house to come do what they're gonna do right now."
The Timbaland-produced beat to Nelly Furtado's "Promiscuous" played and the crowd went apeshit. The '00 pop icon, who wasn't explicitly named on the event lineup and hasn't toured since 2017, hopped out on stage and proceeded to murder the track, sounding as warm and exuberant as ever.
Next up, she performed her 2000 breakout hit "I'm a Like a Bird." As Furtado sang the "though my love is rare" pre-chorus, she beckoned Drake over to help her finish it. "Though my love is trueeeee," Drizzy soulfully (and perhaps drunkenly) warbled into the mic while dancing with her, his face beaming. They both then directed the crowd to join in on the chorus, causing the entire building to explode with: "I'm like a bird, I only fly awayyy." It was the purest, most joyful moment of the night. Maybe of the decade.
'It's national anthem time'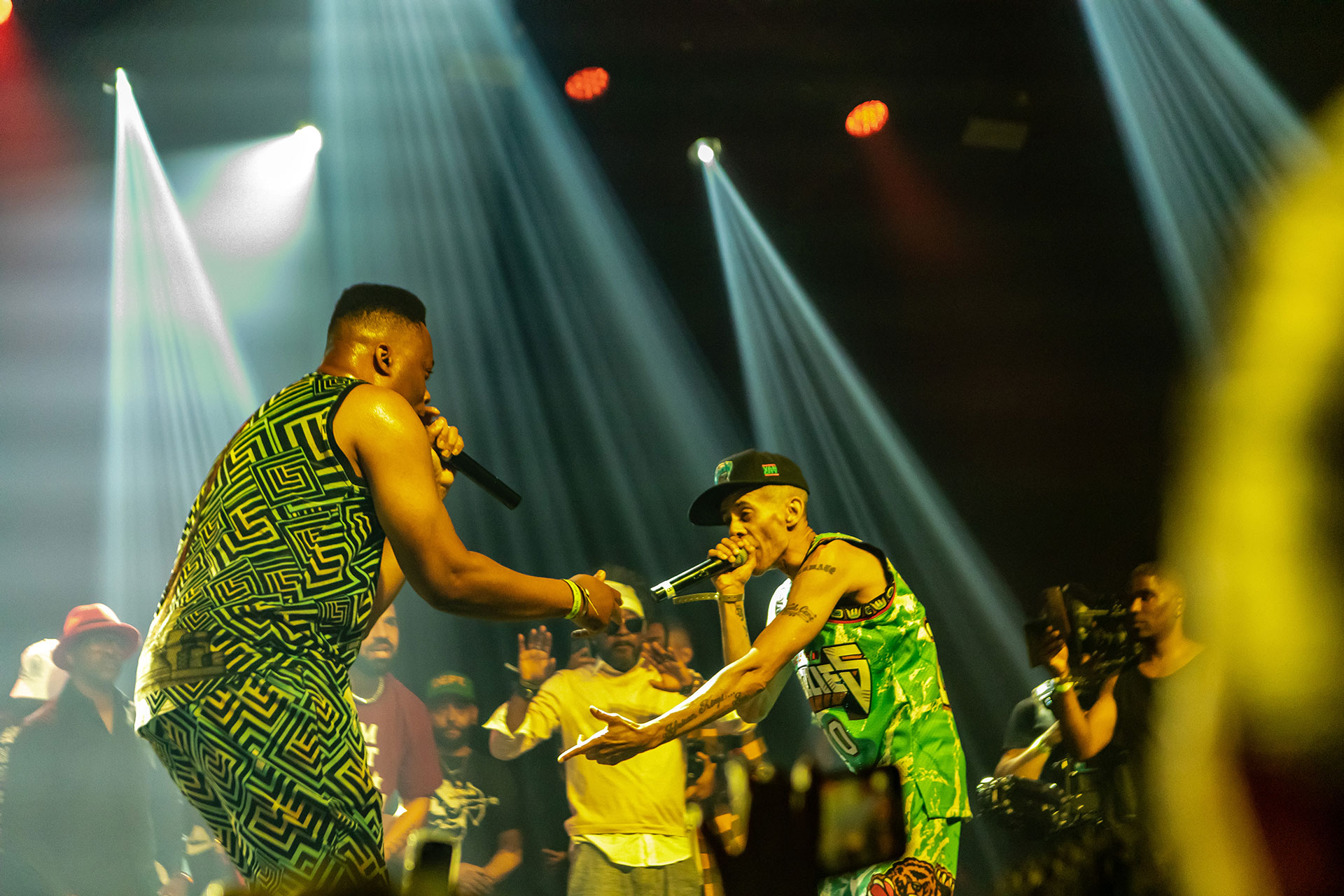 "If you're from Toronto and you grew here, you were raised here, you lived here, you know, that on this specific night, there's only one thing left to do," Drake told a resiliently turnt crowd as we approached 2 a.m.
"It's national anthem time."
It was obvious what was coming next: 1998's "Northern Touch," the most important rap collab in Canadian history. An anthem that bridged the gap between the country's fragmented hip-hop scenes—uniting artists from Ontario and British Columbia—and had a stranglehold on the MuchMusic countdown, igniting a generation of aspiring Canuck rappers. A track so incendiary it broke through to the U.S. and launched the careers of the artists who shrewdly name-dropped themselves in the chorus: "Rascalz, Checkmate, Kardinal, and Thrust, Choclair coming down with that Northern touch."
As every performer of the evening gathered around them on stage, the Northern Touch All-Stars (sans Thrust) smashed the Richter scale to deliver the classic joint, each MC—and audience member—spitting their verse with their whole chest. Kardi was essentially jumping throughout the entire track; Checkmate came correct with his kinetic wordplay (and Vancouver Grizzlies drip); Choclair sounded as smooth as the Goldschläger he was rapping about. The crowd went off like they got a collective adrenaline shot to the heart. An unusual amount of energy for 2 a.m. on a weeknight, but this was not a usual evening.
"This is bigger to me than any American act, any show I could ever see. This is not no regular shit," Drake told the audience. "I'm here tonight, just a kid who grew up wide-eyed. I'm a fan, I'm one of you tonight, and I'm grateful to be from the greatest city in the world."
Thanks to Drake, the world now knows all about his home base and its many alluring qualities. But on this unforgettable night, he gave some overdue shine to the people who made it great in the first place.