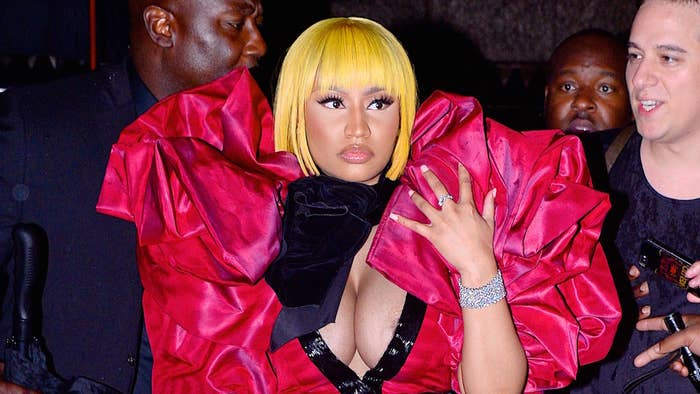 UPDATED 9/16, 4:20 p.m. ET: President Biden's Press Secretary Jen Psaki was, of course, asked about the internationally discussed Nicki Minaj situation, specifically whether the administration did in fact invite her to the White House. Psaki first assured the press that the situation is not being seen "as point of tension or disagreement."
"We offered a call with Nicki Minaj and one of our doctors to answer questions she had about the safety and effectiveness of the vaccine. This is pretty standard and something we do all the time," she said. Psaki went on to say the administration and Minaj are "not even at the point of discussing, I should say at this point, the mechanisms or the format [of a meeting] or anything along those lines. It was simply an offer to have a conversation and an early stage call [among staff only]."
This mirrors yesterday's comment from a White House official who said, "As we have with others, we offered a call with Nicki Minaj and one of our doctors to answer questions she has about the safety and effectiveness of the vaccine."
See original story below.
Nicki Minaj has responded to a White House official who denied that the rapper was ever invited to 1600 Pennsylvania Avenue after she expressed vaccine hesitancy on social media. The official said that the White House actually offered to connect Minaj with a doctor over the phone so that she could ask questions about the vaccine, NBC News reports.
"As we have with others, we offered a call with Nicki Minaj and one of our doctors to answer questions she has about the safety and effectiveness of the vaccine," the official told the outlet.
Nicki claimed that people from the White House contacted her to arrange a visit following the backlash she received for relaying an unsubstantiated story about her cousin's friend's testicles becoming swollen after taking the COVID-19 vaccine to her 22 million Twitter followers. Minaj went on to say that her cousin told her that his friend, who is from Trinidad, became impotent after getting the jab.
There is no evidence, as Dr. Anthony Fauci and Trinidad and Tobago's Minister of Health Terrence Deyalsingh have pointed out, of the COVID-19 vaccine causing infertility (or enlarged testicles). 
Nicki responded to the White House's statement on IG with a 14-minute rant that saw her taking aim at people who've called her out over her tweets and comments related to the COVID-19 vaccine.
In the clip, Nicki maintained that she was invited to the White House, asking, "Do y'all think I would go on the internet and lie about being invited to the fucking White House. Like what? Do you guys see what is happening right now?"
Nicki claimed that her team got a call from the White House requesting that she get together with Dr. Fauci, who is the Director of the National Institute of Allergy and Infectious Diseases, and U.S. Surgeon General Vice Admiral Vivek Murthy.
"We'd like to offer Nicki an invitation to come to the White house to speak with two people… the two names… um, what is that man's name… Dr. Fauci and with the surgeon general," Nicki said.
She continued, "And do you know what I said? I said, 'Well, I would rather not have to travel, can we do something like a [Instagram] Live' and they said that they're open to me to choosing a platform to do a Live but they never have taken that off the table for me to come to the White House." 
Elsewhere in the the video, Nicki said, "And then just imagine someone saying, 'Oh, no, we offered Nicki Minaj the same phone call we offer everybody else.' What? You think they would offer that to Mookie in the projects. No. 'Everybody else.' And I see why a lot of celebrities keep themselves bubbled up. You understand? We're living in a place without free healthcare. So anybody in this country has the right to question anything about their health. Because if your health mattered that fucking much there'd be free fucking healthcare, bozos." 
(Note: Although health care in the United States is definitely not free, COVID-19 vaccines are provided at no charge to all people living in the country regardless of immigration or insurance status.)
During the Live, Nicki also confirmed she is being managed by SALXCO after parting ways with Irving Azoff.
You can watch/listen to Nicki addressing it all below.
Nicki also posted a message on her Instagram Stories suggesting that Malcolm X would express vaccine hesitancy if he were alive today.
"Y'all gotta stop pretending to love ppl with backbones," she wrote. "If Malcolm X were here, he'd be asking questions & most of y'all that holler 'Black Lives Matter' & 'protect Black women' would be telling them him to shut-UP & fall in line. Y'all say these ppl's names but embody the spirit of a coward."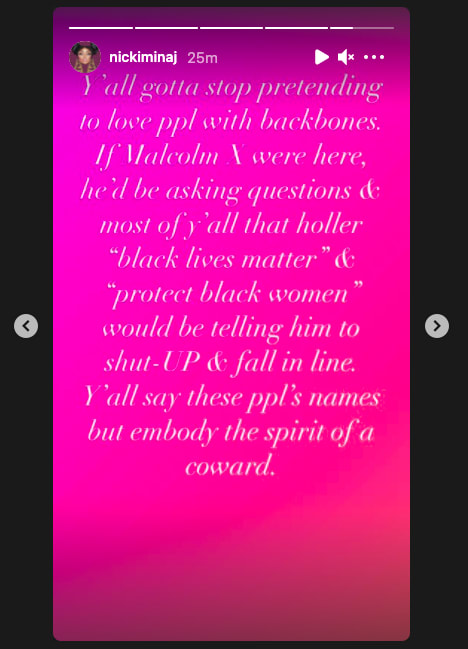 Earlier in the day, Nicki claimed that she was put in "Twitter jail." A Twitter spokesperson later denied the claim.
"Twitter did not take any enforcement action on the account referenced," the spokesperson said.