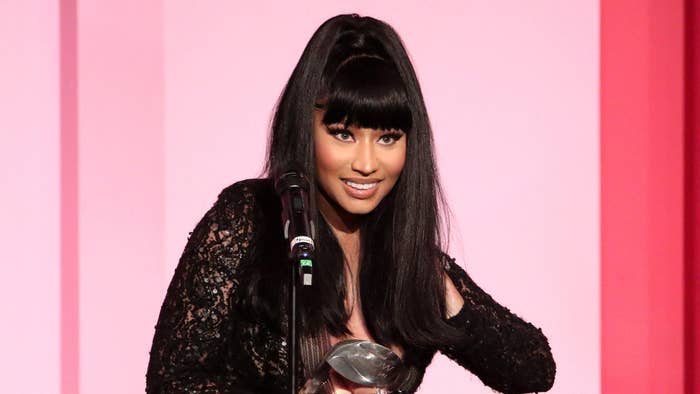 On Wednesday, Nicki Minaj participated in a Q&A with Irving Azoff at the Pollstar Live Conference in Beverly Hills.
During the discussion, Nicki told the crowd the songs in her discography that she's grown to dislike. Nicki listed off "Anaconda," "Your Love," and "Starships" as tracks she wished she never recorded.
Nicki Minaj at the Pollstar Live conference talking about wishing never record her hits "Anaconda", "Starships" and "Your Love".

pic.twitter.com/krSVy9WwVp
Nicki didn't only talk about her past songs, she also spoke on what she has in store for the future. The Queen rapper confirmed that "Yikes," the song she recently teased on social media, will be released to streamings services very, very soon. Nicki clarified that the song will be a promotional single and won't get a music video.
A lyric from the song that mentioned civil rights activist Rosa Parks landed Nicki in hot water . "All you bitches Rosa Parks, uh-oh, get your ass up," Nicki rapped on the track. The in-studio snippet was posted on what would have been Parks' 107th birthday, which didn't sit well with some.
Elsewhere in the discussion, Nicki talked about the Grammys, former Recording Academy CEO Deborah Dugan, and wishing she had a verse on Beyoncé's "Sorry."
"We need the artists to take back control," Nicki said. This is the room that has the power to make that change. They are a nonprofit that is supposed to protect the welfare of the music community. They work for us — we have the power, we decide what's hot. If we don't go, nobody goes. We control what's hot. We control everything. My goal used to be making hit records, and now it's about ensuring the culture moves forward."
You can check out more clips from Nicki's talk below.