In case you haven't noticed, Mariah Carey's Twitter has been hacked.
At around 6:30 p.m. ET, a number of suspicious posts began appearing on the singer's verified account; the first of which was directed at her alleged ex-flame Eminem.

Carey and Em have had a rocky relationship over the last decade. The latter has consistently claimed to have dated Carey for six months; the "Caution" singer has denied these claims, leading them to exchange multiple shots throughout the years. Carey's ex-husband Nick Canon reignited the drama earlier this year, when he revealed he wanted to fight Eminem for disrespecting the mother of his children. Though Shady and Cannon took several shots at each other within the month, the feud had seemingly fizzled out by mid-December. But it's clear Carey's hackers wanted the beef to continue in 2020.
Moments later, the hackers posted another tweet that read: "Eminem has a little penis."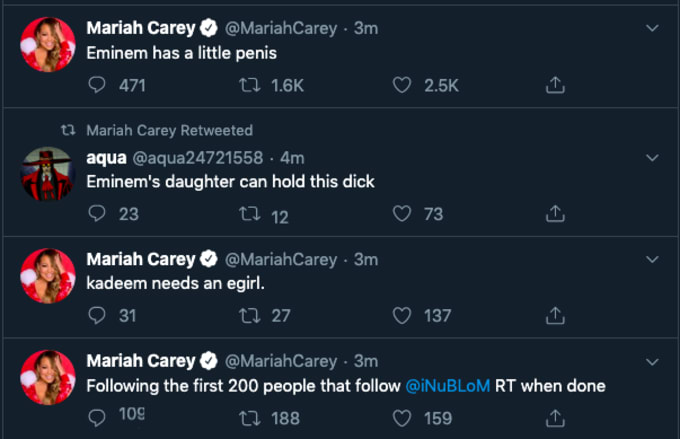 And just when you thought the hackers couldn't get any more uncreative, the racial slurs began popping up. 

More than 50 tweets were published on Carey's account after it was breached. Her Twitter is no longer visible.
"As soon as we were made aware of the issue, we locked the compromised account and are currently investigating the situation," a Twitter spokesperson told USA Today.
As expected, a number of the tweets instructed users to follow third-party accounts. Some posts also referenced the hacking group Chuckling Squad, suggesting they were behind the hack.

Chucking Squad also took credit for hacking Twitter CEO Jack Dorsey's account back in August. An alleged member of the group was arrested last month in connection with the hack.
"He was a member of Chuckling Squad but not anymore," said a Chuckling Squad leader who goes by the name Debug. "He was an active member for us by providing celebs/public figure [phone] numbers and helped us hack them."
Other high-profile figures who have allegedly been targeted by the group include Chloë Grace Moretz, James Charles, Shane Dawson, and King Bach.