Lil Wayne Praises JAY-Z, Recalls Mistaking 21 Savage for a Group on 'Drink Champs'
'Funeral' release day brings with it an extended new Weezy interview.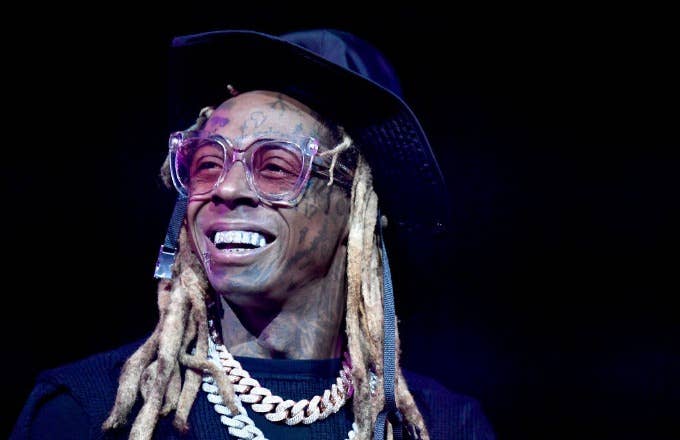 Getty
Image via Getty/Frazer Harrison/EA Sports Bowl at Bud Light Super Bowl Music Fest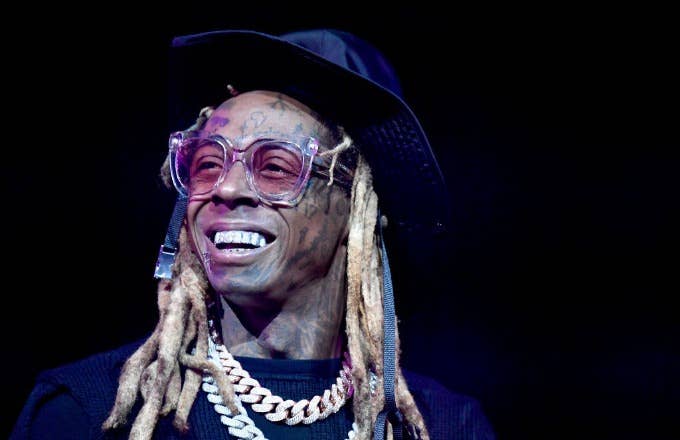 Notably, Wayne shared some profoundly kind words about JAY-Z during the discussion.
"I can't let another single word go without saying how genuine and how much of a man that guy is," he said. "That's a real man right there."
Looking back on a period in his career in which JAY was actively trying to sign Young Money while he "was going through a whole bunch of things," Wayne continued the praise.
"First of all it was a privilege, more than a privilege . . .  What he was doing was he was just trying to help in any form or fashion," he said. "So he was [like] 'If I gotta sign your mom, man, whatever I gotta do to help you out in your situation that you're going through right now.' He was like 'I know it's embarrassing. They got shit all public. What I wanna do is make sure you're straight as a man. The rap shit, you're gonna always be good with that. Eyes closed, you got that. I just wanna make sure you good, your parents, your family.'"
As for the nature of their discussion, Wayne noted that JAY was willing to do whatever it took. "There was no limit to his numbers when it came to what you need," he said.
N.O.R.E. also mentioned to JAY's response to Wayne's "Dough Is What I Got" freestyle, which saw Weezy going in over JAY's "Show Me What You Got." Per texts shared by the host, JAY had to go out on a reflective walk after hearing the Lil Weezy Ana cut.
"When he rapped on 'Show Me What You Got,' I had to take a long walk and look at myself in the mirror," JAY said, as spotted by Genius. "I said 'Are you sure you still got this?'"
Elsewhere, Weezy was asked for his thoughts on Quality Control Music and Top Dawg Entertainment. Asked to pick a favorite, he revealed he didn't know either label by name.
"I don't know who TDE is," he said. "See, that's what happens. That's what happens. I really thought he was asking me about quality-controlled music, so now I gotta go back . . . I'm not gonna lie. I damn sure thought we was talking about Floyd Mayweather, so that lets you know where I'm at with this type of shit. I'm into me and me only, man."
On a similar note, Wayne explained that his tendency to not recall other artists by name has sometimes resulted in misunderstandings.
"I've ran into a bunch of artists that had problems with me saying before that I don't know them publicly and saying that I don't know who that person was or maybe mistaking that person," Wayne explained. "I remember I mistaked 21 Savage for a damn group. When they asked me [about him] I said 'They got 21 fucking lil rappers in one group?' I was so serious. I was like, 'Man, that's like a new Wu-Tang, right?' And the person with the mic was like 'You serious right now, huh?' and I was like 'I'm very serious.'"
The full interview is currently available on TIDAL, with the Revolt TV YouTube premiere set for this weekend: