Rich the Kid Reportedly Robbed While at Recording Studio (UPDATE)
Usher, who was inside the studio while the attack was happening, was unhurt.
Getty
LOS ANGELES, CA - FEBRUARY 11: Rich the Kid is seen on February 11, 2019 in Los Angeles, California. (Photo by gotpap/Bauer-Griffin/GC Images)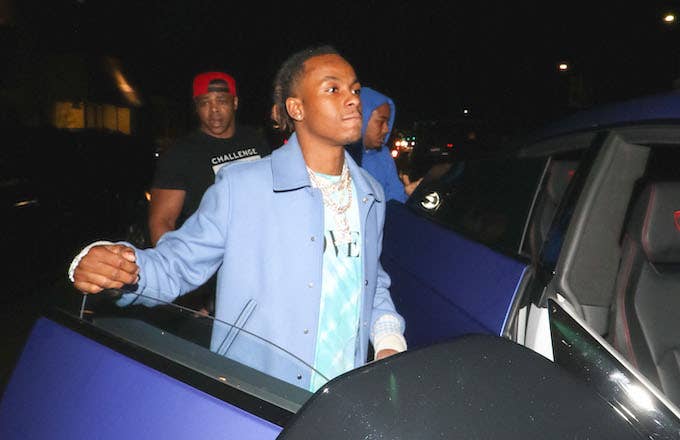 UPDATED 2/13/18 7:18 p.m. ET: Usher seems to be fine after a robbery took place at the recording studio he was at. TMZ caught up with the singer and asked if he was "ok."
"Yeah man," Usher responded. 
See original story below.
Rich the Kid was reportedly attacked on Tuesday.
According to TMZ, the artist was at West Hollywood's Westlake Recording Studio with Usher when robbers attacked and left with jewelry and cash. 
The publication also reports that multiple gun shots were fired and a bodyguard was badly beaten. The gunshots were reportedly fired as the robbers were fleeing, with one of their number shooting behind him as he fled. Police have surrounded the studio and are searching surrounding blocks for the suspects.
Law enforcement sources who spoke to the website said that Usher was in the studio at the time of the attack, while Rich the Kid was outside. It's possible that Rich was the target of the robbery. He posted a photo of himself in Beverly Hills holding a stack of cash earlier in the day. In the shot, Rich can be seen standing in front of a Lamborghini. The caption makes reference to the fact that he's always at the bank. While multiple members of Rich's entourage were attacked, Usher appears to be unhurt. 
Neither Usher nor Rich The Kid have commented on the robbery on social media. Rich has been on a hot streak of collaborating with pop stars and radio rappers alike. Before today's ill-fated Usher collab, he worked with G-Eazy, Tyga and Britney Spears. Outside of that though, the "Plug Walk" rapper hasn't had the best of luck. 
Rich was beaten during a robbery of his home in Los Angeles last year. The attack left him hospitalized , but he didn't let it discourage him from flaunting his wealth. He bought thousands of dollars worth of new jewelry just a week later.
This post will be updated.