Inside the Documentary Project Highlighting the Real People of Scarborough
Scarborough Made highlights the people of the diverse Toronto borough in order to give them the power of narrative when it comes to representation.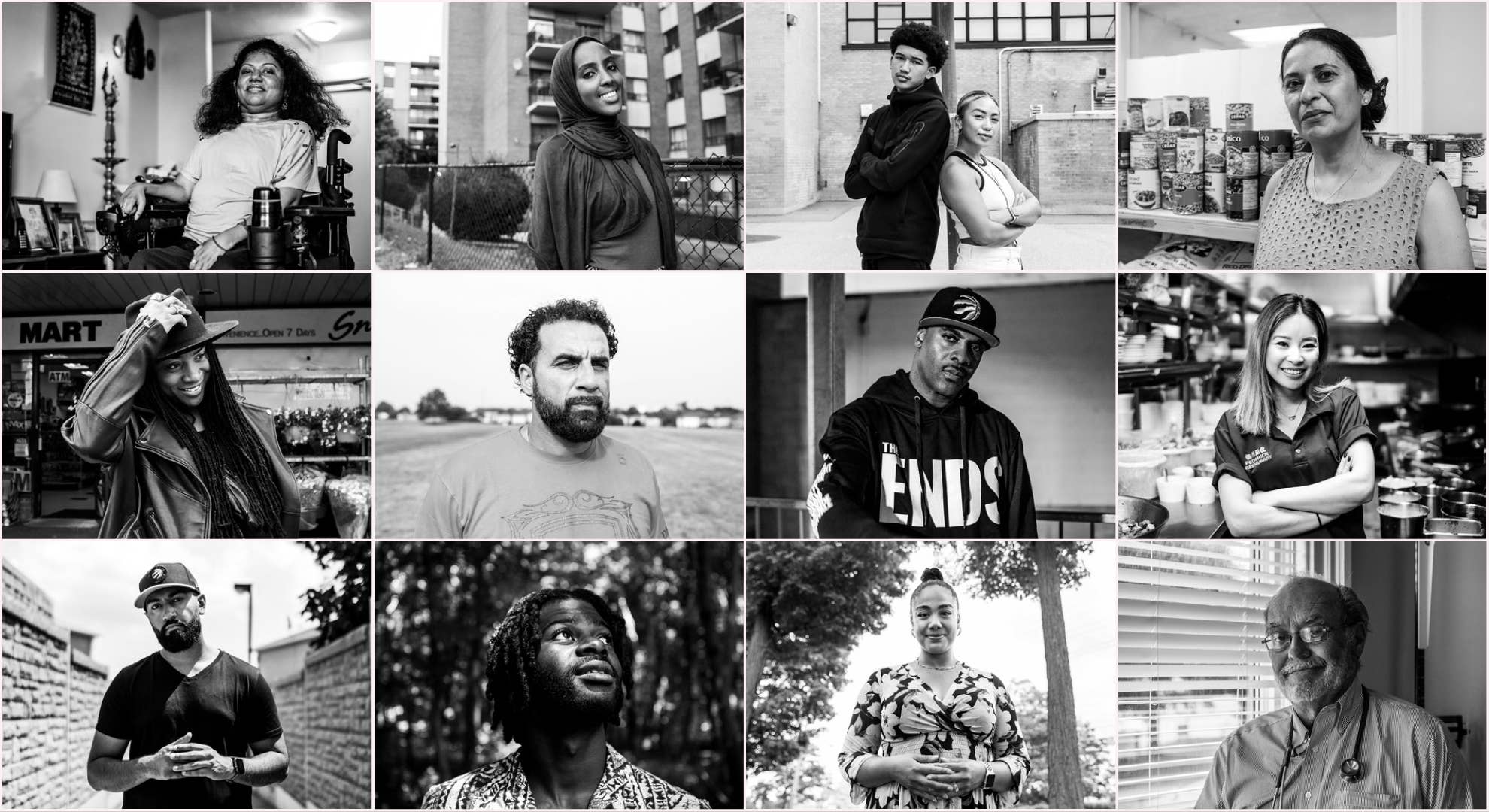 Publicist
Image via Scarborough Made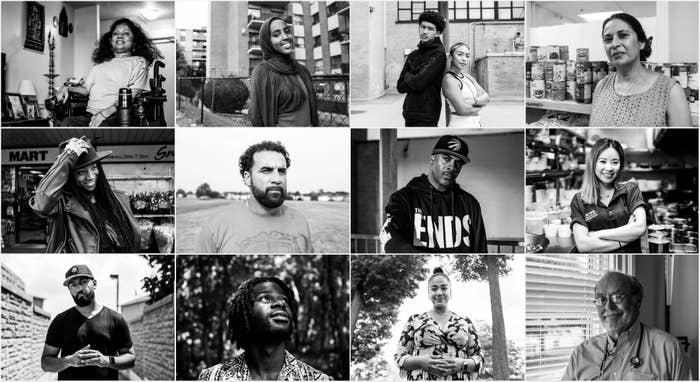 When it comes to representation and getting it right, nothing is more important than giving back the power of narrative to the people, and that's exactly what Scarborough Made does. The documentary project highlighting the people of Scarborough explores the theme of resilience while looking within the community to shine a real light on what it means to be from the diverse Toronto borough. This project spans over three activations to best showcase the stories and includes a mentorship program supporting eight local BIPOC youth, further giving back to the community while creating for them.
You can check out next three upcoming public art activations that Scarborough Made has created for the community this fall. A projection activation as part of BigArtTO, a city-wide art initiative featuring free temporary public artworks, launches today at the Scarborough Civic Centre. In the coming weeks, they'll also be unveiling an outdoor photography installation as part of ArtworxTO, and a community celebration as part of the city's Cultural Hotspot Signature Project and ShowLoveTO.
We talked to Scarborough Made's co-creators, Complex Canada's own Alex Narvaez and Sid Naidu, about what makes this project so special, the importance of representation, the theme of resilience, and more.
Can you both tell me a bit about yourselves and your background/work?
Sid Naidu: My work revolves in kind of in two areas: creating and change-making. I always picked up the camera and was inspired to create, but my work has taken me to different sectors within education and international development. And I've always wanted to merge the two fields together in some way. So that's taken me to focus on creating but creative change-making and working in different communities specifically in Scarborough, and the Scarboroughs of the world, you could say, to look at how we use arts to impact these communities. So, I would say with a lot of my work right now, I take on a role as a documentary photographer.
Alex Narvaez: I think similar to Sid, it was culture that really connected me. I've always been a fan first and foremost of hip-hop. At least at the time growing up in Scarborough, growing up in Toronto, I grew up with a lot of friends who were hip-hop artists, and they didn't have an outlet for their music or for their music videos. I think that is where I first got my start. When I went to Ryerson, I actually went to radio and television arts. My passion for that was to come up with an outlet for these local artists, and that's what I did, very much just like how we started Scarborough Made. We started Scarborough Made because we saw that there was a need for it. There was a need for this outlet for our community. And that's kind of the same approach that I've taken throughout my career, where there is a need for something that I could fill. Ultimately, it's visual creation for me, producing, storytelling is a big part of what I do.
"If you hear Scarborough in the news, it's usually about some crime that's been committed or something negative. When we started looking at that, we started talking to people in the community and amongst ourselves about how important it is for us to have control over the narrative of our own community."
How did you come up with the concept of Scarborough Made?
Naidu: It's funny because it feels like a cumulation of all these different collaborations and that real start came from hosting the hip-hop open mics together and even looking at different ways that we can collaborate in Scarborough. In 2014, one of the first projects I took on with the city was with public art, that also kind of built in the inspiration for Scarborough Made. The Cultural Hotspots program that we're involved with right now, I was coming on board then and documenting stories in Scarborough. I was based in Australia for a little bit, and walking into a neighbourhood, I was instantly transported back to Scarborough. I kid you not. if you take a picture there and you take a picture of the hood down here, it looks exactly the same. And that started resonating in my head over and over again. While the faces and the languages changed, the structures often stayed the same. A lot of these stories can be the same. A lot of the beauty and the humanity that exists in the Scarboroughs of the world very much made us feel at home.
Narvaez: A big part of the reason that sparked the project as well was when we were looking at the way that Scarborough's depicted in the media. Scarborough generally is depicted in not the best light there is. If you hear Scarborough in the news, it's usually about some crime that's been committed or something negative. When we started looking at that, we started talking to people in the community and amongst ourselves about how important it is for us to have control over the narrative of our own community. We started to see that there was a real need for that. That was a big part of why we wanted to start documenting stories from within the community, from people who actually live, or are representatives of Scarborough, so they can have a voice and help shape the narrative of the community that they live in.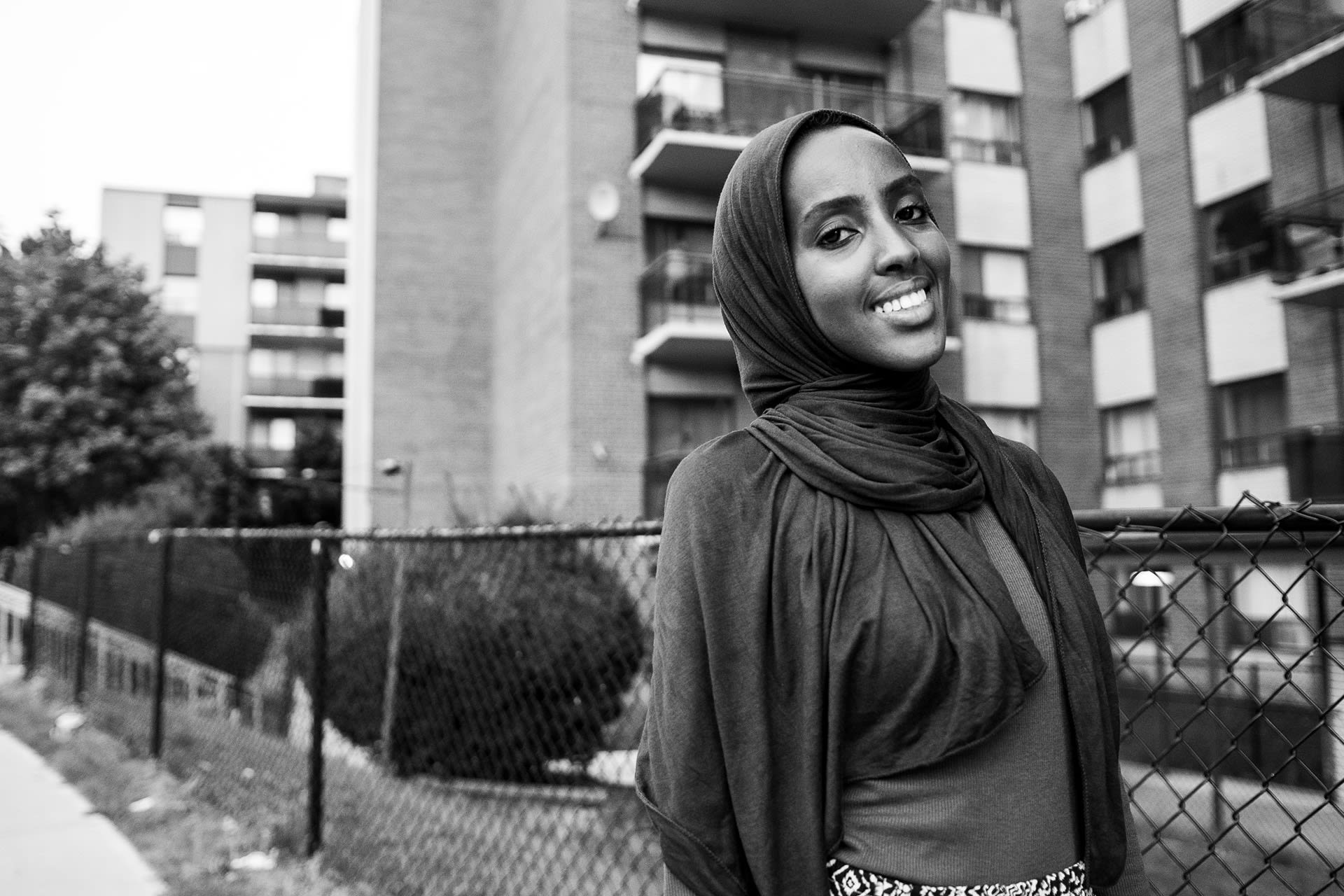 Can you tell me more about the theme of resilience?
Naidu: Resilience for us, it's everywhere in Scarborough. We went into the pandemic, and the world started changing, and when we started looking and asking ourselves what we wanted to do to come back, we looked around the community first. We noticed there were challenges there, obviously the pandemic, how it's impacted neighbourhoods in Scarborough, but we also realized that Scarborough is fairly resilient. So this theme of resilience, it's always been a part of the stories.
Narvaez: We repeatedly found that as we would talk to the people we were interviewing and featuring in the project, there was always this idea of having backbone. It was like, "Why do you feel pride? Why are you proud to be from Scarborough?" And there was just this reoccurring theme of growing up in Scarborough gives you a bit of grit. I think that that really comes through in the stories that we showcase. One good example is Ashley McKenzie Barnes. She's the first story that we ever featured. She's been a champion of the project, and her answer really was about backbone. She's where we got that idea of having backbone, which goes hand-in-hand with being from Scarborough. So I think that she said it best.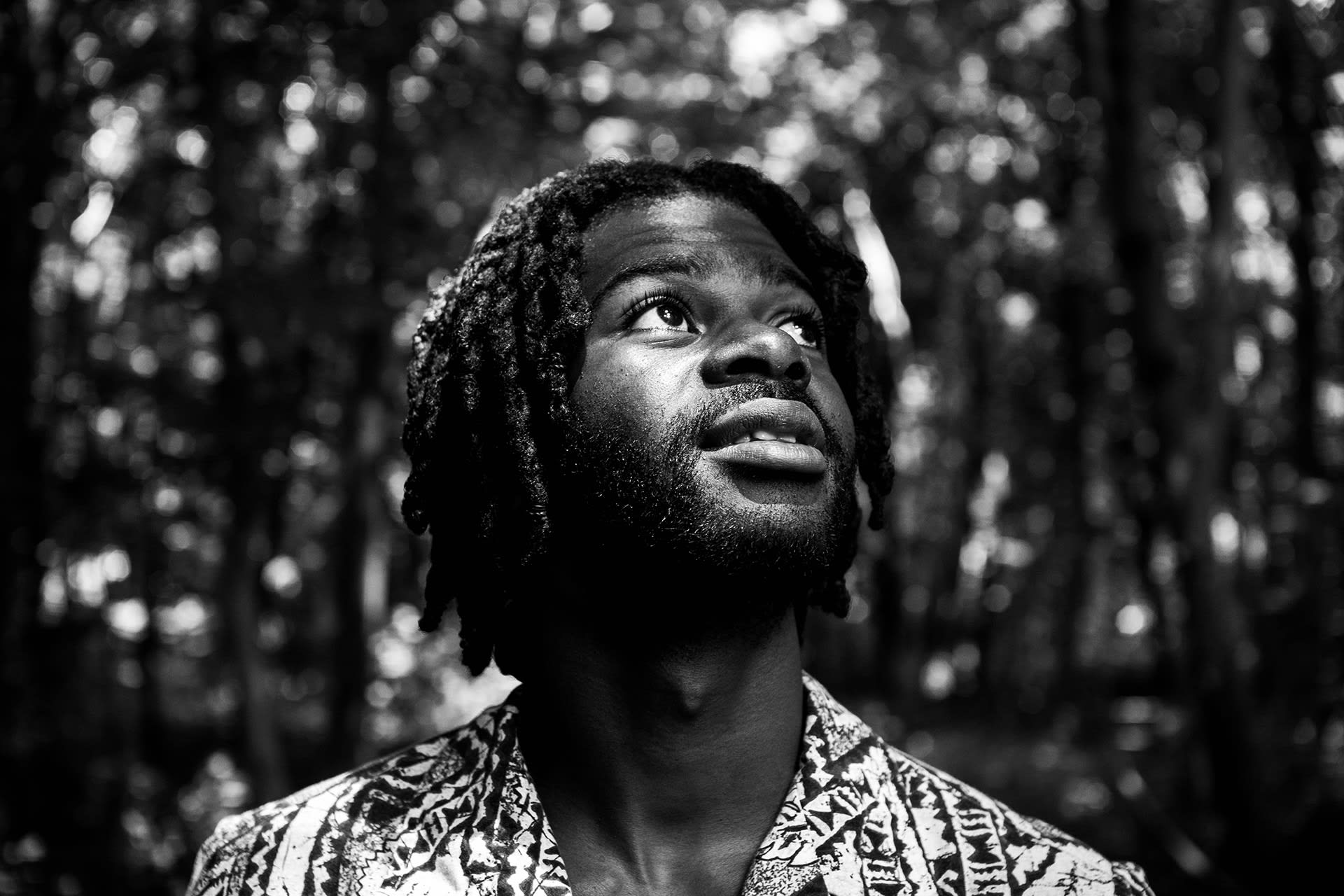 What's your goal with this documentary?
Narvaez: I would definitely say it would be to showcase a different side of Scarborough that the mainstream media doesn't get to see. Scarborough is where we're from. We're proud to showcase Scarborough, but there are many Scarboroughs all over the world. Through our world travels, working, we've been lucky enough to, with our cameras, go to different parts of the world and see other Scarboroughs, and we see a part of ourselves in those communities.
Naidu: A big part of why we started was representation and taking a little bit of own experiences, in terms of growing up here and asking the question of what we can do. The first piece that we did was about the stories that we documented. We also realized we couldn't do that for too long. It's not just about us being the storytellers. We wanted to find a way to grow the project, and it opened up something that we've always wanted to do. It just worked out beautifully this year, where we were able to jump on board with the City of Toronto's Cultural Hotspot program, which focuses on arts outside of the downtown core. So, our mission was already aligned in working in neighbourhoods, in places that were underserved, to be able to bring the resources back in some way.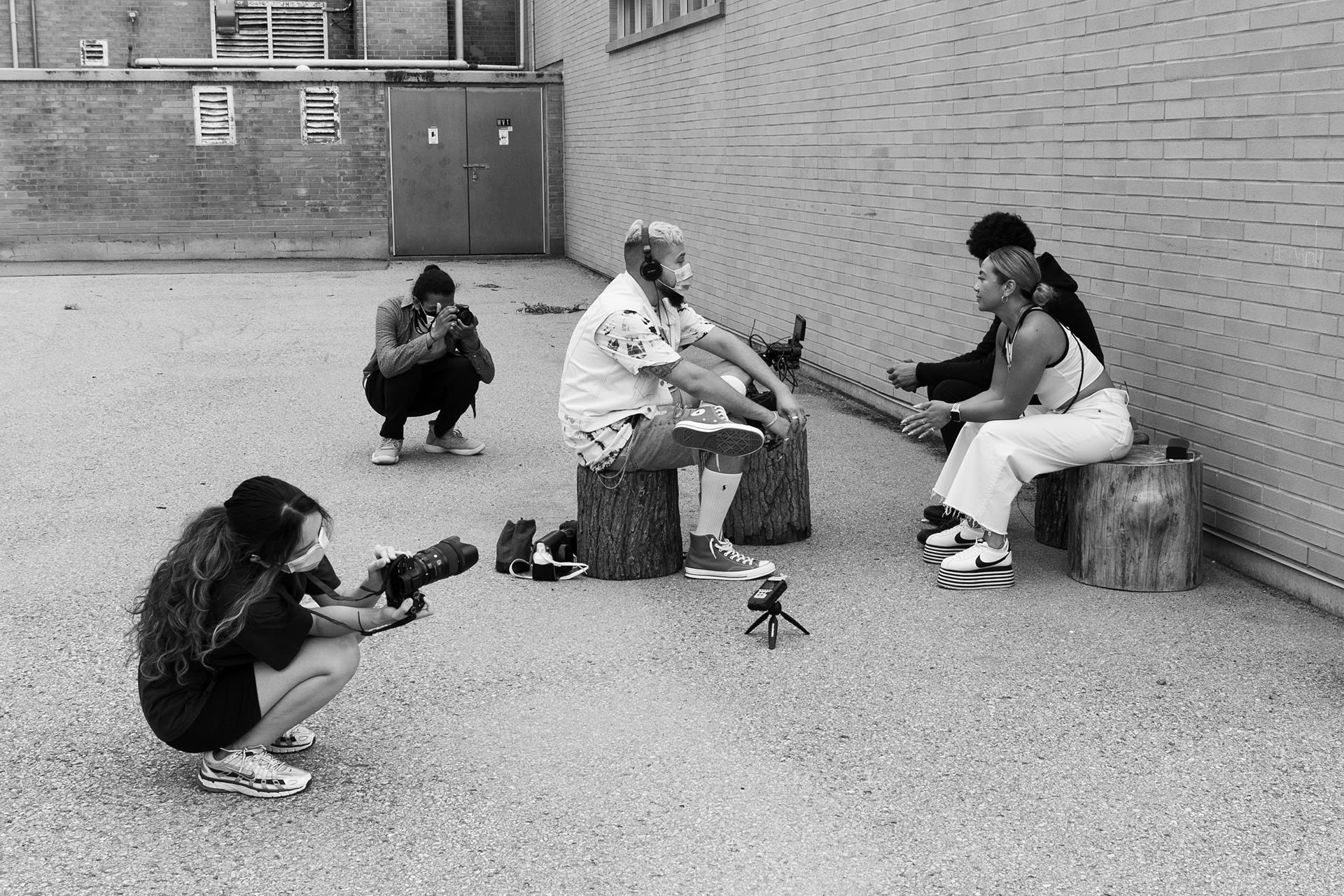 Can you tell me about the youth mentorship program?
Narvaez: This was always a goal of ours, to be able to start opening doors for other creators in Scarborough. Seeing as how we started building this platform, it had some good momentum around it, and the city got behind it. This seemed like it was a good opportunity for us to actually start a mentorship program. We have a total of eight youth that we brought on board this year. Four of them are coming in as mentees, and four are coming in as lead positions. For the installation, the mentees are being featured in the installation at Cedarbrae Library.
Naidu: I think we've learned from many people, and we wanted to find a way of sharing those stories, sharing concepts and then ensuring that we always have people from the community who can document their own community, just as it was important for us to be storytellers from Scarborough. We had sessions that were built in to talk about our own journey as creators. We kept on asking them this idea of why—why it is important to create, and why do you want to create? So helping them, before you become a storyteller, to understanding your own story. We also did a little bit of the technical piece by allowing them to come on set when we're shooting stories to provide them more guidance. Seeing them go through the process when it's the interviews to the actual videography and photography to now having their work blown up and being a part of this large-scale installation that's happening at Cedarbrae. It's beautiful because it's all lined up together where we have two installations that are coming out. The first is for BigArtTO at the Scarborough Civic Centre, which takes a cut on the stories of resilience and builds into the larger installation at Cedarbrae Library as part of ArtworxTO.
Narvaez: As soon as we pulled up into the parking lot, we just saw this large community of families and children outside just playing. And we really thought to ourselves, 'These are the communities that need art.' These are the communities that are underrepresented and don't see themselves in media, don't see themselves on the news, at least not in a positive way. So these are the communities that would really benefit from seeing stories of positivity, stories of success, stories of resilience from within their community and also, be able to see people that look like them on the walls. Representation is so important, so that's really what was the deciding factor for us. When we went to Cedarbrae Library and saw the community there, we knew right away that this is the place.
Scarborough Made's projection activation, as part of BigArtTO, runs nightly from September 29 to October 2, 7:15 p.m. to 10:15 p.m., at the Scarborough Civic Centre. An outdoor photography installation as part of ArtworxTO, housed at Scarborough's Cedarbrae Library branch, will be open to the public from October to December. A community celebration as part of the City of Toronto's Cultural Hotspot Signature Project and ShowLoveTO, which includes a launch event and film screenings, takes place on October 16 and 17.