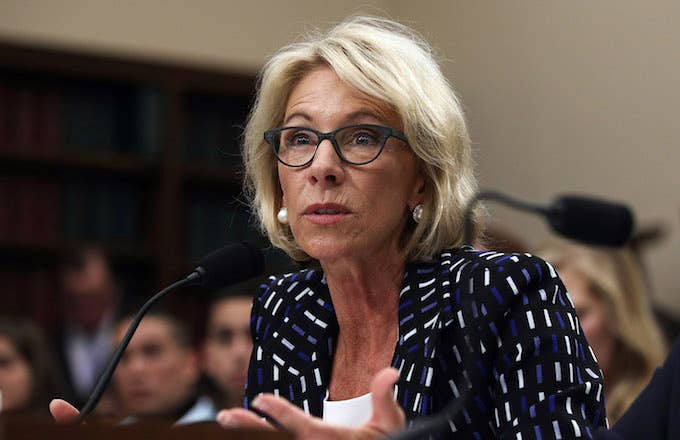 Three civil rights groups, SurvJustice, Equal Rights Advocates, and the Victim Rights Law Center, are suing the Department of Education for allegedly discriminating against sexual assault victims on college campuses.
Back in September, Secretary Betsy DeVos undid motions implemented by former president Barack Obama that provided temporary protection and made it easier for victims to come forward to report their alleged assaulter. Now, the civil rights groups claim that DeVos' policies are hindering their efforts against sexual misconduct on campuses, protecting the accused more than the victims and deterring them from filing a complaint.
"Sexual violence and assault victims have expressed an unwillingness to report harassment and assault to campus authorities," read the complaint, posted on Mother Jones. 
DeVos' policies also allow accusers to repeal against a college's decision, but the same courtesy is not extended to the victims. Now, the civil rights groups are seeking to reverse it based on the idea that DeVos and her acting civil rights chief, Candice Jackson, hold unfair views against women who accuse men of sexual assault.
The lawsuit further accuses DeVos and Jackson of believing "that many girls and women who report sexual harassment misunderstood a harmless romantic advance and that those who report sexual violence often are either lying or have regret about a consensual sexual encounter."
"This discriminatory mindset not only motivated decision makers at the Department, it flows from the top of the Executive Branch," the complaint later continued, referencing Donald Trump, who's been accused of sexual assault by at least 20 women.
Read the entire lawsuit here.