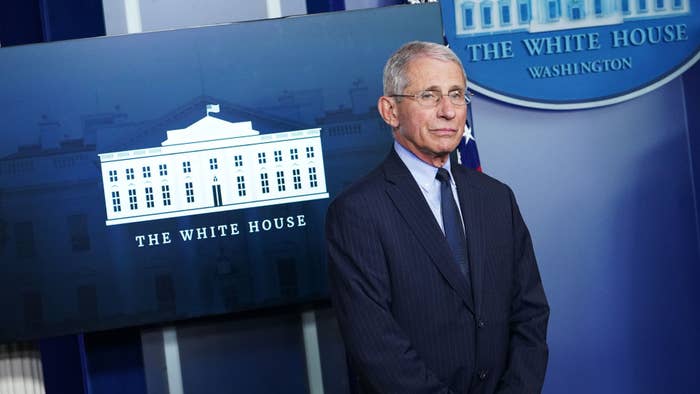 Recent talk related to COVID-19 by a Pandemic-featured doctor are part of "an old concept," Dr. Anthony Fauci said when asked about the possible cure claims on Wednesday.
As previously reported, Jacob Glanville—a San Francisco area doctor featured on the Netflix docuseries Pandemic—stated this week that he believes he may have found a possible cure for the novel coronavirus. During a subsequent White House press conference, Fauci—who's the director of the National Institute of Allergy and Infectious Diseases—was asked for his thoughts on this potential development with regards to possible antibody therapy.
"I don't know, specifically, this individual [or] what they're doing but I can tell you there's a lot of activity that is centered around a passive transfer of antibodies in the form of convalescent plasma," Dr. Fauci said.
Dr. Fauci added that this is actually "an old concept," noting that immunology "was born decades and decades ago" and exploring avenues of this nature is "the right thing to do."
While headlines utilizing the "old concept" description might suggest Fauci was being dismissive, Dr. Glanville was quick to point out that he was actually expressing support:
Also this week, a source told CNN that Dr. Fauci had recently been met with threats to his personal safety. These threats, per their report, have resulted in the implementation of personal security "at all times times," even at his private residence.
Dr. Fauci, of course, has been a public voice of reason amid the confusing White House narrative surrounding novel coronavirus containment efforts here in the States. Earlier this week, he joined Desus & Mero for a lenghty interview on the latest social distancing-minded episode of their Showtime talk show: