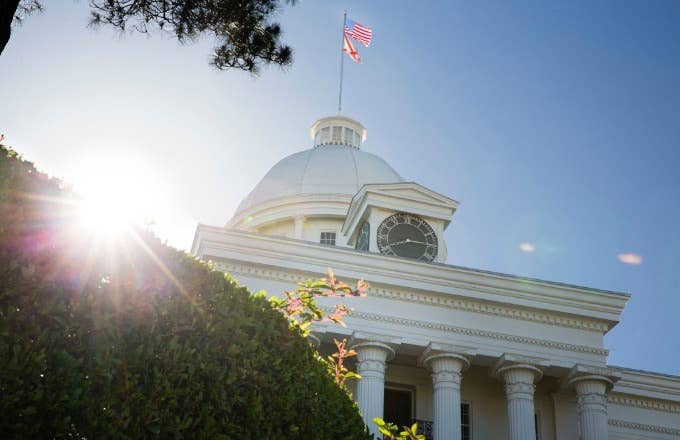 Down in Alabama, a state where people like Roy Moore still have swaths of supporters, oppressive political forces have ensured the passing of what is effectively a near-total abortion ban.
"This ban is dangerous and exceptionally cruel—and the bill's authors want to use it to overturn Roe v. Wade," Sen. Elizabeth Warren, currently in the middle of a 2020 presidential campaign, said Tuesday night. "I've lived in that America and let me tell you: We are not going back—not now, not ever. We will fight this. And we will win."
The Republican, male-dominated Senate ultimately voted 25-6 Tuesday to make abortions "at any stage of pregnancy" a felony-punishable offense, per the Associated Press. Efforts to add an amendment for rape and incest exceptions were fruitless. 
Sen. Bobby Singleton, a Democrat, was among those who strongly condemned the decision by contextualizing it among the state's long history of oppressive political moves.
"You just aborted the state of Alabama with your rhetoric with this bill," Singleton said on the floor after the rape and incest exception was voted down.
Just so we're clear, you can see what the people making such a decision look like below. Also, do note (and perhaps even bookmark) the full roll call of names.
For further clarity, abortion is indeed a constitutional right and will continue to be pointed out as such by way of impending legal action from groups like the American Civil Liberties Union. And for those thinking that such a move down in Alabama can be laughed off as mere redneckery, perhaps consider looking at the larger (and much more troubling) picture:
Thankfully, there are ways to help. In addition to enlightening people, you can also donate to groups like the Yellow Hammer Fund, which helps Alabama women seeking care.
Gov. Kay Ivey, who's expressed anti-abortion views in the past, now has six days to sign the legislation. Upon signing, the bill would become law six months later.