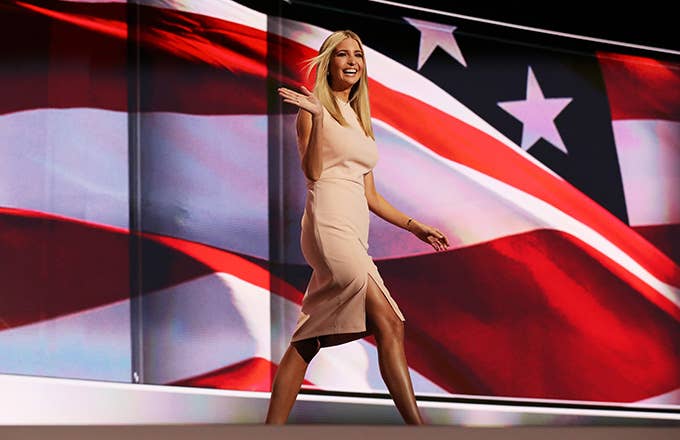 Trump's favorite kid (in a creepy way), Ivanka, will be headed to South Korea to meet with President Moon Jae-in on Friday. The first daughter/senior White House adviser will be leading the U.S. delegation to the closing ceremony of the Winter Olympics.
An anonymous administration official said Ivanka will have dinner with Moon at the Blue House in Seoul. He or she also maintained that Ivanka was not set to meet with North Korean officials. Unless, Kim Jong-un wants to start a war with Nordstrom, I don't see why she would.
Allegedly, Ivanka is quite the "winter sports enthusiast" and the "purpose of the trip is to cheer on American athletes, reaffirm the U.S.-South Korea alliance and celebrate the successful games," the source said. Rich people do love to ski, I guess.
Anyway, here's hoping Ivanka does a better job than Pence. The vice president attended the opening of the games and was supposed to meet with officials from North Korea, but they ended up canceling on him.
Ivanka will be forgoing a government jet and flying commercially like the rest of us plebs. She will be accompanied by White House press secretary Sarah Sanders. Imagine having to hear her lies for a 15-hour flight.