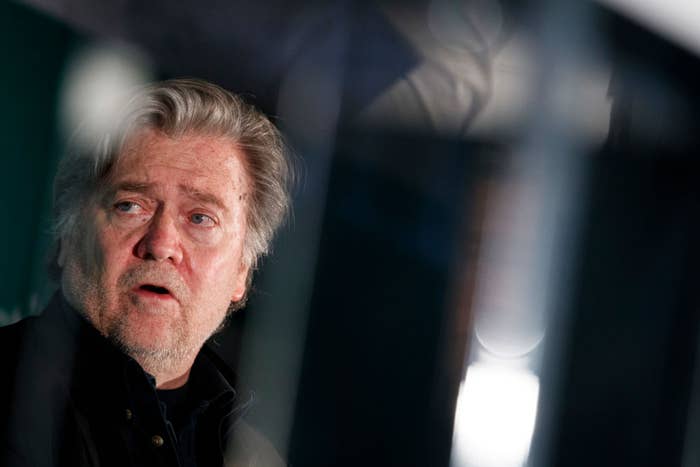 Former White House chief strategist Steve Bannon is again criticizing President Trump in the new edition of the bestselling book Devil's Bargain: Steve Bannon, Donald Trump, and the Nationalist Uprising, a book by Bloomberg journalist and CNN political analyst Josh Green.
Green paid a visit to Bannon's Washington D.C. home during the Golden Globes in January, wherein Bannon paid particular attention to Oprah's speech, as well as the Time's Up and #MeToo movements. According to CNN, Green noted in his book that Bannon thought Oprah could endanger Trump's presidency if she were to become politically active during the 2018 midterm elections, by assisting Democrats in winning seats. Bannon believes the Democrats would then impeach Trump.
Oprah became the first black woman to be given the Cecil B. DeMille Award at the Golden Globes. Her politically-charged speech broached topics like the Trump administration and the #MeToo campaign. Many saw the speech as a hint that Oprah might run in the next election, which she later dismissed.
"I'm especially proud and inspired by all the women who have felt strong enough and empowered enough to speak up and share their personal stories," she said during her speech.
Discussing Time's Up and #MeToo, Bannon told Green, "You watch. The time has come. Women are gonna take charge of society. And they couldn't juxtapose a better villain than Trump. He is the patriarch. [The Golden Globes are] a definitional moment in the culture. It'll never be the same going forward."
Bannon was fired by Trump last August. It's been said that Green's book—which focuses on the 2016 election and was initially published in July 2017—crippled Bannon and Trump's relationship: Trump was insulted by the credit that Bannon earned for Trump's 2016 presidential victory. Bannon also made some unfavorable comments about the president and his family in Michael Wolff's wildly successful 2018 book Fire & Fury. Trump openly denounced Bannon, saying Bannon was, "​only in it for himself​."